The country is bracing for more flooding, landslides and gusty winds through tomorrow morning following yesterday's deluge, which sent rivers across Trinidad over their banks. At 7.30 pm, the Office of Disaster Preparedness and Management (ODPM) collated more than 90 inclement weather reports comprising landslides, flooding, fallen trees, and fallen utility poles. Periods of rainfall will likely continue over the next 24-36 hours, resulting in further elevation of the river levels, the Trinidad and Tobago Meteorological Service (TTMS) has said.
What happened?
An active trough system–an area of lower-than-usual pressure at varying levels of the atmosphere, which brings unsettled weather–is moving across Trinidad and Tobago, bringing prolonged rains, showers and thunderstorms.After a very wet November, with the last Adverse Weather Alert discontinued on Thursday, soils remain very saturated. Just after midnight, rain, showers, and thunderstorms began across T&T and fell for nearly 12 consecutive hours yesterday. Since midnight, upwards of 100 millimetres of rain has fallen across parts of the country, with locally higher totals across eastern Trinidad.Multiple rivers, including St Joseph, Cipero, Aranguez, Caparo, North Oropouche, South Oropouche, Nariva, Arena, Guaracara, Marianne, Caroni and Guanapo, all overtopped yesterday.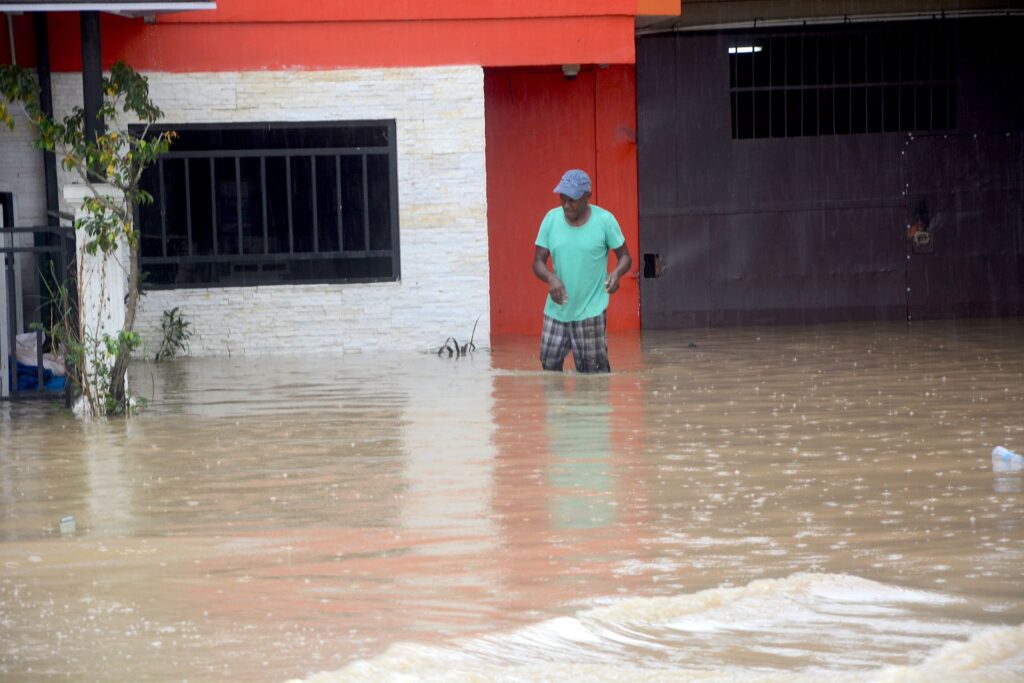 A man walks along the Bonne Aventure Main Road yesterday.
Major flash floods hit parts of Biche, Caparo, and Maracas-St Joseph, with parts of Caparo and Mamoral recording over five feet of water in some areas.In the Ministry of Rural Development and Local Government's River Level Advisory as of 7:30 pm yesterday, the Caroni River was at 101 per cent capacity at El Carmen while 84 per cent capacity at Bamboo #3, lower in the river basin. The North Oropouche River was at 75 per cent capacity, the Caparo River was at 85 per cent capacity, the Arouca River was at 36 per cent capacity, and the Aripo River was at 55 per cent capacity.Based on preliminary reports, the worst affected area was central Trinidad, with over 32 incidents of flooding, landslides, fallen trees, fallen utility poles, and a collapsed road at Gran Couva Main Road. According to the ODPM, flooding occurred at the Caparo Brasso Valley Road at Sharpe Road, Santa Philippa, Durham Mills Road, and Ravine Sable Road rendering it impassable. Flooding was also reported at Couva at Sunrise Avenue, Carli Bay, along the Couva Main Road, and Fairview.
Further south, multiple roadways were inundated at Claxton Bay at Mt Pleasant Road, Spring Vale, Macaulay, as well as along Bonne Aventure Road, Gasparillo, Guaracara Road at Esmeralda Junction, Macaulay Park West in California, and along the Southern Main Road at Point Lisas.In central Trinidad, at least six landslides were reported at Brasso Road, Brasso, in the vicinity of the Police Post, rendering the roadway impassable; along Gran Couva Main Road between La Vega and Massa, Preysal; Cameron Road at Gran Couva; along the Guaracara Tabaquite Road; and at Alcindor Street, Flanagin Town, as well as along Lady Hailes Avenue, San Fernando.Landslides also hit parts of eastern and northern Trinidad, prompting the Ministry of Works and Transport to indefinitely close the Lady Young Road, one of the main routes into the capital. The Manzanilla-Mayaro Road was also closed indefinitely as the roadway continues to be eroded by flooding between the 61 and 70-kilometre marks, while further south, a significant landslide at Ortoire rendered the road impassable
What can we expect?
The Trinidad and Tobago Meteorological Service extended their Adverse Weather Alert (Yellow Level), which went into effect at 5 am yesterday, through 10 am tomorrow. Their updated alert issued yesterday afternoon explained, "Rainfall and/or showers of varying intensities are expected to continue from early morning tomorrow (Sunday, November 27), despite intermittent settled periods at times. There is still a 70 per cent (high) chance of heavy showers and thunderstorms
."The TTMS maintained the alert for both Trinidad and Tobago, stating that the country could be impacted by rainfall greater than 25 millimetres, gusty winds exceeding 55 KM/H, street/flash flooding, landslides, and agitated seas.Hours after multiple rivers overtopped, the TTMS issued a yellow-level Riverine Flood Alert just after midday. The alert specifically is in effect for the Caroni River, the North Oropouche River, the Caparo River, the Nariva River and the Navet Dam/Reservoir, the Ortoire River, and the South Oropouche River. It went into effect retroactively at 12 noon and remains in effect through 10 am tomorrow.
The TTMS said, "After this morning's activity, rainfall accumulations have caused the major river levels across Trinidad to be near or above 80 per cent, and smaller watercourses at critical levels
Periods of rainfall will likely continue over the next 24-36 hours, resulting in further elevation of the river levels." They added that run-off will be slow at high tide, expected today at 6:55 am and 6:24 pm.Both alerts are yellow level, meaning moderate impacts are likely according to the TTMS.
Their guidance on their Multi-Hazard Early Warning system suggests the potential for possible injuries at this alert's severity level, with behavioural changes required to ensure safety. There may be minor property damage, with income-earning temporarily disrupted, and some communities may be affected. Many took to social media to express their ire at the alert level, with those under multiple feet of flood water stating that this event was far from moderate
. What should you do?
Though the alerts call for moderate impacts, several communities are threatened by significant flooding. Preparations to protect lives, livelihoods, and property should be underway.
Activate your safety plan, secure food, water, and medicine for at least seven days in waterproof containers, and protect important assets and documents. Do not take unnecessary risks and follow the instructions of government officials.The Met Office adds the public should "not wade or drive through floodwaters, secure loose outdoor items and livestock, and monitor weather conditions and official updates.
"A link to climate change? October and November are notorious for significant flood events in T&T, marking the secondary peak of the local wet season. For Trinidad, November is the fourth wettest month of the year, while it is the wettest for Tobago.
While development and insufficient drainage play a part in T&T's flood landscape, the TTMS has noted that extreme rainfall events are rising.In 2020, presenting the new climate normal for 1990-2020, the TTMS explained a larger percentage of rainfall at Piarco has come in the form of intense precipitation in recent years. There has been a steady increase of rain accumulating in the highest annual daily rainfall totals.
According to TTMS, six of the top ten years for the highest one-day maximum rainfall totals at Piarco have occurred since 1990. Based on the records from the TTMS, in the last 35 years, 2020 tied 2008 and 1993 for the highest number of extreme single-day rainfall events in T&T, with seven extreme rainfall days.