With the cost of living crisis set to continue, we're all looking for ways to save money.
Fuel prices may be at record levels but the good news is there are lots of things you can do to maximise your car's mpg (miles per gallon), and most of them won't cost you a penny.
Just a few simple changes could make your car more efficient, which means you won't need to fill up as often, giving your credit card a much-needed break. 
Here are seven ways you can cut your fuel consumption – and your spending… 
1. Lighten your load
You wouldn't set out to climb a mountain with a rucksack full of stuff you don't need.
In the same way, it's a good idea not to make your car work harder than it needs to by carrying around unnecessary things in the boot.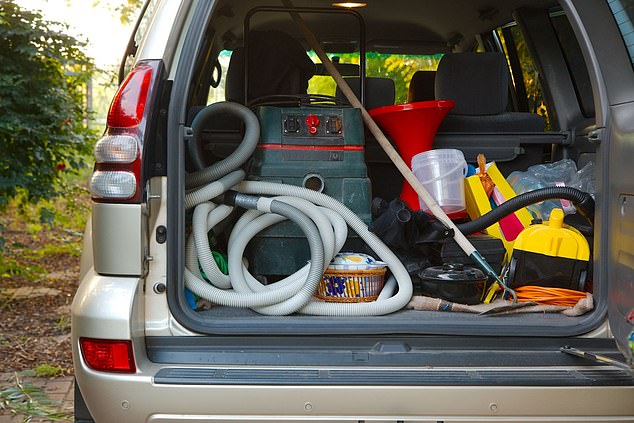 It might be easier than lugging it all back and forth to and from your home, but the more weight your car has to carry, the harder the engine has to work and the more fuel you'll use.
So give it a break and empty out your boot!
2. Accelerate and brake gently
The faster a car accelerates, the more fuel it uses. Plus, if you brake suddenly, your engine has to work harder to get back up to speed, which guzzles even more fuel.
So driving as smoothly as possible is a great way to save on fuel, while also providing a more comfortable ride…
The key is to try and anticipate what's going to happen in front of you by looking as far down the road as you safely can, leaving a decent gap between your car and the vehicle in front.
That way you'll see any obstacles or stopped cars in good time, allowing you to ease your foot off the accelerator, rather than having to slam the brakes on at the last second. It really does pay to look ahead!
3. Reduce your speed
It might be obvious, but the faster you drive the harder your engine has to work, and therefore the more fuel it uses.
Even fairly subtle changes in speed can make quite a big difference, according to figures from the AA.
They found that driving at 70mph uses nine per cent more fuel than at 60mph and up to 15 per cent more than at 50mph.
And however fast you're driving, it's best to ensure you're using the most efficient gear for that speed.
 At 70mph, for example, if your car has a manual gearbox with six gears, using sixth is more efficient than using fifth gear.
4. Ditch the drag
There's a reason for all those figure-hugging clothes professional cyclists wear – they allow air to pass over the body more smoothly, minimising any wind resistance (also known as drag) that could slow them down.
While no one's advising cracking out the lycra, it's worth trying to reduce the impact of drag on your car by keeping the windows closed whenever you can. 
Similarly, if you rarely use your roof box it may be worth removing it to avoid unnecessary fuel consumption.
These tips are particularly important for long journeys when you're driving on the motorway, as drag has a bigger impact the faster you drive.
Remember; more drag equals unnecessary fuel consumption
5. Keep your car properly maintained
Cars are complex machines with lots of moving parts, and if any one of them isn't working properly it can put strain on your engine.
It's particularly important to make sure your tyres are pumped up to the recommended pressure.
This is because under-inflated tyres force your engine to push harder and use more fuel. You can find your car's recommended tyre pressures in its handbook or on a label inside the driver's door.
For complete peace of mind the best thing you can do for your car's efficiency (and for your safety on the road) is to have it serviced regularly.
Cazoo Service Centres are on hand to help with all your car care needs, ranging from regular servicing to MOTs and repairs.
6. Use your car's fuel efficiency gadgets 
Many modern cars are now fitted with clever features that can increase your fuel efficiency, so it's worth taking advantage of them.
For example, a stop/start system automatically switches the engine off when you're not moving, before restarting it instantly when you pull away.
Lots of cars also have a choice of driving modes. This generally includes an 'eco' option which switches the car to its most efficient settings.
If you're on the motorway, it could also be worth using cruise control, if your car has it.  This will keep you travelling at a steady pace, eliminating any subtle acceleration or deceleration that could cause the engine to work harder.
7. Plan your journey in advance
Everyone hates sitting in traffic, and as well as wasting your time it can burn through your fuel too. That's because stop-start driving isn't as efficient as travelling at a steady cruise.
So it's a good idea to plan your journey as much as you can in advance to avoid any potential hold-ups; this way you can go further before your next fill-up.
If possible, you could consider leaving earlier or later to avoid rush hour. And taking a second to check if there are any roadworks on your intended route means you can find a diversion around them.