INEWS
In 2011, Amar Bacchus was in front of a chalkboard, teaching students when he and a friend thought of establishing their own school. At the time, he was giving extra mathematics lessons to several students. Eventually, more than a dozen students joined the lessons, and the duo rented the downstairs of a property to teach their growing class of extra-lessons students.
Bacchus and his friend subsequently parted ways by mutual agreement, but he continued to teach grades seven to nine students. Eventually, in 2018, Bacchus and his wife Alexis converted the idea into reality by establishing their own school, Bacchus Learning Centre.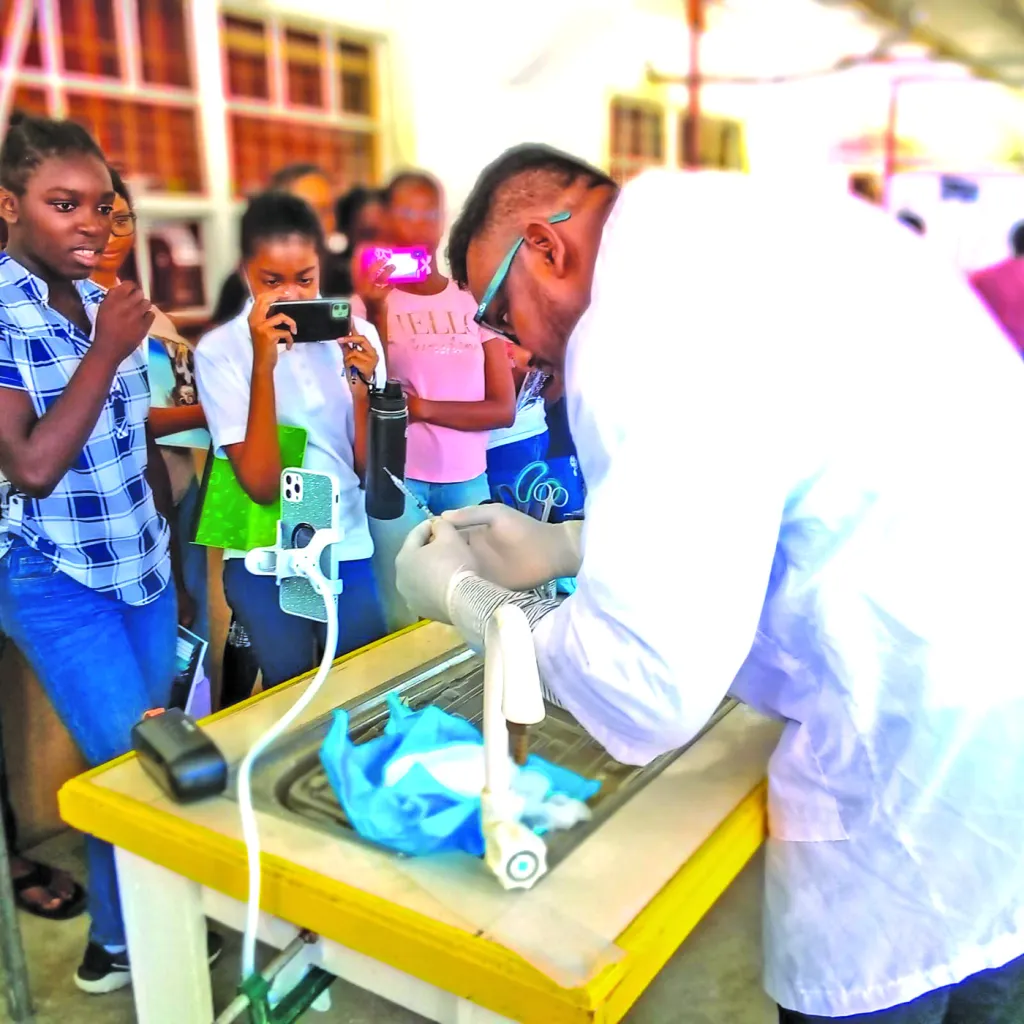 Sadly, his wife Alexis succumbed to cancer earlier this year, but the ambitious Bacchus continues to robustly establish the school and realise the dreams he and his wife had while embarking on a mission to establish a highly modern smart school.
Today, the school, located in Pike Street Campbellville, Georgetown, is unique in its method of teaching, offering its students online and face-to-face classes through innovative modes of technology. The school's learning content is delivered to the students through structured "hybrid" methods of learning, or what Bacchus has termed "smart methods of learning."
During a sit-down with this publication last week, Bacchus said the school offers classes at all levels: from the Alexis "B" Nursery and Playgroup through to the primary and secondary divisions. The school also offers Caribbean Secondary Education Certificate (CSEC) classes to adults, giving them a second chance at enhancing their qualifications; and foreign language classes through the Alexis "B" Fluent Language programme. Spanish, Portuguese and French are taught through this programme.
Smart classrooms
Bacchus noted that when the pandemic struck the health care system in Guyana, he and his wife had to find alternative methods to teach their students and to keep the institution operational. At the time, the student population of the school was close to 100, but the disease caused that number to dwindle to 25. He said the Ministry of Education was then pushing the smart-classroom concept, and immediately he decided to adopt this concept of teaching.
"We were trying to teach via WhatsApp, but it was not working," Bacchus said.
The school then utilized the Zoom-app, but that also proved difficult. "At first it was difficult because we did not understand the dynamics of Zoom, so we didn't know when to mute students, and everybody kept talking," he said, adding that it was chaotic. He posited that the students were excited to see their colleagues after many months, and may have been eager to talk to each other rather than completing their schoolwork.
As time progressed, he and his staff studied the use of the Zoom platform extensively, and the school implemented "certain strategies to manage the students' behaviour, even using methods to get them to respond when asked questions."
The student population was again growing, and parents were contacting the school to enroll their children, while others, whose children attended school prior to the pandemic, were also in contact with the school.
"We now had to restructure our timetable, get back our staff, and set a better schedule," he explained.
His wife Alexis ran the school daily, while Bacchus provided support and ensured that the computerized systems within the school were up and running. Students from various parts of the country enrolled at the school, and Bacchus noted that the population of the school had now grown past 100.
"Today I can say that the pandemic has been a blessing to some and a disaster to some, but for Bacchus Learning Centre, it has been a blessing, because today we are able to now have a hybrid method of teaching. We had to learn the dynamics of online teaching, that today we still utilize that method, so all teaching goes through the Zoom app," he said.
According to Bacchus, students have an option of attending school in person or online, especially in the event of emergencies.
"Parents can choose whether they want their child to come to school some days physically or attend via online. Parents are able to better monitor their child's performances for those who choose online, because they can see what is being taught and the amount of work taught," Bacchus said.
He noted that the school created WhatsApp groups for each class, and parents and students who are in the groups are notified when classes are in session. A snapshot of the attendance of students who are attending school online is also sent to the groups so that the parents can be aware of their child's attendance while at home.
"It took time to develop this method, but we are growing because, only two days ago, we met with a Trinidadian smart tech company because they want to collaborate with us to implement smart boards in the classroom. So…our classrooms will be enhanced using technology," he added.
No chalkboard
Bacchus explained that the teachers have been trained to teach students online and those in the classroom using the Zoom app. He said cables are connected to each classroom, and a large television screen takes the place of a chalkboard. The teacher sits in front of the class and teaches the students using the computer and a touchpad.
In place of the chalkboard, the teacher utilises the computerized writing pad to make notes or write instructions for the students to follow the lesson. Those students who are attending online from home would view the class in session via their phones or laptops.
Bacchus said microphones and other gadgets are utilized by teachers to carry out their instructional period. He said this "hybrid" method allows learning to be "much more diverse."
He said in a normal classroom, a teacher would utilize a considerable number of minutes to draw a diagram on the chalkboard before he/she can explain it to the class. "Now I can project that same diagram on the screen for everyone in the class to see within seconds, and I can take that 20 to 15 minutes to do much explanation, more reinforcement, and also have more discussion among the students," he said.
"In my view, using the traditional method of teaching, while I would take five days to get a concept over, in the modern smart-tech method which we utilize at the school, I can get that concept over to the students in a day," he added. The concepts are augmented by utilizing videos, slides and realistic photographs for his students.
As an example, he explained that during one of the ongoing summer classes, the science students were participating in the dissecting of a frog. He said he obtained the assistance of a doctor, who joined online, and while the frog was being dissected, the medical professional was explaining what was happening, and he also shared his knowledge on various aspects of surgical practices.
Attendance register
Bacchus explained that, on a normal day, 10 to 15 students would be in the classroom in person, while 10 may be attending online. He said this eases the burden the parents may have to face in sending their children to school in the face of an emergency, or because of various circumstances on a school day.
"A parent may wake up one day and realise he/she doesn't have (money) to spend on that day to send the child to school so. They will say, 'Let's do online today'," he said with a smile.
Bacchus said that, as per tradition, an attendance register is kept for students attending school daily in person. For those online, the teacher keeps a record of those students who are attending. "Teachers also have to keep their record for the Ministry of Education purposes, so we still inculcate tradition with modern," he said.
He added all the work taught by the school is backed up to a server. This, he noted, would be helpful to students who may have lost their notebooks from previous months' classes.
Challenges
Bacchus has said there are no limits to learning, but he noted there are challenges which he encounters from time to time. Among them, he said, is new students' ability to adapt to the use of technology, especially those attending online from their homes. "They may take additional time to send in their work," he said.
He said smooth and efficient internet speed is another issue, and to curb the problem, the school installed Wi-Fi services from two local service providers. "So, we have a GTT and we have one from E Networks. So, when one is down, we switch to the other," he said.
Electricity is another issue: when there is a blackout, the students attending online are affected. He said the school is working to install a standby generator to address this issue.
If a teacher is unable to attend school on any given day, Bacchus said, the school has soft copies of the work, which are uploaded for the students to follow. When the teacher attends the next class, the lesson is then taught.
"At least they have the content, so when the teacher comes to the next class, she can do her explanations," he added.
He said the school is developing soft copy modules to make teaching easier for the staff. He said if the teacher is out of the class for an unforeseen reason, the lesson is available for another teacher to give to the students.
The future of the school
Bacchus said officials of the Ministry of Education have visited the school on multiple occasions, and they were "wowed that we are still able to conduct classes using the online platform, and maintain that systema and make it efficient."
He said it costs around $500,000 to install the technology for one classroom, and this includes the TV screen, which is the costliest device for the classroom. He said that, in the future, the school would continue to be innovative, and he noted that he plans to invest in additional space. He said that within the next five years, he plans to secure a bigger facility for the school to operate from, and this would give the school additional options in terms of enhancing its curriculum.
"Sometimes we may encounter a glitch while teaching using technology, but we have been using it for so long (that) we have mastered this technology, (such) that we can troubleshoot the system and still continue to teach our students and resolve the issue," Bacchus said.
He said Bacchus Learning Centre does now view itself as a competitor with other private schools, since his goal is to ensure that students benefit from the teaching methods offered by the school to realise their true potential.