A little girl has been found protecting her younger brother after they were trapped under the debris of their collapsed home following the series of devastating earthquakes.
Video footage captured the moving moment the two frightened young siblings were found by rescuers amid the rubble in Syria.
The seven-year-old called Mariam, and her younger brother Ilaaf were trapped in the debris for some 36 hours.
In the clip, she told the emergency worker: 'Sir, if you rescue me and my brother, I'll do whatever you want.
'But get us out of here.'
The young brother and sister were stuck under rubble at their home in Besnaya-Bseineh near Haram, Syria.
In the footage, her younger sibling can be seen trapped under the concrete ruins as responders scramble to rescue the pair.
The girl then moves her arm over her younger brother's head to protect him.
A photo was later shared of the two kids resting on a bed after they were rescued from their horrific ordeal.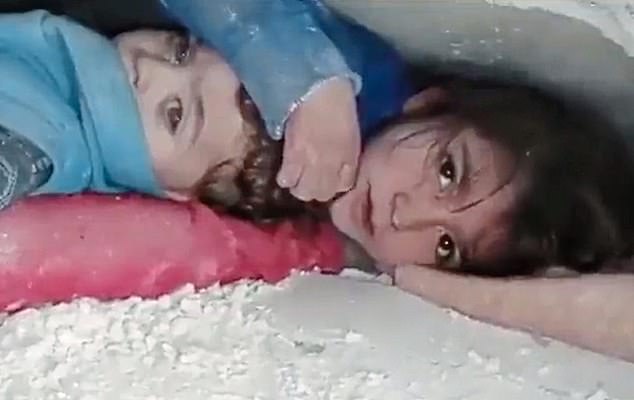 Their father Mustafa Zuhir Al-Sayed said he, his wife, and their three children were sleeping when the earthquake hit.
He said: 'Rubble began falling over our head and we stayed two days under the rubble.'
They were all rescued from the devastated home.
UN representative Mohamad Safa asked to 'share positivity' amid many negative stories related to the rising death toll which is over 11,000 people and could reach 20,000 across the country and Turkey.
Footage of the rescue has been viewed 5 million times on Twitter alone.
One user commented: 'They owe no one a thing. Ever. Period. Poor babies. Bless them.'
Another said: 'Beautiful. God will give her a lot of life to continue taking care of her brother, she is an angel sent by God.'
Someone else wrote: 'The good news is that they have been rescued and they are free to live. I pray their family members are also alive so they can live happily together.'
Another user remarked: 'How she's protecting the boy's head. Wonder how many thousands were or still are in similar situations? Horrific.'
The magnitude 7.8 earthquake struck Turkey and north-western Syria in the early hours of Monday morning, February 6.
The quake was the worst in Turkey this century and wreaked further havoc on Syrian settlements already devastated by years of war.
Over 11,000 people have been killed and an estimated 34,000 people have been injured.
The World Health Organization said many more victims are likely to be discovered in both countries. They suggested yesterday casualties could reach 20,000.