The Antigua and Barbuda Union of Teachers has been accused of playing politics with the education of our students in Antigua and Barbuda.  In a letter received in our newsroom, the President of the Union of Teachers, Mr. Casroy Charles indicated that they will engage in industrial action today Monday February 13th 2023 and will maintain this posture if the Ministry Of Education fails to engage the Executive of the Antigua and Barbuda Union of Teachers on February 13th 2023.
According to the letter sent to the Minister of Education, the issues that the ABUT wishes to address are:
Schools Security (Quality and Quantity)
Teachers Upgrades
Heads of Department Honorarium / Ex-gratia payment
Negotiations for the 2018-2020 Collective Bargaining Agreement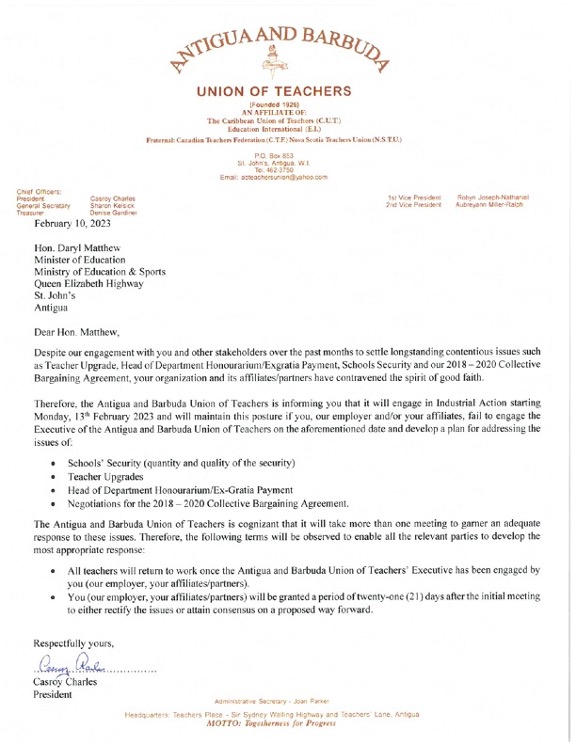 In response to the issues above, our newsroom has been reliably informed of the following:
The information regarding security has sent to the ABUT is attached below
Of the 326 teachers eligible for upgrades, 301 of the upgrades have been completed and the remaining are in progress
Thirty-four (34) vouchers for HOD / Ex-gratia payments have been prepared by the Ministry of Education and are currently awaiting payment in the Treasury
The negotiations for the 2018-2020 CBA has been ongoing with the ABUT and a recommendation is being sent to the Cabinet for approval
We have been advised that the Ministry of Education, on Friday, invited the Executive of the ABUT to a meeting on Monday February 13th 2023, and this invitation was accepted by the ABUT.
Following the acceptance of the invitation to meet, the following message was sent by the ABUT:
In light of the above, the Ministry of Education is surprised that the Executive of the ABUT has once again written to its membership advising them to take industrial action on Monday. The ABUT has told its membership to engage in a sit-in, until they have been advised that the meeting scheduled for 11:00am on Monday has started.
The result of this "Sit-in" is that the children will be left totally unsupervised until at least 11:00am while the teachers await word that the meeting has commenced.