(INEWS)President Dr Irfaan Ali on Sunday met with the Minister of External Affairs of India, Dr. Subrahmanyam Jaishankar, to have bilateral discussions.
The two officials spoke about cooperation in the areas of energy, infrastructure, and digital technology, according to a post on President Ali's Facebook page.
Meanwhile, Minister Jaishankar also tweeted about the engagement, saying "An honour to call on Chief Guest of PBD [Pravasi Bharatiya Divas] Convention, President Mohamed Irfaan Ali of Guyana. Discussed our deep and abiding people to people ties. Exchanged views on strengthening our bilateral cooperation."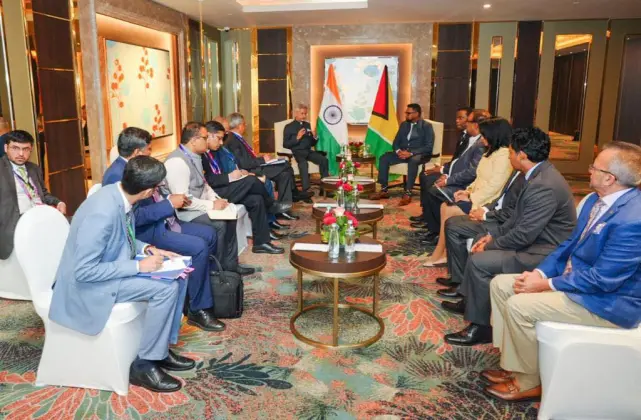 President Ali was accompanied by Minister of Foreign Affairs, Hugh Todd; Minister within the Ministry of Local Government and Regional Development, Annand Persaud; Director of Projects in the Office of the President, Marcia Nadir-Sharma, and other officials during the engagement.
India's High Commissioner to Guyana, Dr K.J. Srinivasa, and other Indian officials also attended the meeting.
President Ali and his delegation are in India for an Official Visit during which the Guyanese Head of State will be bestowed with the highest honour conferred on overseas Indians – the Pravasi Bharatiya Samman Award (PBSA).
On January 10, the Head of State will be conferred with the PBSA award by the Honourable President of India, Droupadi Murmu, as part of the upcoming Pravasi Bharatiya Divas Convention (Indian Diaspora Day) being held from January 8-10, 2023 in Indore, Mahdya Pradesh.
On Sunday, President Ali and his delegation arrived in the host city, Indore, to a warm welcome by Cabinet Ministers of the Indian Government, Members of Parliament and local leaders.
While in India, President Ali will also participate in the Pradesh Government Global Investors Summit and other engagements with officials of the Government of India and agencies/organisations of the Private Sector of India.
Other stakeholders from Guyana including key private sector players are also in India.