Rihanna and A$AP Rocky looked more in love than ever as they enjoyed a shopping trip at the Maxfield in West Hollywood, California, on Wednesday.
The singer, who is expecting the couple's second child, rolled up her striped polo shirt to flaunt her blossoming bump.
She walked arm in arm down the sidewalk with her beau, who looked in great spirts, laughing and smiling.
The couple matched in their colourful casual wear, with Rihanna adding to her ensemble with low-rise baggy jeans and brown work boots with red laces.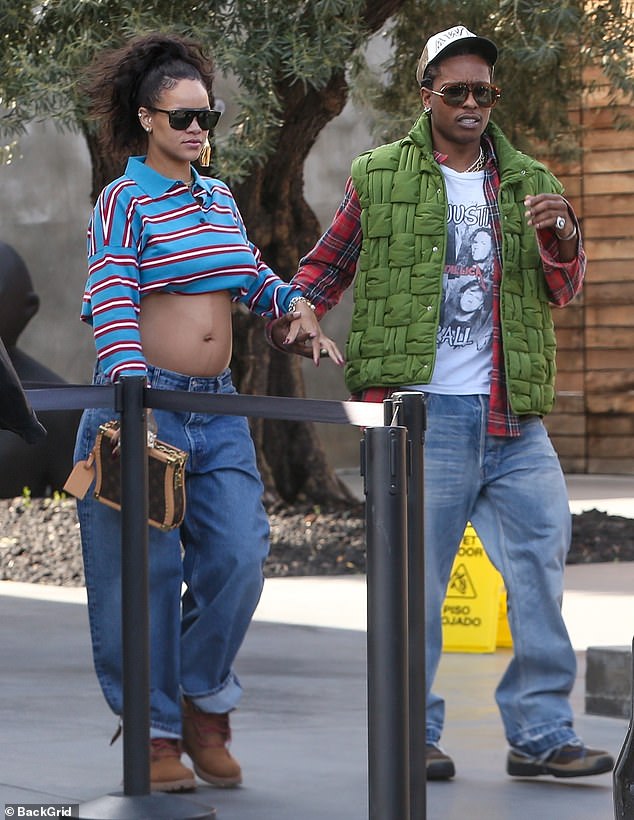 She added a touch of designer chic to her low-key look with a Louis Vuitton clutch.
A$AP kept close to Rihanna while they were out and about, and he even sported a similar street-style look as her.
The look was complete with a green puffer vest over a red flannel and a white graphic t-shirt.
The Sundress rapper also had on a pair of loose-fitting jeans and brown sneakers.
After enjoying a browse of the stores, the couple were later pictured leaving lunch arm-in-arm after enjoying a meal at the famed Bottega Louie in West Hollywood.
Rihanna shared with the world that she was pregnant with baby number two while performing at the Super Bowl LVII halftime show on February 12.
She and the Distorted Records rapper have been together since 2020 and already share a nine-month-old son.
After the Super Bowl and pregnancy reveal, the couple appeared on the March cover of Vogue.
Speaking to the magazine, Rihanna said Rocky is her 'best friend' and admitted she can't remember what her life was like before having her son in May 2022.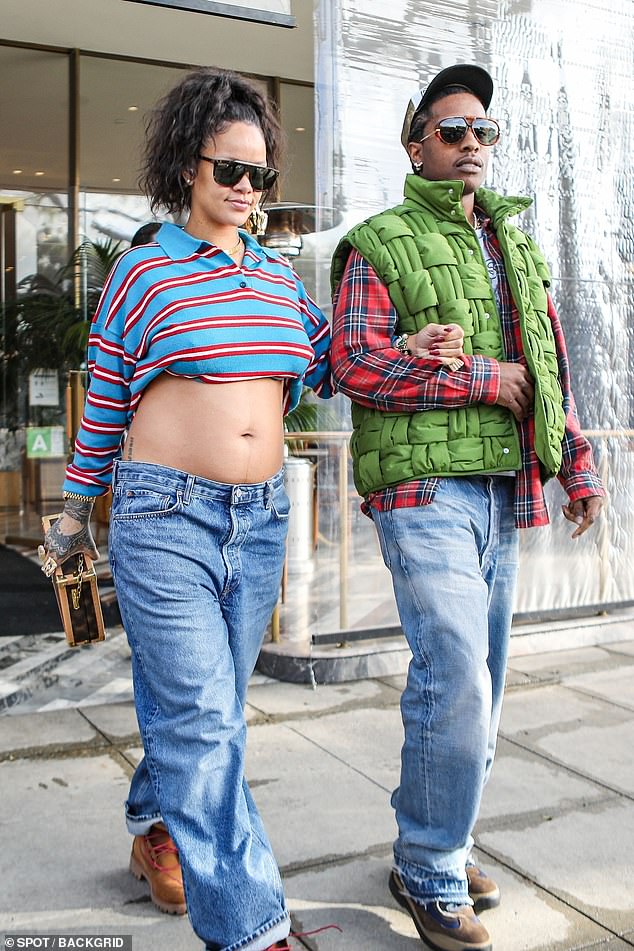 She said of becoming a mother: 'It's everything. You really don't remember life before, that's the craziest thing ever.'
Rihanna said her first few months as a mother were a rollercoaster and described giving birth as a 'head-f**k,' saying she couldn't believe she entered the hospital pregnant and left with a baby.
Rihanna admitted that having a child has also made her reevaluate as she described raising her son as one of the 'scariest' responsibilities ever in her life.
She said: 'Raising a young Black man is one of the scariest responsibilities in life […] 'You're like, 'What am I leaving my kids to? This is the planet they're gonna be living on?'
'Everything changes when you have a baby, but I wouldn't say it's done anything but made us closer.'