(GUYANACHRONICLE)President Ali says backlands now becoming frontlands with critical investments
NEW infrastructural projects have transformed the country's landscape, especially along the coastland, where new road linkages are not only complementing the development of new housing schemes, but also opening new lands and making travel easier for commuters.
President, Dr. Irfaan Ali commented on the benefits of the new infrastructural developments during a site visit to various projects in Georgetown and across the coastland.
While on the site of the ongoing construction of some 200 young professional homes at La Bonne Intention, East Coast Demerara, Dr. Ali said that while some 200 homes are currently under construction, another area further down is being developed for some 500 additional homes.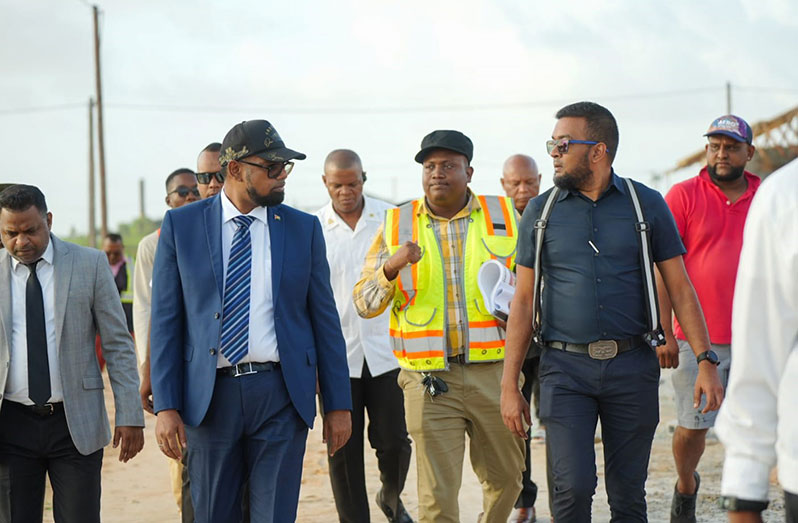 He added: "What is important to note here is this massive additional housing development will not be connected to the old infrastructure system."
The roads in and out of the area will connect to the newer infrastructure that is currently being put in place at Ogle and also in Georgetown.
Dr. Ali said this will connect the community to the city without those intending to reside in the area having to use the older roads.
"So, all these new development at the back here are front lands in a sense that they will all be connected to the new highway system," he remarked.
Further, Dr. Ali said the homes being constructed in the area for this young professional scheme are similar to those that were built along the East Bank of Demerara.
He said: "But when you come out and people see the level of investment, infrastructure and effort that is going behind transforming the country and building out, then they get a realisation as to what is happening."
In 2022 alone, the PPP/C Government built and maintained more than 180 bridges, and some 1,651 kilometres of roads along the coast and across the hinterland.
The President said this is part of the infrastructural overhaul which started when the government assumed office in August 2020.
At the end of 2022, a total of 351 bridges have been built in communities across Guyana, and from 2020 to the end of 2022, the government has built and maintained more than 3,670 kilometres of roads in communities across the country.
"This gives you an idea of the magnitude of work that we have done at a national level, at the community level, at the regional level, notwithstanding severe challenges with shortages of construction material, shortage of labour, and imported inflation," President Ali had said.
The 2023 budget saw massive increases in funds for key infrastructural upgrades, such as roads and bridges, housing, and power generation.
Comparatively, in 2019, total investment on roads and bridges through the budget amounted to $11.8 billion, while in 2023, some $131.5 billion was allocated to this area. In the area of housing development, less than $1 billion was spent in 2019, but in the 2023 budget, that area received $53.1 billion.