(Observer)Few could imagine how the Earth looks from space, or the experience of weightlessness.
But for Keisha Schahaff and Anastatia Mayers, the mother and daughter duo that broke the Caribbean space barrier, it was a moment which they cannot and will not forget.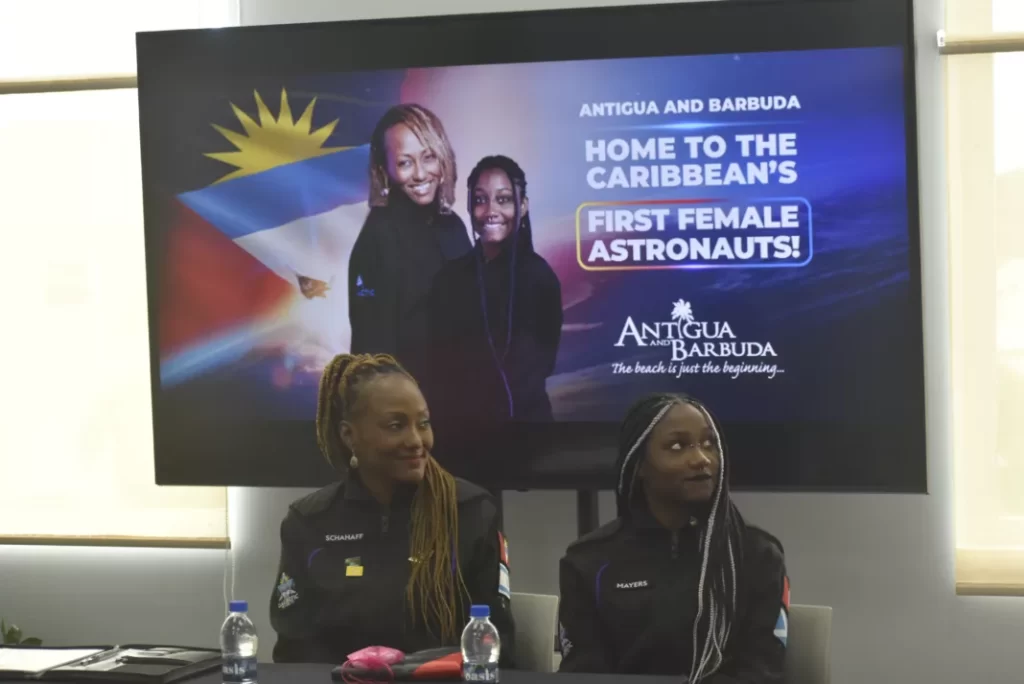 "Can you remember doing something magnificent for the first time, like let's say when you are travelling for the first time and seeing an island pop up out of somewhere so that is like a 'wow' feeling … now times that by 100," Schahaff explained.
The two became not only the first Antiguans, but the first Caribbean and the first mother-daughter duo to become space tourists aboard the Virgin Galactic on August 10.
During a welcome home ceremony yesterday, they talked about their experience during and leading up to the moment, as well as their plans going forward.
"It was more magnificent to see it with your own eyes than when you are looking at it from a picture … it actually looks living, like it is pulsating, like it is breathing with the blue atmosphere around it," Schahaff said.
Mayers, who became the youngest person ever to visit space, spoke about her emotions when her mom first told her about the journey and her interactions with the Virgin Galactic team who helped them to prepare for that moment.
"When my mom first called me and said we won the trip to space, I thought she finally lost it, to be honest, I was like: 'what are you talking about?'
"But then Sir Richard Branson took the phone and was like, 'no, you won the trip to space' and I was like, 'oh my god, we won the trip to space," she said.
And yet, despite the euphoria of the moment, Mayers managed to keep it a secret from friends and acquaintances until it was widely known, as she didn't think they would have believed it either.
Meanwhile, Mayers, who dreams of working for NASA and is currently studying physics and philosophy, spoke of her interactions with the engineers and former astronauts.
"We definitely interacted with the previous astronauts who told us their experience and what we should expect from a more personal stance.
"We also interacted with a lot of pilots and engineers that worked within the company which I think was very good for building trust and truly understand what was happening," she said.
As the image of Mayers with her braided hair floating and the Antiguan and Barbudan flag sewn onto the sleeve of her suit clearly displayed across the video was broadcas all of over the world, Mayers described it as heartwarming to know.
"As a young person myself, it would have been great to have this kind of inspiration when I was young and I am so honoured to be able to provide that for future generations," she said.
Schahaff, meanwhile, spoke about finally fulfilling a childhood dream.
"It has just been an exciting feeling, something that I have always wanted, something that I have always dreamt of and to have this come into reality that a crazy dream was coming [true] was the best feeling of my life," she said.
Tourism Minister Charles Fernandez who attended the welcome home event said the moment was a celebration of their bravery.
"For me, it is about celebrating what you have accomplished; you have set the trend for all of us in the Caribbean," he stated.
And while Minister Fernandez expressed doubt that he could attempt to travel to space as the two women did, Observer media asked what message they would share with persons who may be afraid of taking that step.
"How many of us have a dream or a goal and we have a fear—maybe a fear of failing, or a fear of what others may say—what I can say … whatever that goal is, you face whatever feelings that are uncomfortable so you can get to that goal and the more that you can face this feeling, the more that you can become comfortable with it.
"Don't let that [feeling] be what stops you from acquiring your goal," Schahaff responded.
Following the trip, Mayers spoke about her widening perspective, wanting to see more of the world and helping young people.
"I want people, especially younger kids when they are growing up, to understand everyone doesn't learn the same way and just because you learn a different way, doesn't mean you don't have a chance; I want to help bring more awareness to that," Mayers stated.
Meanwhile, Shahaff spoke continuing to make an impact through her work in wellness.
"Health is number one [because] if we can develop ourselves to the healthiest way possible, I believe we can not only become better people for ourselves, but our community and for our planet," she said.