Lieutenant Aushaun Browne of the Antigua & Barbuda Defence Forces (ABDF) traveled to India to commence a seven (7) month training with the Indian Navy under a fully funded Government of India scholarship – the Indian Technical and Economical Cooperation (ITEC) Programme.
These scholarships for the ABDF have started from 2023 and have been granted under the Friendly Foreign Countries Defence ITEC scheme with 14 slots per year.
Under the ITEC scholarship, the Government of India covers all expenses related to the training and provide the trainees with a return air ticket, accommodation charges, tuition fee, living expenses, medical expenses, and external and internal tours as per the course curriculum.
Lt. Browne, an ABDF Staff Officer for Administration and Personnel belonging to Pigotts Village, St. George will be attending the Navigation & Direction School, Naval Base Kochi Keraral to study Long Navigation Foreign Course for officers from Friendly Foreign countries.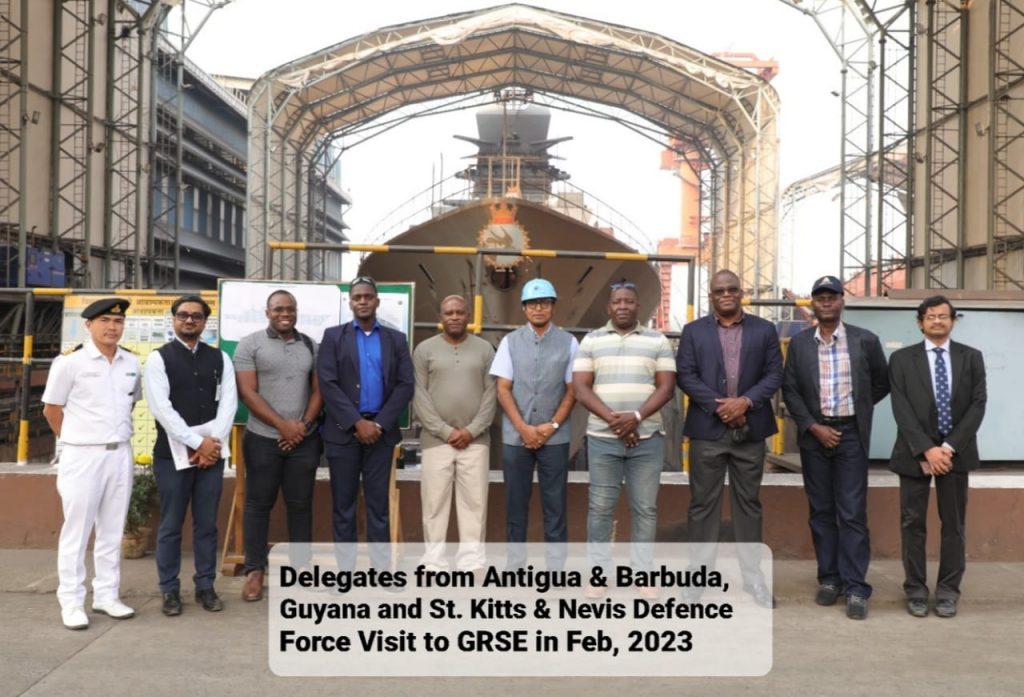 He departed Antigua on Friday, May 12th and was seen off by the Honorary Consul of India to Antigua & Barbuda Mr. Vijay Tewani and Captain Jarvis of the ABDF.
In his comments, Lt. Browne extended his gratitude to the High Commission of India and the Government of India for the opportunity.
The High Commissioner of India accredited to Antigua & Barbuda, H.E. Dr. KJ Srinivasa wished Lt. Browne the best and urged him to make the most of his seven months in India to further improve the skills and training which could be beneficial to the ABDF.
The Government of India will keep collaborating with Antigua & Barbuda to continue to strengthen its partnership, by offering several other ITEC scholarships in various areas including military, technical and others to further improve India-Antigua & Barbuda collaboration in skills and capacity building.
It may be noted here that in January 2023, Colonel Telbert Benjamin & Captain Karl Jarvis of the ABDF traveled to India under an Official invitation from the Government of India for AERO India 2023 in Bengaluru, which is Asia's biggest air show and aviation exhibition lasting over five days.
Col Benjamin and Captain Jarvis met and interacted with the Chief of Defence Staff of the Government of India to discuss further bilateral collaboration.
They also interacted with numerous manufacturers of Made in India defence equipment which could be of potential use for the ABDF.
They also visited the Garden Reach Shipbuilders & Engineers (GRSE) builders in Kolkata, where they were able to explore the shipbuilding industry at this Defence Public Sector Enterprise belonging to the Government of India, interacted with their top executives, and explored opportunities to potentially purchase Fast patrol vessels for the ABDF coast guard.
Formed in 1884, GRSE is playing a key role in defence preparedness of India to produce the most modern warships through indigenization for the country aimed at self-reliance. GRSE's primary role has been building warships and other vessel for the Indian Navy and Indian Coast Guard.
The shipyard has a modern shipbuilding infrastructure, state-of-the-art Virtual Reality Lab and a 100+ strong design team. Post modernization and revitalization, the shipyard has the capacity to build 20 ships (08 large & 12 small) concurrently.