Dear Editor,
We've had a most appalling experience in Antigua & Barbuda's Dee's RUBis gas station Old Parham Road, Piggott's Village on Feb 27th 2023 at 11:09 – 11:11am. We pulled into the gas station and aligned at the pump.
The attendant looked at us then walked away, as she did so another attendant alerted her pointing out that we were there and needed service by saying :"you have customers'.
To this the attendant looked back at us and carried on walking away.
Attendant #2 instead of coming over to give us service, attended to a customer who was just pulling in and getting aligned with the pump.
We poked our head out the window and said "excuse me miss, we were here before that car", to this she said rudely Just wait!
She started servicing the car and we rolled our window up and pulled out of the service station onto the main road and stopped at the red light.
We noticed that the attendants were shouting at us and we rolled our windows down to hear them cursing so we pulled out or phones to capture their conduct . they kept cursing then both attendants bent over with their buttocks to us and screamed 'kiss our asses.'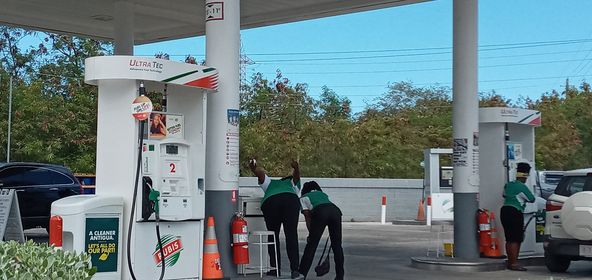 We were so disgusted by it all we telephoned the office but was turned off by the attendant , she said she has no idea of the name of the manager nor the owner of the gas station.
We called another Rubis station and got the names of the managers but couldn't reach them. We then emailed RUBis via Rubis.com website giving a brief of our experience.
On the 28th we successfully got a hold of Jean Claude who was to put it mildly was pressed for time and not interested in hearing what we had to say.
We then called the local news paper and also decided to visit this page and messaged here. we've attached photos of the 2 attendants showing their asses for us to kiss… appalling when so many respectful persons are seeking jobs right now.