Holiday firms have been criticised for jetting in tourists to Rhodes today as the island buckles under its fifth day of wildfires, with thousands of people evacuated from beaches.
Desperate tourists have described feeling 'abandoned' by flight carriers as they shared harrowing stories of being forced to walk for miles to safety and rely on help from overburdened local authorities.
Panicked Brits say they have been left to fend for themselves after fleeing their burning hotel which felt 'like a warzone'.
Officials on the Greek holiday island have today evacuated 30,000 people threatened by wildfires to safety – including 2,000 who had to flee on small boats and ferries.
George Hadjimarkos, regional governor of the South Aegean, told Skai television that the operation, which is still ongoing, had been hampered by fires cutting off some road access.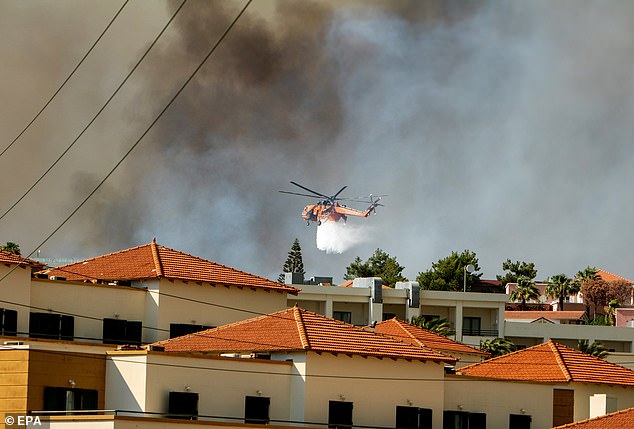 'The aim is to protect human life,' he said.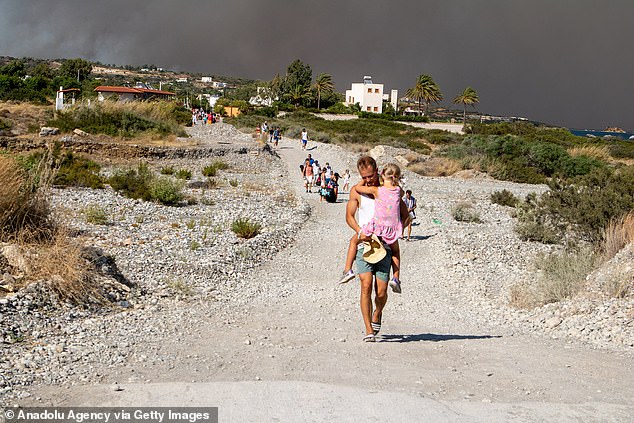 Janet McDonald told Mail Online: 'My daughter and granddaughter were evacuated from Princess Sun Hotel Kotari this morning. They were told to walk for 50 minutes and then abandoned on a beach with nothing, no food or water and they have been left there.
'Now it is pitch black, her phone is dying and obviously the children are distressed. The Jet2 rep told them to "walk that way" then got in her car and drove off. It's nearly midnight and all they can see is the fires. Scary stuff and I'm a wreck.'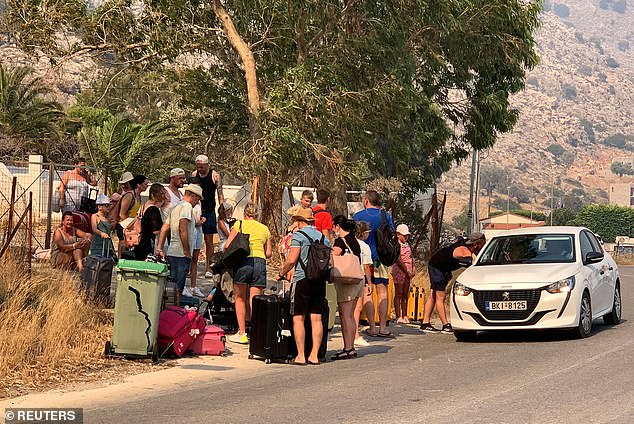 Another woman told The Mirror how her friend and her family had to flee their hotel on foot in the blistering heat, leaving them stranded at the airport with no money or passports.
Eileen Lawton, her daughter Hannah Gormley and eight-year-old granddaughter Annabelle were also staying at the Princess Sun Hotel when it started to catch fire.
Their friend Glynis Wall said that hotel bosses evacuated, leaving guests to wait for rescue coaches which 'never turned up'.
'They said it was like images of a warzone,' Ms Wall said. 'Everyone around them was panicking. There were children and babies crying and mothers trying to protect them from the smoke.'
Holidaymaker Emma Marsh said: 'We are currently in Rhodes – we landed today only to be told that our hotel has burnt down. No one from the airline informed us before we flew.
'The car we booked refused to take us anywhere… definitely a lesson to always book a package holiday! We've had to sort ourselves out with a hotel for tonight and the insurance company is shut until Monday.
'I would definitely recommend people do not fly out to Rhodes in the next week.
'The hotel we've managed to find is having power cuts every two minutes, there is no aircon because it's putting too much pressure on the electricity and it's just a complete nightmare.'
Fellow tourist Kieran Turner added: 'Me and my family are evacuees in Rhodes from Rodos Princess Beach hotel. Information from the hotel is sparse and our airline Jet2 is nowhere to be seen other than taking a register around 6pm.
'I'm currently camping on the beach with my wife, our six-year-old daughter and her two grandmothers.
'It's horrible what is happening to the people of Rhodes but we feel completely abandoned by Jet2.'