Greece has started mass evacuations this afternoon with ferocious wildfires bearing down on popular coastal resorts – as a scorching heatwave threatens to break records during Europe's 'hottest ever week'.
Authorities 'saved' 1,200 children from holiday camps threatened by wildfires near the seaside resort of Loutraki, the town's mayor told local media, after flames were whipped up by strong winds.
Up to 150 firemen, 40 fire engines and 11 aircraft battled a massive blaze in the village of Kouvaras, which is around 17 miles from Athens, with people being ordered to leave their homes.
Blazes have also engulfed areas around the seaside resorts of Lagonissi, Anavyssos and Saronida, and authorities have evacuated people from a number of villages, as well as a rehabilitation centre and summer camps.
The blaze reportedly started in Kouvaras and quickly spread south toward the Attica region and the resorts of Lagonissi, Anavyssos and Saronida.
The Greek Fire Service described it as 'a difficult day with several fires (burning) across the country,' with scenes of charred trees, cars and homes bringing back traumatic memories for many after dozens of lives were lost to inferno-like forest fires in 2018.
Brits holidaying across the Mediterranean are bracing for the arrival of even hotter weather this week, with the sweltering heat set to soar even higher after an anticyclone called Charon, so-called after the ferryman of the dead in Greek mythology, reached Europe from North Africa on Sunday night.
Tourists have collapsed and fainted in the severe heat in Italy and Greece and wildfires have also ripped through homes in La Palma and Turkey in the past week after temperatures across southern Europe hit 43C.
Heatwave Charon is tipped to force thermometres above 48.8C in Italy in the coming days, a new record high, with experts warning that the mercury could also approach record levels in Spain and Greece.
The World Meteorological Organisation has urged people to 'stay safe', cautioning that the heatwave is forecast to intensify by mid-week and is likely to continue into August across parts of southern Europe.
The smoke-covered landscape in Loutraki Greece
Authorities have closed the Greek capital's top tourist attraction, the Acropolis, during the hottest hours, with tourists set to endure 41C heat there and in Cyprus by the end of this week.
Authorities in Kouvaras said it is difficult to deal with the forest fires there due to the strong winds, and spokesman Yannis Artopios explained the tough conditions for those battling the flames.
'It's a difficult fire, the winds are really strong, with gusts reaching up to 37 miles per hour.
'We are in the middle of the period of fighting fires. The conditions expected will be particularly difficult and favour forest fires.'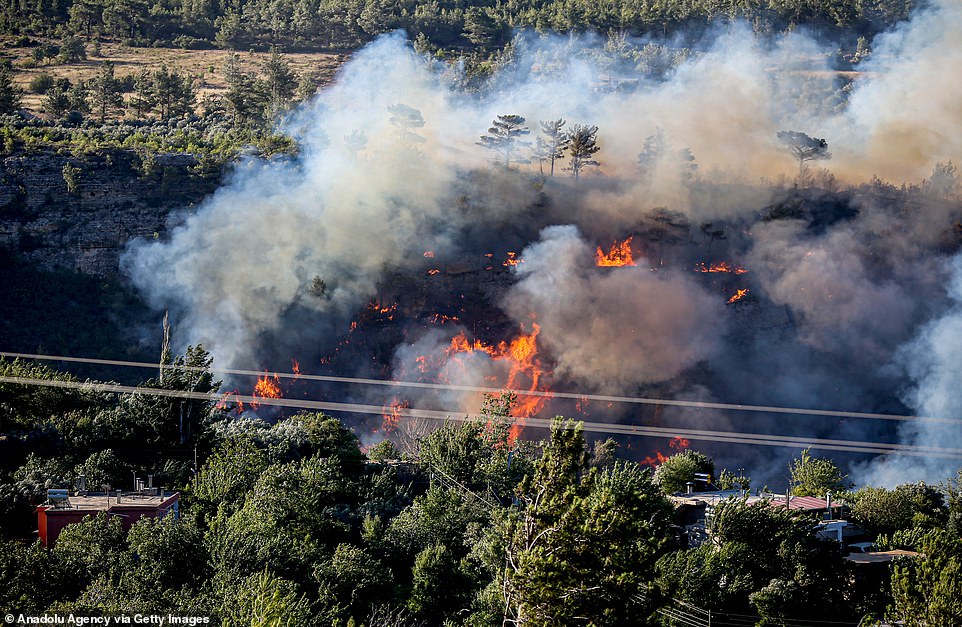 British tourists across the Mediterranean are being warned of the life-threatening dangers of the blazing sun, with temperatures set to reach 45C in Antalya, Turkey, by the end of the week. In Spain, temperatures will soar to 44C by tomorrow.
Streets have emptied across Spanish cities, with tourists seeking shelter in Seville while Madrid has suspended road cleaning services and given shelter to homeless people amid the unbearable temperatures.
Empty beaches were pictured in Portugal this afternoon, as holidaymakers seemingly preferred to stay indoors rather than brave the high temperatures, which reached 32C on the Algarve.
And in Italy, tourists were warned to brace for 'the most intense heatwave of the summer and also one of the most intense of all time'.
The Italian island of Sardinia is set to bear the brunt of the unforgiving weather, with forecasters predicting that temperatures could reach a 49C. The previous record high of 48.8C was registered in the Sicilian town of Floridia on August 11, 2021.
Health officials have issued red weather alert warnings for 16 cities across the country, including Rome where temperatures are expected to soar to a record-breaking 43C. The capital's previous record high of 40.5C was set in August 2007.
A red alert warning means that the heat is so intense that it poses a health risk to the whole population – not just vulnerable groups like the elderly and very young children.
'We need to prepare for a severe heat storm that, day after day, will blanket the whole country,' Italian weather news service Meteo.it warned on Sunday. 'In some places ancient heat records will be broken.'
Italy's Health Minister Orazio Schillaci said people needed to take care visiting Rome's famous ruins.
'Going to the Colosseum when it is 43C (109.4F) is not advisable, especially for an elderly person,' he told Il Messaggero newspaper on Sunday, saying people should stay indoors between 11 a.m. and 6 p.m.
Besides the Italian capital, health alerts were in place from the central city of Florence to Palermo in Sicily and Bari in the southeast of the peninsula, while the temperatures also started to build further north.
On the Spanish island of La Palma in the Canaries, meanwhile, at least 4,000 people had to be evacuated as a forest fire burned out of control following a heatwave, authorities said.
On Sunday, Spanish authorities said more favourable weather conditions helped firefighters slow down the advance of the blaze.
The blaze, which started on Saturday, burned through an area of about 4,600 hectares (11,300 acres) and ripped through some 20 houses and buildings.
Europe's highest recorded temperature of 48.8C, registered in Sicily two years ago, could be exceeded in the coming days, notably on the Italian island of Sardinia, meteorologists have said.
'I'm really struggling with the heat. I've bought a mini fan, an umbrella and bottles of water,' said Lilu Da Costa Rosa, a 48-year-old Brazilian saleswoman visiting Rome on Sunday.
In the Vatican, 15,000 people braved sweltering temperatures on Sunday to hear Pope Francis lead prayers, using parasols and fans to keep cool.
But in their black robes, priests like Francois Mbemba said they were 'sweating like hell'.
The 29-year-old said it felt hotter in St Peter's Square than in his Democratic Republic of Congo diocese.