An incredible time-lapse video shows the moment that New York City became engulfed by glowing orange smog caused by 400 Canadian wildfires.
The footage shows a view of the World Trade Center in downtown Manhattan slowly becoming almost impossible to see over four hours.
Images initially show a grey and slightly opaque smoke over the city, which quickly descends into a bright orange haze from 11am to 2pm on Wednesday. 
A sheet of smoke from the wildfires first descended on New York on Tuesday before thickening throughout the afternoon.
 It quickly left those in Manhattan unable to see the New Jersey skyline across the Hudson River – sparking air quality alerts in Massachusetts, New Hampshire, Pennsylvania, Maryland, Illinois, Virginia and the Carolinas.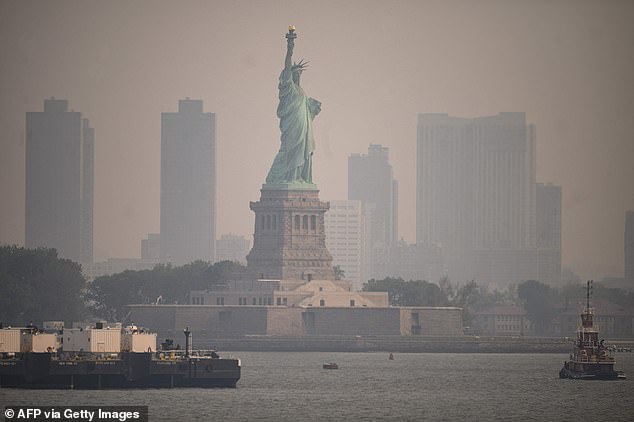 The Statue of Liberty barely visable because of the hazardous smog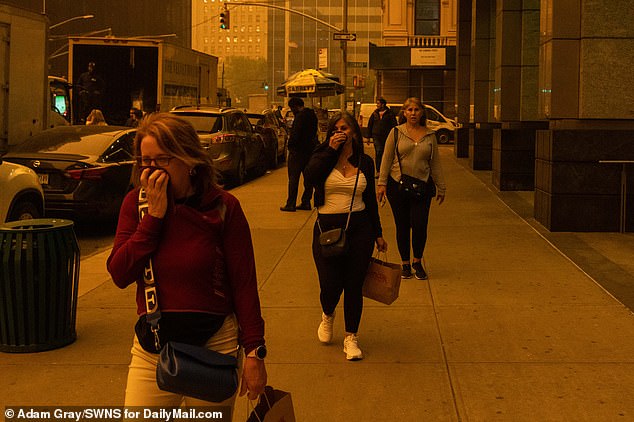 Big Apple residents have been advised to remain insideThe smoky yellow haze enveloped the city and is forecast to linger into the coming days 
In the Big Apple, Mayor Eric Adams urged people to stay inside as the smog hit, as the FAA grounded flights from LaGuardia Airport and Newark Airport.
Adams urged vulnerable residents to be cautious amid the crisis, as he also blamed climate change for the yellow skies.
'This may be the first time we've experienced something like this on this magnitude,' he said. 'Let me be clear, it's not the last.'
Residents in Washington reported seeing a grey veil shrouding the city on what should have been a blue-sky day.
Those in DC will see the smog hang around for a few more days, with pupils in schools being told to remain indoors throughout the day.
A school administrator in Chevy Chase said: 'Many staff and parents are concerned about the wildfires in Canada and the resulting poor air quality that we are experiencing here.'
High ozone levels in Chicago, combined with the smoke from the wildfires, which led to air quality alerts on Monday, with the smoke across the city dissipating slowly by Wednesday.
The Chicago White Sox still traveled to the New York Yankees for a game in the Bronx, with many describing the scenes as post-apocalyptic.
The smoke that hit Philadelphia is likely to remain due to the persistent wind blowing through the north, with the air quality alert hitting a 'Code Red'.
Smoke from a fire in the Bass River State Forest last week and another in Nova Scotia also blew down smog, which has now combined with the 400 wildfires to cover the area.
Tuesday night, local 911 centers received calls from residents who reported smelling smoke and others who reported respiratory distress.
As of Wednesday Morning, Detroit had the second-worst air quality on Earth, before being overtaken by New York.
But by the afternoon the air quality was improving – as Detroit had dropped to the No. 13 worst air quality in the world.