Intelligence officials are reportedly probing how suspected Chinese spy balloons reached the east coast of the United States under the Trump administration, and believe they may have been released from the Caribbean or Latin America.
Details emerged after President Joe Biden updated the nation on a series of mystery objects that had been shot down by warplanes.
The first was a spy balloon but the next three were not said Biden in a Thursday address that seemed designed to ease tensions with China.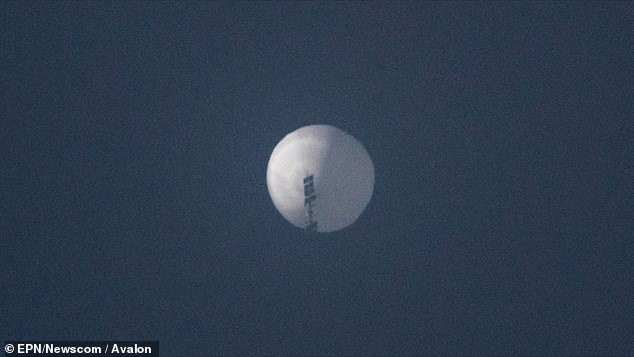 However, more questions emerged hours later about how many spy balloons have been sent into U.S. airspace and whether they can even be properly monitored.
The Wall Street Journal reported that a small circle of Pentagon  intelligence officials during the Trump administration monitored a series of mysterious objects, which were never reported to the White House because it was not clear what they were.
The episodes came to light only recently when the Biden administration briefed reporters that the recent balloon episode was not the first time that suspected Chinese balloons had appeared.
That triggered headscratching from Trump-era national security officials who said they had never been told of such activity.
Republican Rep. Michael Waltz said recently that he was informed of incursions near Florida and Texas, likely during the Trump era.
While the most recent balloon was thought to be intended for Hawaii and Guam, before being blown off course, sightings on the east coast may suggest a different route.
Now analysts have developed a theory that China could be launching them from the Caribbean or parts of Latin America, where Beijing has extended its influence, although the paper said no firm conclusions have been formed.
The Pentagon last year set up the classified All-domain Anomaly Resolution Office after Navy pilots reported spotting mysterious objects. In some cases they were visible in the skies for months.
The pilots, who said the objects were high over the East Coast, reported their findings to Congress and the Pentagon.
Some date back as far as the Obama presidency.
On Thursday, Biden said he planned to speak to Chinese leader Xi Jinping about the spy balloon, but also signaled that he wanted to reduce tensions.
'I expect to be speaking with President Xi and I hope to get to the bottom of this,' he said. 'But I make no apologies for taking down that balloon.'
He also said he had directed National Security Adviser Jake Sullivan to lead a review of procedures.
He said the aim was a system that would help distinguish between objects that posed a safety or security risk and those that do not.
'Make no mistake, if any object presents a threat to the safety and security of the American people I will take it down,' he added.