FIVE ISLANDS, Antigua and Barbuda – 22nd March 2023…..Prime Minister the Hon. Gaston Browne has praised local businessman and philanthropist, Ambassador Calvin Ayre for making a significant contribution towards the socio-economic development of Antigua and Barbuda.
Prime Minister Browne made the comment while delivering the feature address to launch the University of the West Indies, Five Islands Campus and the Calvin Ayre Foundation 75 Financial Care project which offers over 200 scholarships to students of the campus over a two-year period. The project is valued at EC $540, 000.
"For his contributions to the development of Antigua and Barbuda we say thank you and we are eternally pleased. I say to Ambassador Calvin Ayre, sincere thank you. An unapologetic thank you, for your commitment to this country and certainly to the region. Your contributions have made a difference, especially your economic contributions. Today, Ambassador Calvin Ayre is easily the single largest private sector developer on the island, " said Prime Minister Browne referring to the businessman's development of a business complex, Canada Place at over $40 million dollars, the ongoing construction of a retreat centre at a cost of $40 million US dollars and his plan to construct, later this year a luxury resort and residences – a Nikki Beach project.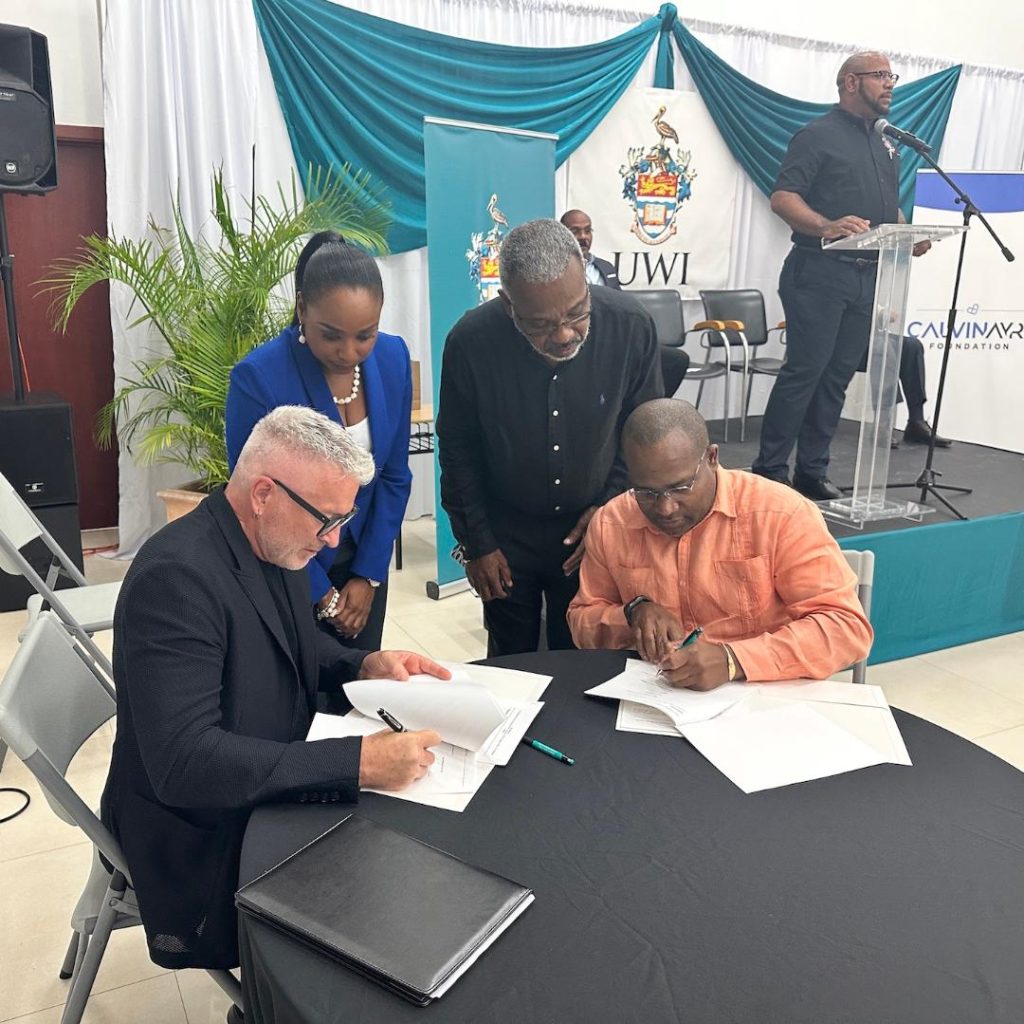 "Ambassador Ayre, evidently has shown a significant amount of commitment to the people of this country and he should be celebrated. I want to encourage all Antiguans and Barbudans to embrace him. He is a citizen and I want to emphasize the point that he has been a good citizen and a most productive citizen in terms of his investments," said PM Browne.
Prime Minister Browne also encouraged other members of the business community to contribute to community development and worthwhile projects; making reference to the Apostle Paul's three Christian principles of faith, hope and charity.
"We all know that the best of them is charity. And they say that charity is the best form of love. Ambassador Ayre is showing his love for the people of Antigua and Barbuda in a very tangible way by making these significant contributions, these significant gifts. In fact, I would say that he is also the single largest philanthropist. We are eternally grateful. And by giving, that is the way in which you demonstrate love for people. I am encouraging other businessmen and other professionals in this country to follow the lead of Ambassador Ayre by giving not only to the University of the West Indies Five Islands Campus, but generally to the society. For us to become more giving and more empathetic people. There are many things that we can volunteer to do, but unfortunately, we do not have a strong culture of volunteering, and I'm hoping that this will change as we look at the contributions of people like Ambassador Calvin Ayre," said Prime Minister Browne.
Prime Minister Browne also stated that as a small nation with less than 100,000 people, we must make the best of our human resources and continue to invest in people so that they can compete with the best in the world. He noted that his government is determined to continue to invest in the development of its people, not only in academic education, but also in vocational and technical education.
"My government agrees with Principal Williams of the Five Islands Campus that there is a need for us to assist individuals in the workforce to increase or improve their job proficiency. And that is certainly an area that we welcome as we continue to expand the university's lifelong learning programmes. I am especially concerned about proficiency within the public sector, and we have held private discussions with Professor Williams to help us to provide training for public servants, perhaps on the university's programme so that we could increase job proficiency. This contribution by Ambassador Ayre will assist in this regard," he said.
He pointed out that his government is hoping that the programme can commence soon and fully institutionalized in an effort to increase productivity within the public sector. He said that this is his government's response to calls for retrenchment in the public service.
"We do not believe that retrenchment is a solution. I believe increasing productivity is a solution. That is why we have asked the university to partner with our administration, to continue to develop our public servants and to provide training for the public and private sectors as we seek to increase national productivity."
The country's leader concluded his remarks by calling on the nation's people to come together in support of the University of the West Indies Five Islands Campus, which he said has emerged as the most significant institution that has been established by any administration in Antigua and Barbuda.
"UWI at the end of the day will be the fulcrum of our development, the fulcrum of our advancement. It is important for all Antiguans and Barbudans to buy into the vision of UWI Five Islands and continue to support its development by making significant contributions or even modest ones," he said. (Ends)