Vice President of the United States, Kamala Harris, has told regional leaders that strengthening the US-Caribbean relationship is a priority for her.
She spoke on Thursday during a meeting of Caribbean and US leaders in Nassau hosted by her and Bahamian Prime Minister, Philip Davis.
Among the leaders at the summit, was Dominica's Prime Minister, Roosevelt Skerrit. Addressing the event, Harris pointed out that the meeting was important as a means of strengthening ties between the United States and the Caribbean region.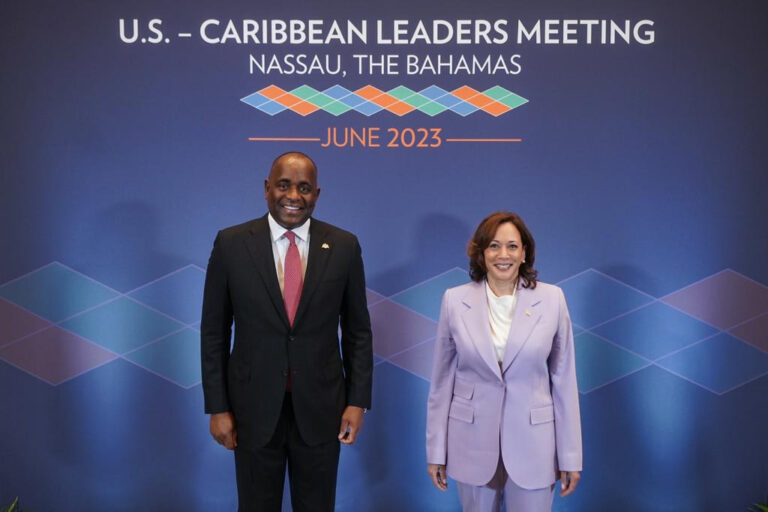 She stated this was a priority for her and her boss, US President Joe Biden. "Strengthening the U.S.-Caribbean relationship is a priority for me, as it is for President Joe Biden. And these meetings have proven — I believe, at a leader level, have proven to be very important and essential to the strength of these relationships", the Vice President stated.
During the meeting, the following initiatives were announced that would address, (1) security and firearms trafficking; (2) the need for an enhanced diplomatic presence in the Eastern Caribbean; (3) the crisis in Haiti; and (4) the U.S.–Caribbean Partnership to Address the Climate Crisis 2030 (PACC 2030).
The announcements include more than $100 million in new assistance for the region. While addressing the meeting, Harris pointed to the matter of climate change, the threat it poses to the Caribbean, and efforts made by her country to assist.
"We have discussed, for example, powerful storms that can wipe out economic progress, low-lying islands that face erosion, flooding, and deadly storm surge from rising seas. These discussions resulted in the launch of our US.-Caribbean Partnership to Address the Climate Crisis — or, as we call it, PACC 2030 — last year at the Summit of the Americas. PACC 2030 is designed to help accelerate the Caribbean's transition to clean energy and to promote
energy security and climate resilience", she remarked.
Additional funds will help low-lying island nations whose economies largely depend on tourism to prepare and adapt for climate change.
"Caribbean nations are on the front lines," Harris said. She also addressed a matter of gun violence, which has been of great concern to Caribbean leaders in recent times.
She said the United States is committed to curtailing firearms trafficking in the Caribbean by prohibiting illegal shipments of firearms and ammunition, holding offenders accountable, and enforcing justice.
"And today, I am pleased to announce that the United States Department of Justice will create a new position, a Coordinator for Caribbean Firearms Prosecutions, which will help maximize information sharing between our countries to support the prosecution of traffickers. This effort will be aided by the bipartisan Safer Communities Act, which President Biden signed last year, and includes new federal criminal offenses for firearms trafficking and straw purchases", the Vice President said.
The crisis in Haiti, which has also been of great concern to Caribbean leaders, was also addressed by Harris.
"The United States supports the development of a multinational force in Haiti", she said.
"And today I'm pleased to announce $53.7 million in new humanitarian aid for Haiti. In addition, our administration will support the extension of HOPE-HELP trade preferences for Haiti, which are due for renewal in 2025."