On Sunday morning, light showers eased the heat as the uniformed troops stood on parade for the first full Remembrance Day Service since the island became a republic. This ceremony, the first since the COVID-19 protocols have been lifted across the island, possessed a strong air of reverence.
Patriotic Barbadians gathered around the perimeter of National Heroes Square, using every vantage point to secure a view, as they observed the solemn occasion. The memorial commemorates the lives of those who represented the country in both World Wars and those who have been part of peace-keeping missions across the world.

A full guard of honour of both the armed and the unarmed units participated in the procession. While the unarmed units commenced the parade from Queen's Park, alternately the armed forces departed from Central Police Station under the command of Lieutenant Commander Graham Rocheford.
Among the armed units were the Barbados Police Service, the Barbados Coast Guard, the Barbados Cadet Corps, and the Barbados Defence Force (BDF). The unarmed units were the Barbados Fire Service, the Barbados Prison Service, the Red Cross Society, the Girls Guides, the Boys Scouts Association, and the St John Ambulance Brigade. Members of the Barbados Legion marched proudly in the parade under the command of Michael Stuart and his second in command Lawrence Herbert.
President Dame Sandra Mason's arrival was signalled by the mounted troops, and her presence was greeted by a special fanfare called 'Dame Sandra', which was written by a retired member of Barbados Police Service Band. She was followed by Acting Prime Minister Santia Bradshaw, standing in for Prime Minister Mia Mottley who is in Africa after delivering the Nelson Mandela Memorial Lecture.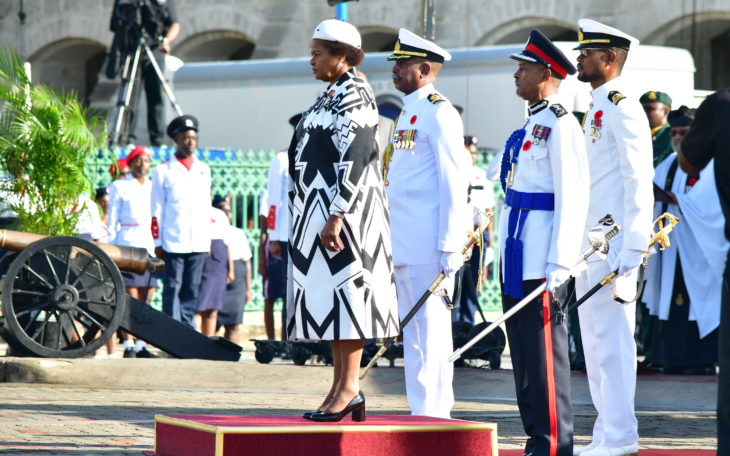 The Inter-denominational service was conducted by Reverend Mylon Springer, Chaplain of the BDF. The ceremony included the choir from the Cathedral of St Michael.
At exactly 8 am there was a moment of silence in reflection on the lives lost.
A wreath laying ceremony was conducted with Dame Sandra laying the first wreath at the cenotaph. She was followed by the acting Prime Minister Bradshaw. Several dignitaries followed suit including members of the Diplomatic Corp and the Consular Corp. The final wreath was laid by Nadia Skeete of the Barbados Girls Guide Association.
The strains of Beautiful Barbados were played as the President and Acting Prime Minister greeted the procession. After their departure the members on parade completed the march pass and exited with the same military precision with which they had entered to cheers from the appreciative audience.