By Dale C. S. Destin – Published 22 February 2023 |
Notwithstanding drought continuing through most of 2022 in Antigua, the year ended with near normal rainfall, the middle third/tercile of all annual rainfall totals for the 1991-2020 standard climate period.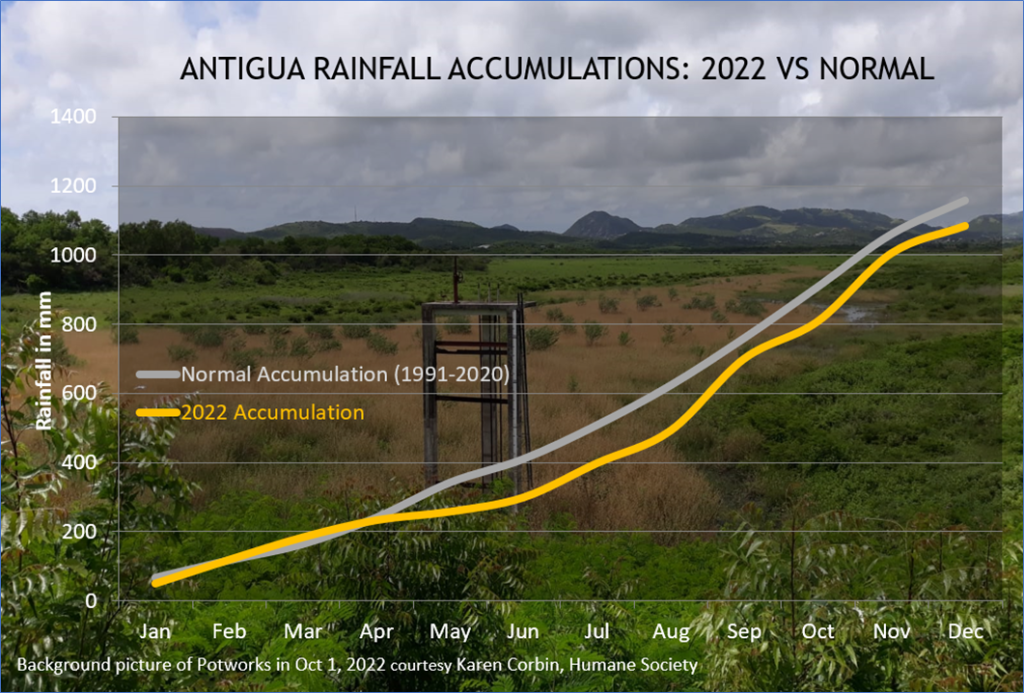 The rainfall for Antigua for 2022 was 1069.3 mm (42.1 in); the long-term (1991-2020) average/normal is 1155.7 mm (45.5 in).
The severe drought which started in January 2021 continued through August 2022, with fluctuation in intensity. Notwithstanding, 2022 ended with near-normal rainfall; this was due largely to the above-normal rainfall (579.1 mm/22.8 in) for the last third of the year–September to December, forced by mainly September and November.
The fall rains ended the meteorological drought; they also likely ended the agricultural and ecological droughts but not the hydrological and socioeconomic droughts. This is particularly evident from the continued absence of extractable water from Potworks Dam.
The month with the least rainfall for the year was May with 24.6 mm (0.97 in). This was the 4th driest May since 2001 and the 9th driest on record dating back to 1928. This is the third year in a row that May has been this parched with well below normal rainfall of less than an inch.
The month with the most rainfall was September; it had 208.3 mm (8.20 in), the most since 2017. This is the wettest September since the faithful September of 2017, when Irma and Maria drenched and flattened much of the northern Caribbean.
Usually, the most rain falls on Antigua in November and the least in March. For 2022, five months had below normal rainfall–bottom tercile of the historical data, and four had above normal–top tercile of the historical data.