Where is Kymani? Massive hunt for missing 2-year-old in T&T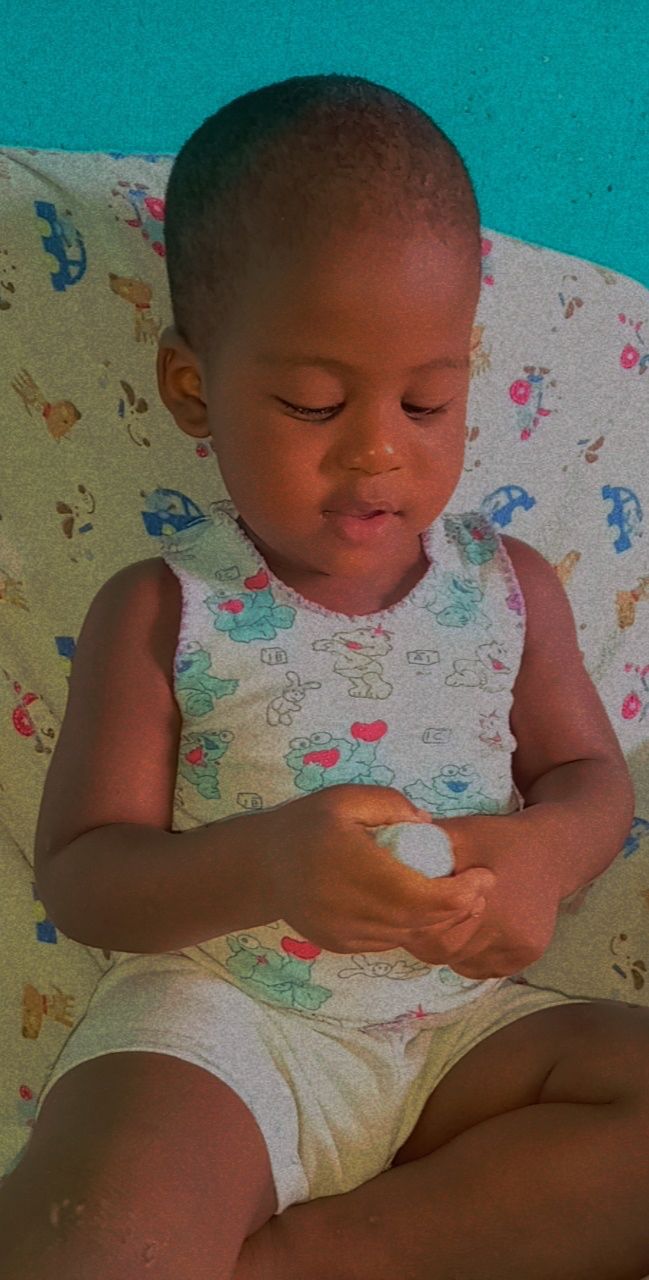 A massive land, air and water search was launched and continued last night for two-year-old Kymani Francis, who went missing after he wandered off from his Techier Village, Point Fortin home yesterday morning.
Guardian Media was told by search teams that baby Kymani, who was only wearing pampers and was barefooted, was last seen running in the direction of a bridge about a quarter-mile away from his 10th Street Extension home.
A resident contacted the police after she saw the child on the road around 10.20 am. She told the police she tried to follow Kymani but lost sight of him. By the time police arrived, the child was nowhere to be found.
The child's mother, Kimberly Charles, 22, a cashier, told police she last saw her son at their home around 10 am. She only realised he was not in the house when an Emergency Response Patrol officer alerted her around 10.30 am that her son was seen wandering along the road.
As word spread about the child's disappearance, villagers and residents from surrounding areas joined in the search with the police, who had support from the Air Guard, Canine Unit and the Fire Service.
Describing the situation as heart-wrenching, Point Fortin Mayor Saleema Thomas said she had three children and as a mother, she was still trying to process what was happening.
She spoke to the child's mother over the phone. Kymani's mother told her that her son was at home having a fruit while she was doing some work on her mobile phone.
Thomas said, "An aunt would have left the house, so she is assuming with the door opening, it probably was left open, giving the child access to walk out. This is just based on a conversation with the mom. I don't have concrete evidence of that."
Although she felt law enforcement officers were doing a good job, Thomas said the police should have locked down Point Fortin in case the child was abducted.
"The child could be anywhere but I am saying we could have broadened the search because we have main entrances and exits to Point Fortin and if it is that baby had to leave or somebody to take that baby, he may have gone in a vehicle. I am saying the search, we could have broadened it from the time we got the notice, to search vehicles as they enter and exit."
She called on all burgesses in the Point Fortin district "to put down what you doing and come out and support that search party that is here."
Ravi Ramrattan, from Extreme Hunters, said they mobilised as soon as they found out and started searching the rivers in the community. He said two men cutting grass in the area also saw the child running in the direction of the bridge, which is why they were combing the river and surrounding areas.
"We're hopeful that we don't get him in the river," he said.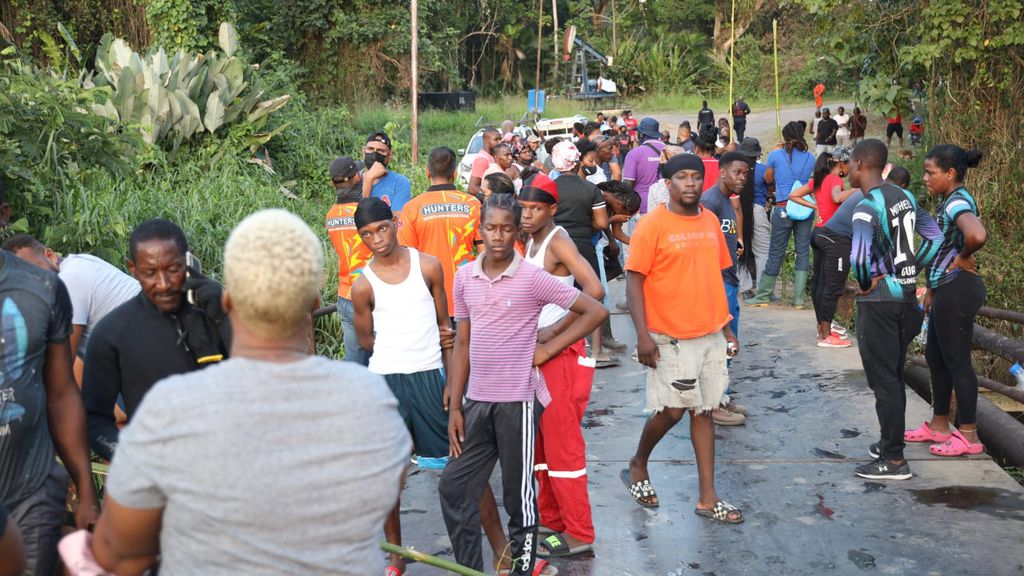 Ren Gopeesingh, who was in the river searching for Kymani, said they were flooded with calls about the child's disappearance. He said they were told the child loves water but they were remaining positive that he will be found.
"The child is two years old. He have on a pampers, no shoes, no slippers on, this pitch going to be real hot. This bridge is made of iron, so it is going to be difficult for him to cross. He might see water and he might want to dip his foot into water."
He added that when the child disappeared the tide would have been high and the water would have been travelling downstream.
Gopeesingh assured they would not stop searching until they find him.
"(We will stay) until we get closure. The full team out."
Meanwhile, Point Fortin MP Richards Jr and Techier/Guapo councillor Lyndon Harris were also at the scene.
Richards said, "The minister is also on the ball with respect to sending down additional resources for us to search for this two-year-old boy Kymani."
The MP was concerned, however, that darkness was fast approaching and there was still no sight of the child.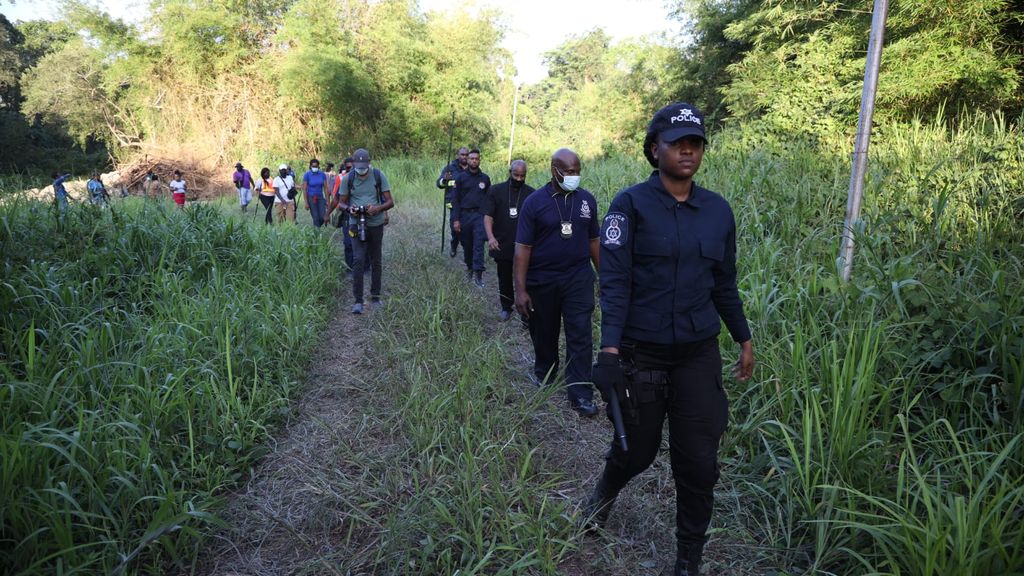 He added, "Of course, the search will continue, we have additional resources from the community. We are following the command of inspector Seecharan and I am going to speak to him shortly after this gathering to treat with lights and see how we can mobilise for the night search."
Councillor Harris said he called inspector Seecharan and the Municipal Police after hearing of the child's disappearance and spoke to the child's mother, who was distraught.
"When I spoke to the mother (it) was basically to console her because she was crying at the time and basically to find out where the child was last seen so we can locate our resources in that way to find the child," he said.
He said the Point Fortin Borough Corporation Disaster Management Unit sent their drones while Heritage Petroleum dispatched personnel to assist in the search.
Captain Vallence Rambharat, of the Hunters Search and Rescue team, was also searching last night.
He said, "At 7.21 we are using a van with headlights to search the edges of the road."
Rambharat said they will also be assisting Coast Guard divers who were expected to arrive a short while later.
Up until the time of publication, the child was not yet found.