UK BANS Russian oil imports amid pandemonium at the pumps in Britain: Large queues form at forecourts across the UK as Putin's invasion of Ukraine pushes prices near £2 a litre – and half of drivers say commute could become unaffordable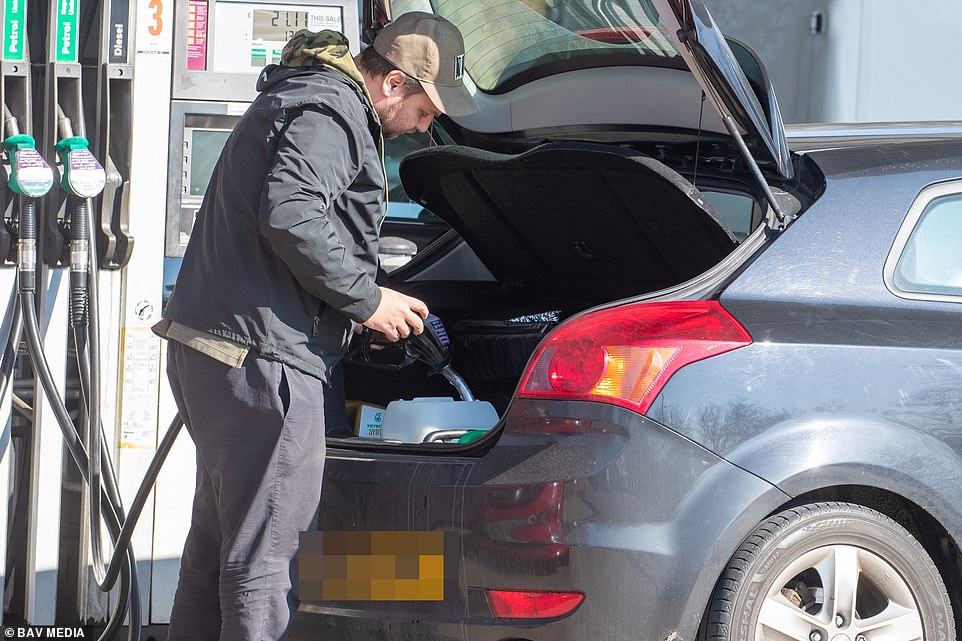 Britain has today followed the US and banned Russian oil imports as drivers started queuing for fuel after being hit by the steepest weekly hike in fuel prices in more than 18 years due to Russia's invasion of Ukraine – with prices expected to keep rising.
Oil prices are rising at an alarming rate sparking warnings that petrol could soon hit £2 a litre – taking the cost of an average tank to more than £100 – an increase of around £17.
Unleaded hit an average record of £1.55 a litre yesterday, with industry sources saying it was likely to rise to £1.75 by next week as 5p is being added to the price every 24 hours in some areas. But prices at some forecourts are already pushing £1.80.
Motorists queued outside a Sainsbury's petrol station in Cambridge today as they rushed to fill up cars and jerry cans before petrol prices increase even further. There were also long lines at the pumps at a Tesco in neighbouring Suffolk. On social media there were also reports of queues at supermarket pumps in Lancashire.
US President Joe Biden has decided to ban Russian oil imports, toughening the toll on Russia's economy in retaliation for its invasion of Ukraine, according to a person familiar with the matter, and the European Union this week will commit to phasing out its reliance on Russia for energy needs as soon as possible.
Filling the void without crippling EU economies will likely take some time – natural gas from Russia accounts for one-third of Europe's consumption of the fossil fuel.
The White House said Biden would announce on Tuesday 'actions to continue to hold Russia accountable for its unprovoked and unjustified war on Ukraine.'
The US does not import Russian natural gas.
British Business & Energy Secretary Kwasi Kwarteng today revealed that the UK would 'phase out the import of Russian oil and oil products by the end of 2022'.
He added: 'This transition will give the market, businesses and supply chains more than enough time to replace Russian imports – which make up 8% of UK demand.
'Businesses should use this year to ensure a smooth transition so that consumers will not be affected. The government will also work with companies through a new Taskforce on Oil to support them to make use of this period in finding alternative supplies.
'The UK is a significant producer of oil and oil products, plus we hold significant reserves.'
He added that the market has 'already begun to ostracise Russian oil, with nearly 70% of it currently unable to find a buyer'.
'Finally, while the UK is not dependent on Russian natural gas – 4% of our supply – I am exploring options to end this altogether,' he wrote.
The UK is planning to buy more oil from the US, Saudi Arabia and the Middle East instead, but wants nine months to sort out the deals.
The move is expected to be announced this afternoon and will lay out the ban and its phase-in period, which is expected to last about a year to try to stop people panic-buying fuel at a time when energy prices are rocketing.
There will not be a ban on Russian gas – but this is still under discussion within the Government. US President Joe Biden has decided he will ban Russian oil and gas immediately.
It came as Rishi Sunak was urged to put the City of London on a 'semi-wartime setting' amid fears the Ukraine conflict could spill further into Europe. The Centre for Economics and Business Research has predicted that GDP growth this year will be slashed from 4.2% to 1.9% in 2022 and down to zero in 2023.
Amid fears energy bills could soon hit £4,000-a-month, the average price of a litre of petrol at UK forecourts rose from 149.2p on February 28 to 153.0p on Monday, according to the Department for Business, Energy and Industrial Strategy (BEIS).
Average diesel prices rose from 153.4p to 158.6p over the same period. The weekly increases of 3.8p for petrol and 5.2p for diesel are the largest in records dating back to June 2003.
They mean the cost of filling up a typical 55-litre family car has increased by more than £2 over the past week. Figures from data firm Experian Catalist based on a different methodology to the one used by BEIS suggest the average cost per litre of petrol on Monday was 156.4p, while diesel was 162.3p.
Oil prices have spiked due to concerns over the reliability of supplies amid the war in Ukraine.
The price per barrel of Brent crude – which is the most commonly used way of measuring the UK's oil price – reached 139 US dollars on Monday, which was its highest level in 14 years
There were long queues outside the Sainsbury's petrol station as prices hit a record high due to the Ukraine crisis affecting oil prices.
Some drivers even took along extra containers to fill with petrol, with the price at pumps expected to go up again. UK petrol prices have hit an average of 155p a litre, according to the AA motoring group. 
Ministers are also discussing possible financial help for businesses hit by soaring energy bills. Energy traders took fright yesterday over US-led efforts to promote a Western boycott of Russian oil and gas to further squeeze the ability of Moscow to fund Putin's war machine.
Oil prices also continued to rise, sparking warnings that petrol could push toward £2 a litre – taking the cost of an average tank to more than £100. Unleaded hit a record £1.55 a litre yesterday, with industry sources saying it was likely to rise to £1.75.