T&T Schoolgirl, 15, stabbed, slashed in fight with other student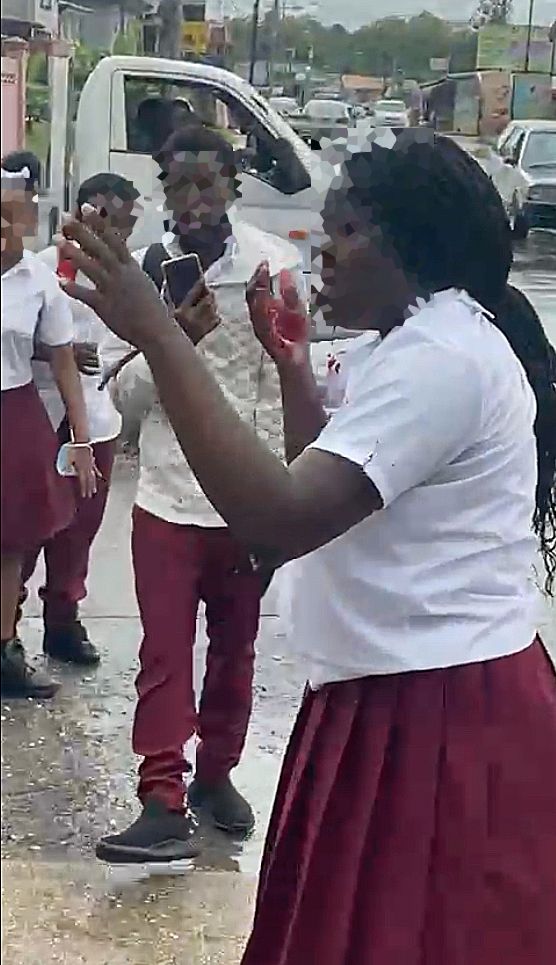 A Williamsville Secondary schoolgirl was stabbed and slashed with a knife during a fight with another schoolgirl yesterday.
While the 15-year-old student received injuries to her face, chest and arm, however, police said her injuries are not life-threatening.
According to reports, around 2.35 pm, the girl was standing at the Williamsville junction with other students after school was dismissed, when she got into an altercation with another female student, age 15.
Other female students joined their friend in the fight, outnumbering the other girl.
During the scuffle, however, the girl who was overwhelmed by the others pulled out a knife and stabbed her main attacker some three times before she was pulled away by a male student.
A social media video, recorded by another student, showed blood dripping from a wound on the right side of the girl's face after the knife attack.
She was later taken to the Princes Town Health Facility and then transferred to the San Fernando General Hospital. Her injuries included a 10 cm length wound on the right side of her face, from her eye to lip, a 3 cm deep laceration on her chest wall and a slash on her left arm.
The injured girl's mother was at the hospital and spoke with the police.
Princes Town police are investigating.
Contacted yesterday, Minister of Education Dr Nyan Gadsby-Dolly told Guardian Media that the ministry will investigate any fight occurring when students are in school uniform, but noted that fights outside the school's compound are referred to the police.
"Because all the school's personnel have jurisdiction inside the compound, not outside," Gadsby-Dolly said.
On Friday, a demerit point-based system was implemented to help deal with violence at schools.
Meanwhile, police in Tobago are set to schedule a meeting with the parents of a 17-year-old Pentecostal Light And Life Foundation High School student who allegedly threatened to shoot up the school last week.
This was reported by a passer-by who said they heard the threat, after the student was put out of the Caribbean Secondary Education Certificate (CSEC) Maths examination for disruptive and disrespectful behaviour.
Acting Senior Supt (Tobago) Junior Benjamin said they also intend to meet the school principal and the passer-by in the coming days. He said only after those meetings will they know how to proceed with the investigation. He said such threats will not be taken lightly and will be dealt with in accordance with the law.