T&T PM calls on British to pay reparations for slavery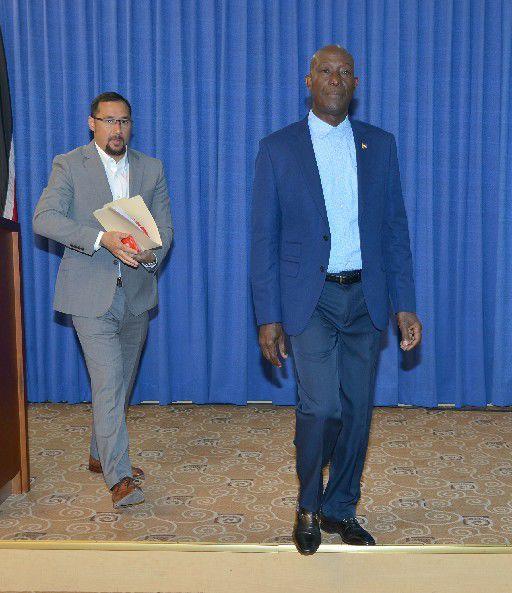 Prime Minister Dr Keith Rowley is calling on the British to pay reparations for slavery.
Speaking during a Spiritual Shouter Baptist Liberation Day celebration in La Horquetta on Monday, the Prime Minister said he was heartened to hear Prince William express sorrow over slavery while in Jamaica five days ago.
According to reports, the Duke of Cambridge said slavery was abhorrent, should never have happened and "forever stains our history" while speaking at a dinner in Jamaica.
Last night, the Prime Minister gave his thoughts on the Prince's statements.
"Recently, I was very pleased to hear Prince William say that he acknowledged that slavery was wrong and that the British government, the British people have some responsibility in that piece of unforgettable history. I was pleased to hear a member of the royal household in the United Kingdom say that but tonight I want to say to Prince William, having said that I believe you but I believe you more if you do what you must now do which is to offer some reparation to the people who were wronged in the way that you have acknowledged. It is not sufficient to say that I acknowledge it but not to seek to help those who are harmed by it," Rowley said.
He said the Spiritual Baptist community suffered greatly when the Spiritual Baptist prohibition law was in place, preventing them from worshipping and being allowed to practice their religion. The prohibition against the Spiritual and Shouter Baptist faith was enacted on November 16, 1917, by the colonial government and worshippers were beaten, arrested and jailed if they were caught practising their religion. The prohibition was finally lifted on March 30, 1951 – after much lobbying by members of the faith.
Rowley said the members of the Spiritual Baptist faith always held strong, waiting for the day they would be allowed practice their faith in peace.
"You suffered the indignity of the descriptions that were inhumane, that were disrespectful, disorderly and oppressive- you suffered that. But your faith kept you responding to the oppression and in the end as it always happens, as it always happens, good prevails over evil. It might take generations but in the end we can say hallelujah, great day in the morning, that great day would have come and your day came," he said.
Rowley said the liberation of Spiritual Baptists allowed them to practice in every corner of T&T. As he took to the stage to give his address, the PM began to sing and dance as many who were on the stage before him had done.
He said the Government acknowledged the wrongs that had been done to the Spiritual Baptist community and were taking steps to ensure they were compensated for their persecution- including the gifting of ten acres of land in Couva for a Spiritual Baptist cathedral and ten acres of land for a cemetery.
He said the cathedral was 90 per cent complete and he was confident the Spiritual Baptists would be able to complete it.
As he spoke of the diverse culture of T&T and the religious harmony with which those of different faiths operate, Rowley called on citizens to stop selling the country short.
"There are a lot of challenges that we have to face. But we have earned a lot of kudos. Do not sell this country short, as the calypsonian said at Independence there is a modern nation that last we still have some building to do. We still have some loving to do. We still have some sharing to do. We still have some caring to do, but we are in the mould of a modern nation. Don't sell our country short," he said.
Facebook Notice for EU! You need to login to view and post FB Comments!