The woman with 2,500 personalities: British woman abused by 'monstrous' father from the age of 4 wins $840,000 payout in Australia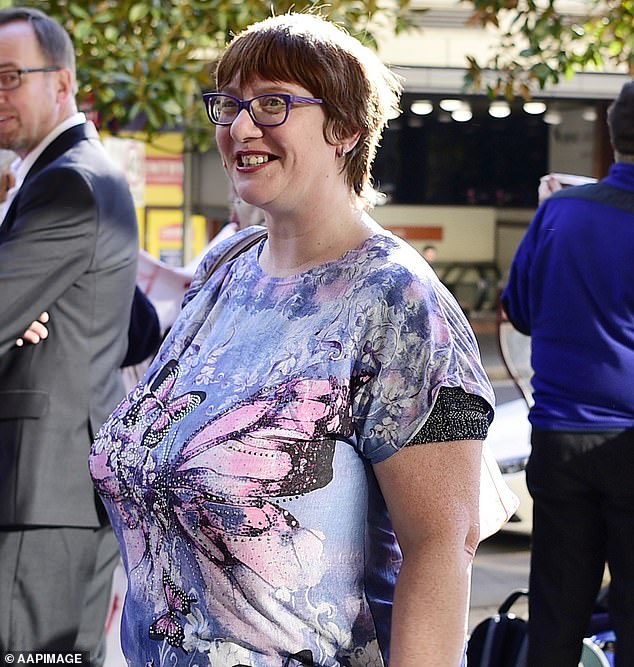 A British woman who developed 2,500 different personalities to cope with being repeatedly raped by her 'depraved' father has successfully sued him for $840,000.
Jeni Haynes, 52, who is from County Durham but now lives in Australia, was abused from the age of four to 11 by her father Richard Haynes and has dissociative identity disorder as a result. 
The condition is a rare psychological disorder, in which multiple personalities with distinct memories and behaviour patterns exist in one individual.
After she reported his crimes to police in 2009, Haynes was extradited to Sydney from the UK in 2017, and jailed in 2019 for at least 33 years after admitting the abuse.
The judge ruled Jeni's life had been 'destroyed' by the abuse, which took place between 1974 and 1981, with the victim taking the 'drastic step of removal of her anus and colon so that she does not have to defecate through the passages the defendant invaded, tortured and injured.'
The attacks began in 1974, when Jeni was four-years-old and the family moved to Australia, and ended in 1981, when they moved back to England.
For seven years, she would be subjected to the most unspeakable abuse – which she said she only survived because of her other personalities.
Jeni, who now lives in Queensland, first created a girl called Symphony when she was four – and this was the personality she would take on when she was raped.
Jeni previously said: 'Jeni was born and my father started to abuse her. An alter was created who came to take dad's abuse so Jenny didn't have to.'
She said the other egos came along after the abuse became too difficult for 'Symphony' to deal with.
Among her other personalities are a young boy, Little Ricky and a teenager named Muscles. 
Having developed the personalities to protect her while she was abused – she can summon them upon request.
She told 60 Minutes: 'It's not an act of mental illness or playing silly games, pretending to be other people.'
'You are protecting yourself. You are protecting your soul, and that's what I did.'
Though his attacks often caused Jeni to bleed, urinate and cry, he continued and told her she deserved it and liked the abuse.
Haynes' depraved rituals have made her fear birthdays, relationships, men, bathrooms and even enjoying food.
He told her in one occasion: 'This hurts me more than it hurts you.'
Her father told her that her mother would 'spontaneously combust' if she ever revealed the abuse.
'Mummy doesn't want you and if you tell her, she will die and it will be your fault,' he said another time.
She later recalled: 'He implied she would drop down dead. He expanded my concept of 'telling' to include any kind of demonstration of pain, fear, terror or discomfort.'
He also brainwashed his daughter into thinking he could read her mind, she said.
She later said: 'My dad inflicted severe, sadistic, violent abuse that was completely unavoidable, inescapable and life threatening – and he chose to do this every day of my entire childhood.'
'He heard me beg him to stop, he heard me cry, he knew the pain and the terror he was inflicting on me.
'My life has been devastated by his selfishness,' Jeni said.
'I've paid an enormous price for his depraved sexual desires. To date I've been the one paying the price.'
Her social activities at school were restricted to minimise interference from other adults.
Jeni has had to have multiple surgeries to reconstruct her coccyx, bowels and anus after the brutal assaults.
She now has a permanent colostomy bag, which she has described as a 'degrading, daily reminder' of her father's crimes, and unending problems with eyesight, hearing, dentistry and mental health.
She told the court in 2019: 'My dad stole my glasses off my face every time he wanted to abuse me.
'He took away my eyes and held them hostage. Whenever I cannot see or my vision is impaired, I panic and am plunged into flashbacks.'
Jeni said she would never understand what a normal father-daughter relationship should look like or experience the joy of having a baby – and she'd probably always be alone.
Meanwhile she also revealed she never realised having multiple voices inside her head was considered abnormal.
Facebook Notice for EU! You need to login to view and post FB Comments!