'Six times we called police, now she's dead they've come' T&T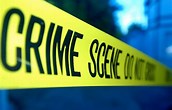 After hacking Ellen Trishana Mohammed to death, almost severing her neck off in the process, a Guayaguayare man walked out onto the road with a bloodied cutlass, flagged down a passing police patrol vehicle and surrendered.
When officers checked the scene, they found Mohammed, 25, lying dead near the front doorway of her unfinished home, which overlooked the sea at La Brea Village, Guayaguayare.
Police said the murder occurred around 10.50 am in front of two of Mohammed's three daughters, a three-year-old and 18-month-old.
Her brother Isaiah and her father Steve Jones were not at home when the tragedy occurred.
In an interview yesterday, Isaiah said his sister got involved with the man three months ago but soon became fearful for her life. When he began abusing her physically, she told her family.
"He was threatening to kill her. This man only waiting for when I go out to work so he could attack my family. He said he wanted to chop up the whole family," Isaiah revealed.
He said the police never bothered to help, although they made several reports.
"The other day, this man had a blade in his hand and my sister told me she want to get out of the relationship. I tell him I don't want to see him in this yard and do not come back here and that is why he attacked my sister when I gone to work," Isaiah explained.
Mohammed's father, Jones, also blamed the police for the tragedy, saying it could have been avoided.
"We made six reports in the station. They never come. Today, they put caution tape and come here with 15 police jeep," Jones said.
Pointing to his three grandchildren, Jones said, "It's the police to blame because when we go by the station, the police running you."
Jones said yesterday morning, he dropped off his six-year-old granddaughter at school and then went to work. His son Isaiah also went to do a private job.
"I was at work, I get a call. When I reach up here, I see her on the ground. Look at these innocent children she left behind. The police gone through. The whole station coming when it's a murder but they never come and talk to the man and give him a warning," Jones added.
Inspector Ramkissoon, Sgt Narine and other officers from the Mayaro Police Station, PC Daniel and WPC Kheerai, visited the scene.
The body was viewed by DMO Dr Orumwense, who ordered it removed to the Forensic Science Centre in St James, where an autopsy will be done.
Over 25 women killed since 2019 after seeking police help
In a statement Wednesday, the International Women Resource Network said between 2019 to the present, over 25 women have been killed after applying for a protection order.
The IRWN noted, "Protection orders in their current form are a waste of time and do more harm than good for victims."
It added, "Recent research and experience show that victims are sometimes murdered within days after perpetrators are served with protection orders."
On June 21, 2018, the IWRN said it forwarded correspondence to then Attorney General Faris Al-Rawi, requesting that amendments be made to "Part V – Enforcement Orders" of the Domestic Violence Act (27 of 1999) but to date, nothing has been done.
"Those amendments are aimed at ensuring that perpetrators who breach protection orders feel the full brunt of the law starting with the first attempt of a breach. Additionally, when victims are under the umbrella of a protection order, there need to be state protocols in place to ensure that they are properly protected but again that is also absent," the IWRN said.
Earlier this week, Abiola Cudjoe and her 12-year-old son Levi were murdered at their Lachoos Road, Penal home.
On April 1, Amar Deobarran also murdered his wife Omatie after she took out a protection order and filed for divorce because he had fathered a child outside their marriage.