Sandals Recognizes Medical Team For Stellar Work During Covid-19 Pandemic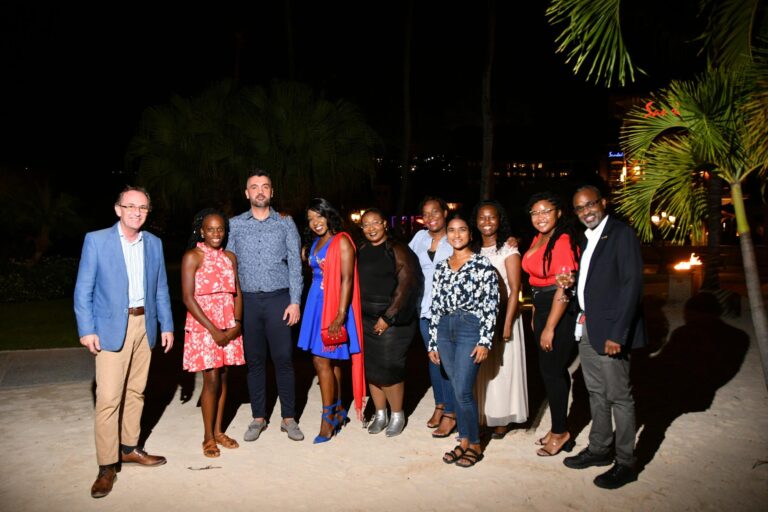 Five nurses, two doctors and medical administrative staff were recognized by Sandals Grande Antigua Resort and Spa for outstanding service, support and professionalism to the resort's guest, team members and the community during the ongoing COVID-19 pandemic.
Last Thursday, a special dinner reception was hosted in honour of the hard-working team of medical professionals. The team has been working around the clock with the support of the Health Ministry to ensure guest and team members receive the highest level of education and care as needed since the start of the pandemic.
Resort General Manager Matthew Cornall said, "On behalf of our Executive Chairman, Adam Stewart who recognized over 300 Caribbean-wide healthcare workers for their efforts during this pandemic, I am very pleased to add even more accolades to these local Antiguans.  Over the last two years, we know that our nurses and physicians locally are deserving of a standing ovation. Today, we're talking about how we can encourage and applaud our medical team for their stellar work that has not gone unnoticed. We here at Sandals are truly grateful for the level of commitment and professionalism our medical team has delivered amidst stress, anxiety, loneliness, and burnout.""It is definitely commendable what the medical team has done as together we all put in a lot of work. We had to figure out how to manage the ever changing health protocols alongside our own Sandals Platinum Protocols of Cleanliness. It was a learning experience and a journey on how to manage a crisis and how to be agile and deliver immediate responses at a moment's notice, but we were able to pivot and execute successfully," Environment Health and Safety Manager Aliyah Ramdin
The medical team in attendance at the dinner expressed gratitude to the Sandals Antigua team for taking the time to recognize their hard work and show appreciation in such a meaningful way. "To all Sandals leadership, managers and team members who took the time out to shower us with their appreciation, we say thank you." Nurse Boyd said.