Sadhguru takes jab at marijuana use in T&T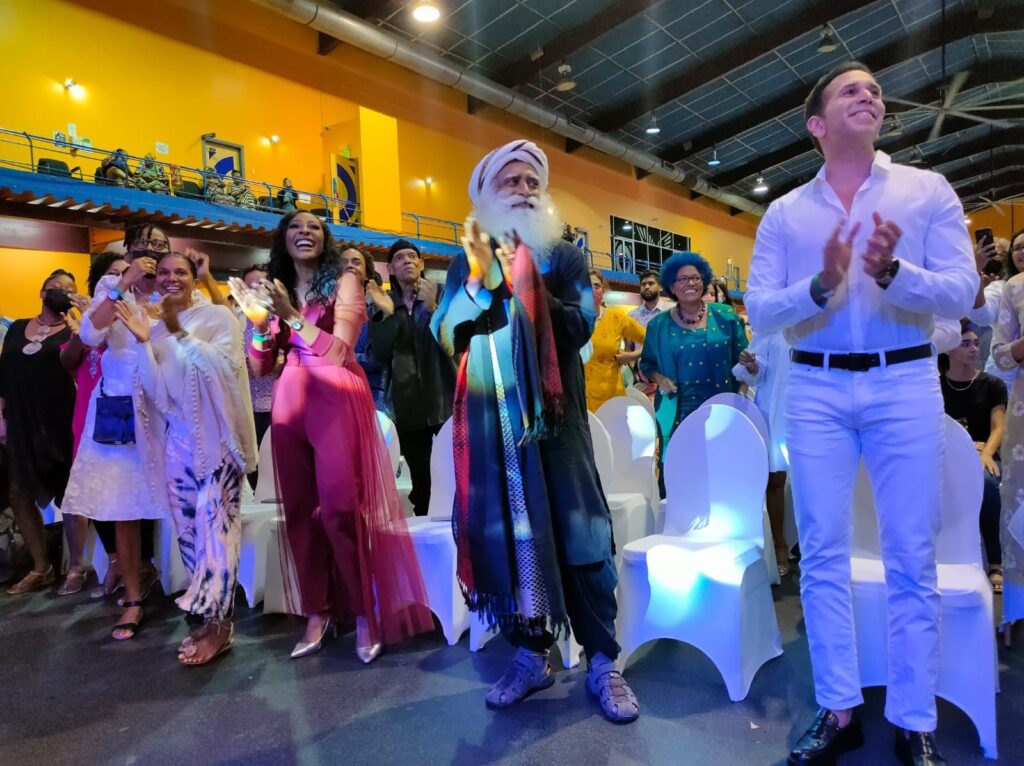 As Local Government Minister Faris Al-Rawi, the former attorney general responsible for bringing marijuana decriminalisation laws to the T&T public sat in the front row last evening, spiritual leader Sadhguru took a jab at marijuana use, calling it "stupid."
Speaking to a packed audience at an Evening with Sadhguru in the Bougainvillea Auditorium at the Centre of Excellence, Sadhguru told about a time he was invited to speak at a conference in India for under 25-year-olds.
Sadhguru said as he addressed the 25,000 or so people in an open field, he started getting "a strong smell of marijuana."
"It is not legal, but youth," Sadhguru said.
"They said 'Sadhguru, you have so much influence in the government, why don't you make marijuana legal?' I say 'why not, why marijuana, I will make cocaine legal, opium also legal, whatever else you want, I will make all those things legal'."
"What is the problem, why are we going in instalments. We make alcohol legal, then marijuana legal, then cocaine legal. Let's make everything legal. Those who want to die will die and those who want to live will live," he added.
Sadhguru said he felt the university students just wanted to go to university and "smoke up." He said in India, the term "smoke up" means to smoke marijuana.
Sadhguru said he asked the students calling for the legalisation of marijuana if they would ride on a small plane with a pilot who was "smoked up."
But they said they did not know.
"I said okay, you don't get it, you need a surgery, a major surgery and the doctor comes smoked up, you want the surgery? They said 'oh no'. So you understand human faculties go down, you bring down your faculties and then say you are high. What is this?" he said.
"At least when you smoke these things you say 'I am down', I understand you want to be down, it's up to you, but you want to be up and you are getting down, that is stupid," Sadhguru added.
"You want to be down, what you do is your business. Unfortunately, it's your life and your choice, but you want to be up and you're going down, this is not a good thing to do. It is like you sit in your car, you want to go forward but you put it in reverse and go bang into something, this is stupid."
"Are we are against this or are we against that? No, I am just asking you this, will life become enhanced?" he said.
Sadhguru said only when one heighten their faculties does life get enhanced.
In November 2019, Al-Rawi laid two bills in Parliament which decriminalised the possession of fewer than 30 grammes of marijuana, and allowed the cultivation of up to four marijuana plants per adult.
The Bill was passed by both houses of Parliament in December 2019.
It was proclaimed as law on December 23, 2019 by President Paula-Mae Weekes.
Sadhguru took to the stage around 8.55 pm yesterday.
The Evening with Sadhguru event, which was presented by Guardian Media Ltd, started with a performance from soca artiste and Sadhguru supporter Machel Montano.
Montano performed several songs, including Touch the Ground with Marge Blackman. The song is meant to promote the Save Soil Movement, which was launched by Sadhguru as a means of invoking a conscious approach to saving the soil and the planet.
Among those in attendance in the packed auditorium were Guardian Media Ltd's managing director Dr Karrian Hepburn Malcolm and cricket double record holder Brian Lara.