Putin's latest battlefield humiliation: Ukraine thwarts Russian battalion's river-crossing and destroys at least 58 vehicles inflicting heavy casualties as Donbas offensive stalls and Kyiv's troops counter-attack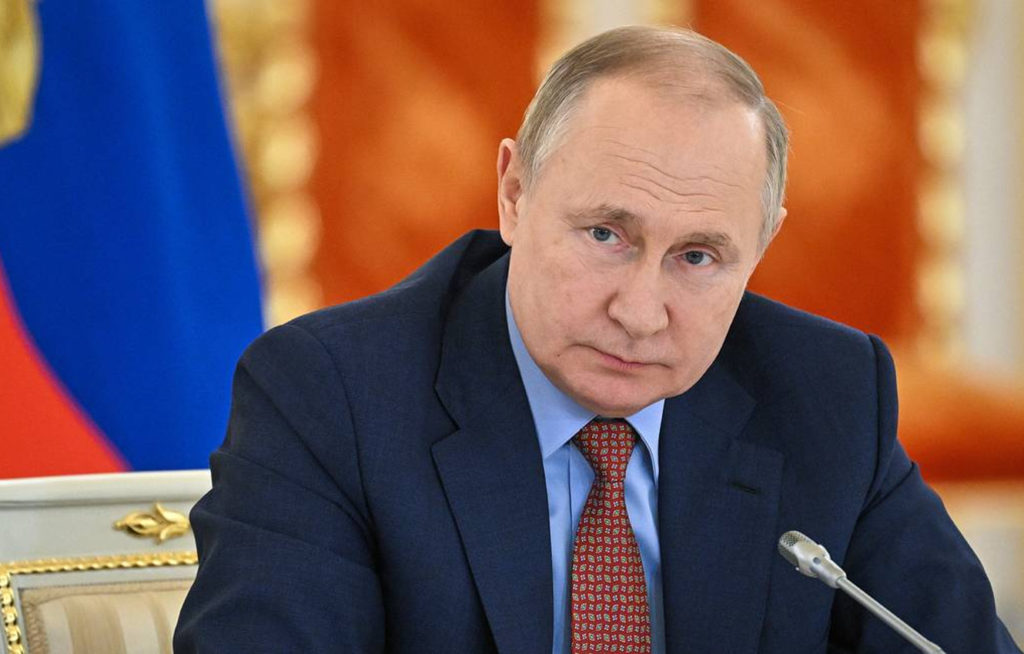 Russia has suffered yet another battlefield humiliation after Ukraine successfully thwarted its attempt to cross a river in Donbas, destroying dozens of vehicles and inflicting heavy casualties.
Satellite images lay bare the scale of the failure with the remains of two pontoon bridges drifting in the Donets River at Bilohorivka, west of the city of Lysychansk, surrounded by the ruins of tanks and armoured vehicles.
It appears Russian commanders were attempting to surround Lysychansk – and its sister city of Severodonetsk – with the crossing, but saw their sneak-attack turn into a massacre when Ukraine correctly guessed their plans.
'Maxim', a Twitter user claiming to be a Ukrainian military engineer, says he identified the spot where Russia was most-likely to try crossing the river on May 7 and told his commanders to listen out for the sound of tugboat engines pushing a pontoon bridge into place as a sure sign that a crossing was imminent.
On the morning of May 8 Russia blanketed the river with smoke by burning nearby fields and throwing smoke grenades, he said, but commanders detected the sound of boat engines and called in artillery strikes which caused devastating losses.
It came as Ukraine's generals said Russia's offensive in the Donbass has largely stalled, with Putin's troops forced on to the defensive north of Kharkiv as counter-attacks push the invaders back across their own border.
In a late-Wednesday update, Ukraine's commander said there had been no major attacks around Izyum – where the bulk of its Donbas force is located – or in Mykolaiv or Kryvyi Rih, hundreds of miles to the south, where it has been forced to reinforce its units after taking casualties.
To the north of Kharkiv, commanders said 'occupying forces moved to the defence in order to slow down the pace of the offensive of our troops'. It means the only section of frontline that remains active is around Severodonetsk – where the bridge ambush took place – Donetsk and Mariupol, where Ukrainian defenders are still holding out.
Speaking about the moment the Severodonetsk ambush took place, Maxim said: 'Roughly 20 minutes after recon unit confirmed the Russian bridge was being mounted, heavy artillery engaged against Russian forces, and then aviation chipped in as well. I was still in the area, and I have never seen or heard such heavy combat in my life.
'After one day of combat, 9th May morning the bridge was down. Some Russian forces – roughly 30 to 50 vehicles and infantry – were stuck on the Ukrainian side of the river with no way back. They tried to run away using the broken bridge. Then they tried to arrange a new bridge.
'Aviation started heavy bombing of the area and it destroyed all the remains of Russians there, and the other bridge they tried to make. Rumors say it's 1,500 Russian dead. Their strategic objective was to cross the river and then encircle Lysychansk. They miserably failed.'
Russian troop losses in the bombardment are almost impossible to estimate, but online observers have so-far counted 58 destroyed vehicles including at least seven tanks and dozens of armoured infantry carriers.
At least one tugboat appears to have been wiped out, along with two pontoon bridges left floating in the river with shell-holes visible in the top of them.
It is just the latest defeat for Putin's forces, after a successful Ukrainian counter-attack pushed Russian troops away from the city of Kharkiv and back across the border. It means Ukrainian artillery can now threaten the town of Vovchansk, which contains a key highway and rail line supplying Russian forces in Donbas.
Ukrainian commanders said late Wednesday that Russia's offensive has now halted around Izyum, Kherson and Melitopol as Putin's men are forced onto the defensive after running out of momentum.
If confirmed, it means the only active section of the frontline is in the southern portion of the Donbas – between Severodonetsk and Avdiivka, where limited Russian attacks are taking place – and in Mariupol where Ukrainian troops are still holding out inside the Azovstal steel works.
Though the fight is far from over, a stalled Russian advance and Ukrainian counter-attacks are what preceded Russia's retreat from Kyiv earlier in the war. A similar retreat from Donbas would spell disaster for Putin.
In its Thursday-morning update on the frontline, Britain's Ministry of Defence said: 'Russia's prioritisation of operations in the Donbas has left elements deployed in Kharkiv vulnerable to the mobile, and highly motivated, Ukrainian counter-attacking force.
'Despite Russia's success in encircling Kharkiv in the initial stages of the conflict, it has reportedly withdrawn units from the region to reorganise and replenish its forces following heavy losses.
'Once reconstituted, these forces will likely deploy to the eastern bank of the Donets River, forming a blocking force to protect the western flank of Russia's main force concentration and main supply routes for operations in the vicinity of Izyum.
'The withdrawal of Russian forces from Kharkiv is a tactic recognition of Russia's inability to capture key Ukrainian cities where they expected limited resistance from the population.'
Ukraine announced it will hold its first war crimes trial over the Russian invasion, as Moscow accused Kyiv of shelling a Russian city in the war's latest flashpoint.
The conflict has devastated cities and displaced millions, with fears also growing of its broader international impact as gas supplies to Europe were disrupted by a halt in Russian flows through Ukraine.
Kyiv has repeatedly accused Russian troops of committing atrocities since the invasion began on February 24, and Ukrainian authorities said Wednesday they would launch the first war crimes trial of the conflict.
The prosecutor general's office said Vadim Shishimarin, a 21-year-old Russian service member, is accused of killing an unarmed 62-year-old civilian as he fled with four other soldiers in a stolen car.