Putin is 'planning a man-made catastrophe' at Chernobyl: Ukrainian intelligence claims Russia will fake a terror attack at nuclear plant and try to blackmail the world – while the West warns it will try to use chemical weapons if invasion does not succeed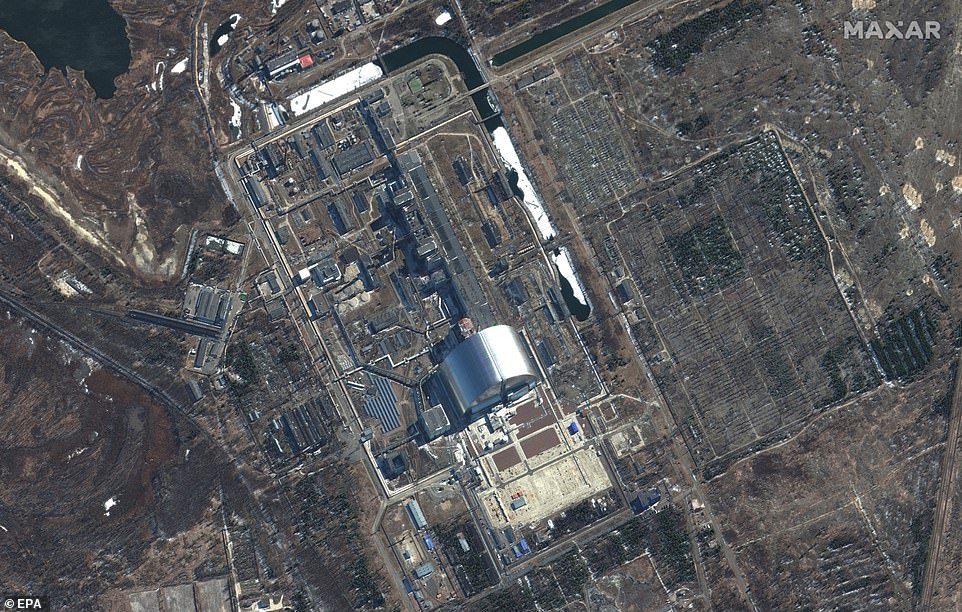 Vladimir Putin has ordered his troops to create a 'man-made catastrophe' at Chernobyl which he plans to blame on Ukrainian 'saboteurs' in order to justify further escalating his war against the ex-Soviet country, Kyiv's intelligence service has claimed today.
Ukrainian spies say the 'terrorist attack' will be carried out by Russian operatives who moved in yesterday amongst a group of 'specialists' sent by Belarus to take over safety operations at the partially-destroyed nuclear power plant, which was seized by Russian forces in the opening days of the invasion
Belarus sent the team in after Putin's men disconnected Chernobyl from monitoring systems which report the status of its nuclear safety systems to UN watchdog, the International Atomic Energy Agency, and cut power to the plant – meaning water used to keep its fuel rods cooled will no longer automatically top itself up.
The Ukrainian warning comes against the backdrop of western governments saying Russia appears to be laying the groundwork to use chemical or biological weapons in Ukraine – an attack that would also be blamed on Kyiv with the aim of justifying a further increase in violence.
Ukraine has also today accused fighter jets of staging a 'false flag' attack on Belarus as a pre-text to getting Alexander Lukashenko's troops involved in the fighting.
Kyiv said two Su-25 bombers crossed the border from Belarus this afternoon, carried out attacks on Ukrainian soil, and then bombed Belarus itself. Defence minister Olexiy Reznikov said the attack was planned by Russia.
'The purpose of this provocation is to force the current leadership of Belarus into war against Ukraine. Moscow is trying to bind you with blood,' he said.
Lukashenko has so-far refused to get his men involved in the war, after commanders reportedly quit rather than join the fighting. The 'false flag' operation came immediately after the dictator met Putin in Moscow to discuss trade links.
Ukraine's defence ministry later said it expects Belarusian forces to cross the border and join in the fighting at 9pm tonight.
Nuclear safety experts say Chernobyl has diesel generators which should have automatically kicked in after the power was disconnected to keep pumps running, after which water which cools nuclear fuel rods at the plant will start to evaporate – exposing the rods which could then start to burn and create a cloud of radioactive ash. All that should be needed to prevent that is for Russians to top up the water manually, which could be done with a water truck.
But Kyiv's Main Intelligence Directorate believes Moscow's actions show it is laying the ground for a manufactured nuclear catastrophe. They say Russian forces have been collecting the bodies of Ukrainian soldiers who died fighting at Hostomel airport – the site of clashes close to Kyiv – in refrigerated lorries so they can be taken to Chernobyl and posed up as saboteurs.
Putin's motivation is to 'blackmail the global community' for sanctioning Russia and providing weapons to Ukraine, which have battled the Russian leader's forces to a near-standstill with heavy losses. At the same time, the disaster – which would almost certainly cause radioactive fallout to land on Russia – would also be used to justify the use of further force against Ukraine.
Though Kyiv's account cannot be independently verified, it comes against the backdrop of Russian attacks on other nuclear reactors in the country – at Zaporizhzhia in central Ukraine and Kharkiv in the east – which Ukraine has said are 'nuclear terrorism'.
Zaporizhzhia power plant was attacked last week, sparking a fire near one of the reactors which Russian forces initially prevented fire crews from extinguishing. Kharkiv's Institute of Physics, which houses a reactor, was also shelled this morning – though no damage was cause to the nuclear facility.
Meanwhile Jen Psaki, spokesman for the White House, said Russia is engaged in an 'obvious ploy' to justify its own use of chemical weapons in Ukraine by pumping out disinformation that America is secretly developing the weapons in Ukraine in laboratories close to the Russian border.
'Now that Russia has made these false claims, and China has seemingly endorsed this propaganda, we should all be on the lookout for Russia to possibly use chemical or biological weapons in Ukraine, or to create a false flag operation using them,' she said earlier this week.
UK Prime Minister Boris Johnson made a similar statement yesterday, saying: 'The stuff that you're hearing about chemical weapons is straight out of their playbook.
'They start saying that there are chemical weapons that have been stored by their opponents or by the Americans. And so when they themselves deploy chemical weapons, as I fear they may, they have a… fake story ready to go.
'You've seen it in Syria. You saw it even in the UK. That's what they're doing. It is a cynical, barbaric government.'
Joe Biden warned Friday that Putin will pay a 'severe price' if he uses chemical weapons in Ukraine – but again repeated that American troops would not be sent into the country to prevent the outbreak of World War Three.
'The United States and our allies and partners continue to work in lockstep to ramp up the economic pressures on Putin and to further isolate Russia and the global stage,' Biden said in his announcement from the White House.
Biden also said he will revoke Russia's 'most favored nation' trade status over its invasion of Ukraine, another step in the series of harsh economic sanctions he and U.S. allies have imposed on Moscow. 
He noted that revoking the favored trade status 'is going to make it harder for Russia to do business with the United States, and doing it in unison with other nations that make up half of the global economy will be another crushing blow to the Russian economy that's already suffering very badly from our sanctions,' he said.
He also reitierated that American troops will not fight in the Ukraine.
'We will not fight a war against Russia in Ukraine,' adding that a 'direct confrontation between NATO and Russia is World War III– something we must strive to prevent.'
It came a day after Russia's deputy energy minister, Yevgeny Grabchak, said power had been restored to the decommissioned plant, after Ukraine said earlier this week that Putin's forces had cut the electricity.
However, the intelligence update disputed this, and repeated an earlier warning that if the electricity is cut, the plant's emergency diesel generators that provide back-up power to safety systems can only last 48-hours.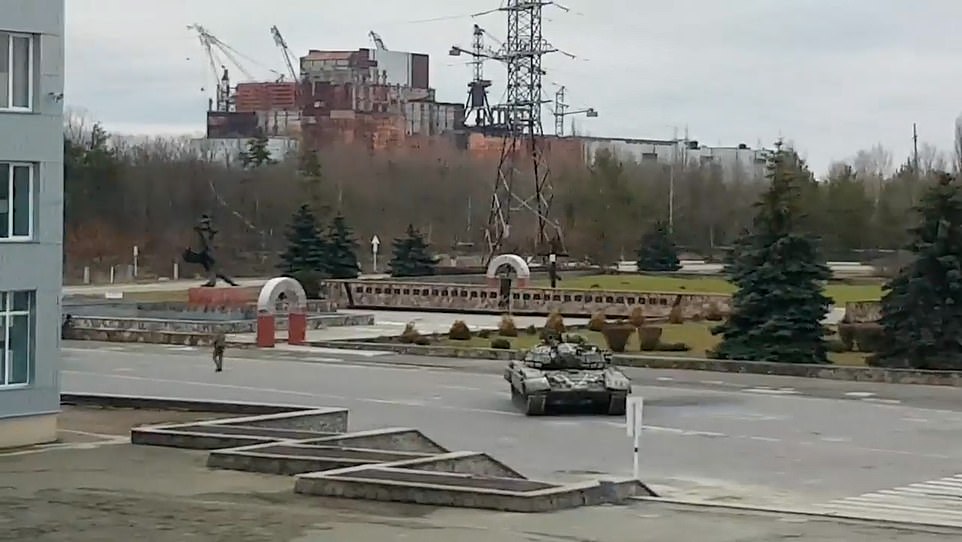 Earlier this week, Ukraine pleaded with Russia to observe a ceasefire so engineers could go into Chernobyl and restore the power. This was refused, Ukraine said.
'The occupiers refused to grant access to the station to Ukrainian repairmen,' the update continued.
'Instead, 'Belarusian specialists' went there on the instructions of Alexander Lukashenko. Among them, under the guise of nuclear power plants, Russian saboteurs also come to organize a terrorist attack.'
On Wednesday, IAEA also said it had lost contact with the captured Zaporizhzhia power plant, just hours after warning of a potential unfolding disaster at Chernobyl.
The agency said warning systems at Zaporizhzhia – Europe's largest nuclear power plant – had stopped broadcasting updates in the days since Russian forces shelled the site, resulting in international condemnation.
IAEA chief Rafael Grossi said Wednesday he was 'concerned about the sudden interruption' of the data flows to the watchdog's Vienna headquarters.
He added that the reason for the disruption in updates from the power plants was not clear but the IAEA was still receiving data from other nuclear facilities in Ukraine, including three other operational nuclear power plants.
Also on Wednesday, Ukraine warned Chernobyl could be 48 hours away from leaking radiation, and the country's nuclear company Energoatom warned that radioactive substances could be released if an electricity outage at the site continues any longer, as it makes it impossible to cool spent nuclear fuel.
Energoatom has said that work to repair the connection and restore power to the plant – the site of the world's biggest nuclear disaster in 1996 – has not been possible because fighting is under way in the region.