Prime Minister of Antigua and Barbuda tells Prince Edward and Sophie the country wants to become a REPUBLIC in another awkward moment for royal family on Caribbean tour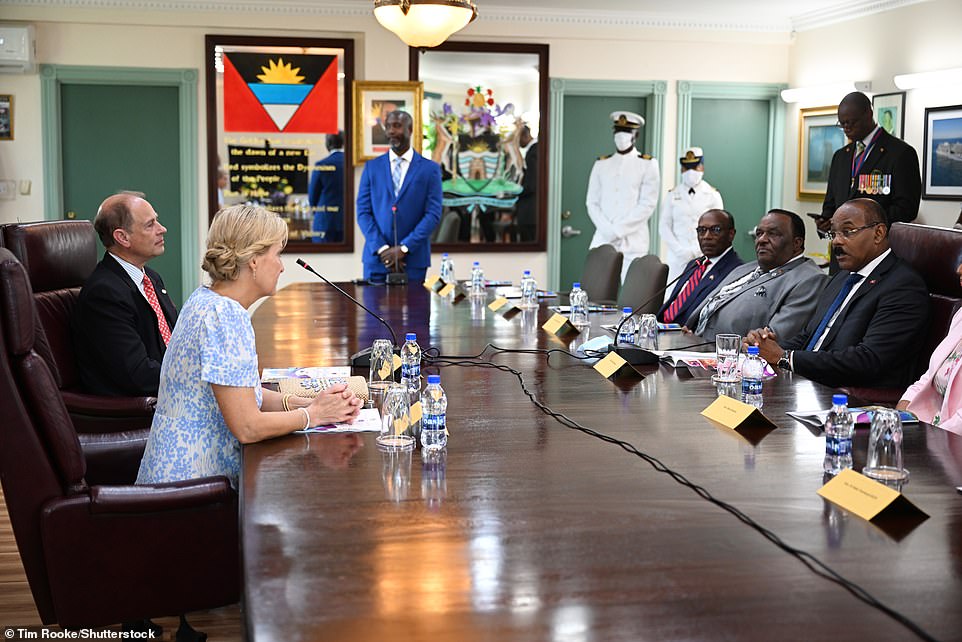 (Daily Mail ) The Prime Minister of Antigua and Barbuda today told the Earl and Countess of Wessex it is his country's wish to 'one day become a republic' – in yet another awkward moment for the Royal Family on a Caribbean tour. 
Gaston Browne's remarks came at a meeting between Edward and Sophie, Mr Browne and his cabinet during their visit to the island today – and are a direct echo of Jamaican PM Andrew Holness, who told Kate and William on their own tour that his country is 'moving on' to become a republic. 
Despite the Antiguan PM stating the country would one day want to change position, he acknowledged that it is 'not on the cards' at the present moment. However, he urged them to use their 'diplomatic influence' to achieve 'reparatory justice' for the island of Antigua and Barbuda.
Mr Browne told the Wessexes: 'You will have noticed there are no protestations here,' adding that they were not 'holding placards'. He said the decision not to protest was because they believed in having an 'open and very objective discussion'.
The PM said he understood the royal family did not get involved in 'contentious issues' but said he wanted them to 'understand these issues… so you can use your diplomatic influence in achieving the reparatory justice that we seek'.
Mr Browne added: 'The reality is we have been left and bereft of modern institutions such as universities and medicinal facilities.'
It came as a royal expert slammed British diplomats for leaving the Wessexes 'humiliated' and 'let down' on their challenging Caribbean tour by repeating the same mistakes made when William and Kate visited last month.
The Wessexes are in the Caribbean to mark the Queen's Platinum Jubilee year, just weeks after the Duke and Duchess of Cambridge travelled to the region in March amid claims elements of their tour became colonialesque after they greeted black children in Jamaica through fences and inspected troops from the back of a Land Rover.
Edward and Sophie have been branded 'oligarchs' by protesters who want to remove the Queen as head of state of their islands and are demanding money and a full apology for past 'crimes against humanity.' The Grenada leg of the Earl and the Countess of Wessex's Caribbean tour was even postponed a day before their week-long trip began. It later emerged Grenada's Reparations Commission on slavery wished to meet with them.
Royal biographer Tom Bower told MailOnline that poor planning has left the Wessexes facing the some woes as the Cambridges suffered last month.
He said: 'Once again, Foreign Office officials in London and the High Commissioner in Grenada failed to anticipate the problems and protect the Wessexes from the same humiliation which cursed the Cambridges' visit to Jamaica.
'Britain's diplomats are not only incompetent but dangerously ignorant and insensitive to the realities in the countries where they are employed'. He added: 'It does not help that so many are still 'working from home'.'
He added: 'Equally, Palace officials let the Wessexes down by failing to check that the Foreign Office diplomats had done their job properly.' 
The Foreign Office said previously that the royal Jubilee visits are organised by the host countries and are not official Government trips. But planning for overseas royal events is led by the British government in line with Foreign Office priorities, with civil servants liaising with Buckingham Palace and the host nation in advance of the royals arriving.
On Antigua and Barbuda today, the Earl and Countess of Wessex have a full day of engagements planned, including a trip to the Sir Viv Richards Stadium where they will meet former West Indies cricketers.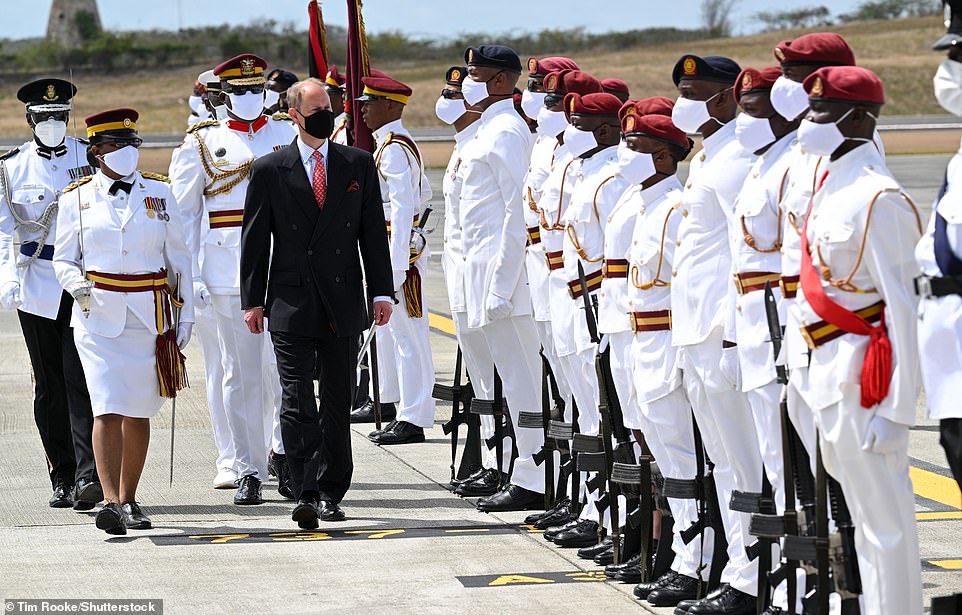 Jomo Thomas, former chairman of the National Reparations Committee, said that people want to show their disgust that their governments had decided to 'lay down the red carpet for invaders', adding: 'Edward and his entourage should not be fêted in our land'.
He said: 'They hunted us down, they kidnapped us, they stole us, they worked us. They owe us and they must now pay us'.
After William and Kate arrived home from the Caribbean there was an inquest at the Palace after unfortunate photo calls that led to accusations they were echoing Britain's colonialist past rather a more down-to-earth future.
The couple are said to have hardened their view the Monarchy must be 'agile' to survive and thrive after their week-long tour was hit with protests. They are understood to be ready to abandon the Queen and Prince Charles's 'never complain, never explain' mantra in future.
Politicians hijacked their presence ahead of Her Majesty's Platinum Jubilee to further their own campaigns to remove the Queen as head of state amid moments branded 'tone deaf' and smacking of 'colonialism'.
Prince William held crisis talks with senior aides on his week-long tour around the Caribbean, telling advisers he had to add his own voice and confront issues of slavery reparations and anti monarchist sentiment. The Duchess of Cambridge will do more solo work overseas without William, insiders claimed.
Yesterday the Wessexes were criticised by St Lucia's most famous DJ after he slammed the royal Jubilee tour on air yesterday – asking how it benefits the islanders and demanded to know how much taxpayers were paying for it.
Prior to their Caribbean tour, the country's Reparations Support Commission penned an open letter to the couple saying: 'For us, they are the source of genocide and of continuing deep international injury, injustice and racism.
'We hope you will respect us by not repeating the mantra. We are not simpletons.'
On their visit to the island, the couple will first receive a guard of honour at the VC Bird International Airport before meeting the country's Prime Minister and members of his cabinet.
They will then travel to Government House where they are due to present three Platinum Jubilee medals to three people to recognise their service to national security.
Edward and Sophie will also speak to some of the country's craftspeople, creatives and community groups, and the countess will speak to women about their work towards female empowerment.
The couple are scheduled to visit the National Sailing Academy, where they will meet children who have benefitted from a programme which offers people with disabilities the opportunity to get involved with water