PM Mottley- Prices expected to rise due to war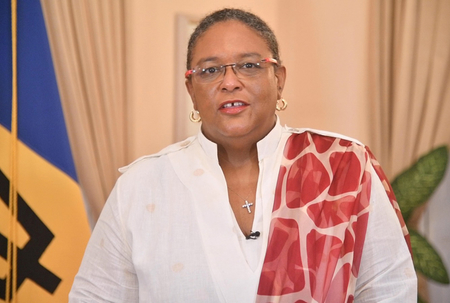 Barbadians have been told to brace for further hardships due to the ongoing war in the Ukraine.
Speaking during the opening of the Caribbean Nations Security Conference 2022 (CANSEC 22) at the Hilton Barbados Resort this morning, Prime Minister Mia Mottley said Russia's continued invasion of that country would continue to negatively impact the cost of living in Barbados and other countries across the world.
Over the weekend petrol prices increased by 14 cent per litre, three weeks after Mottley announced in last month's Budget there would be a cap on the Value Added Tax (VAT) on gas and diesel from March 16 for six months.
That move resulted in the VAT on petrol being capped at 47 cents per litre while the VAT on diesel was capped at 37 cents per litre.
And while Sunday's fuel increases incensed motorists, Mottley made it abundantly clear that more "discomfort" was on the horizon.
"The truth is that with the war in Ukraine now going into its fifth or so week we are now going to start to see, regrettably, some of the consequences of that war which have been spoken about.
"That is going to lead to discomfort in many of our countries with respect to prices or with respect to access to those commodities. It is going to lead therefore to the potential risk of us having to be able to settle our populations and to get them to understand that the world is going through a difficult moment, but it is not the first time it has gone through and it will regrettably not be the last time because of the nature of just human civilisation and our natural made environment," Mottley said.
The Prime Minister contended that no one had "a divine right to prosperity or stability".
"Regrettably we have no such divine right but we can make it happen if we work together…" Mottley added.
She said it was now mission-critical to keep the Caribbean as a zone of peace.
Commander of the US Southern Command, General Laura Richardson said CANSEC 22 was being held at "a critical time" in the world's history.
She opposed Russia's invasion of Ukraine and pointed out that the Caribbean would be negatively impacted as a result.
Richardson said while keeping the region safe was important she was also aware that the Caribbean faced other threats which compromise the region's security.
"Last month the world witnessed and is still witnessing Vladimir Putin and the unprovoked horrific invasion of the sovereign nation of Ukraine. It was the most flagrant violation of the most fundamental principles the international community established after World War II – self-determination and national sovereignty. For decades, Caribbean countries have long been champions of these sacred principles. A threat to democracy anywhere is a threat to democracy everywhere," Richardson said.
"CARICOM added their voice to the chorus of peace loving democracies across the world condemning Russia's invasion and calling for an immediate ceasefire…What we are doing right here at CANSEC is working together to keep the Caribbean a zone of peace.
"The recent crisis in Europe will undoubtedly impact the Caribbean and other regions in the world such as increasing energy prices which we've already seen and the supply chain disruptions that we've already been experiencing. But I also know that the Caribbean faces unique cross-cutting threats in an ever changing security environment.
Stronger hurricanes and rising sea levels caused by climate change are destroying lives and livelihoods, tearing up family homes and reversing decades of growth," Richardson noted.