PM Mottley celebrates frontline workers, outlines plans to recognise builders of Barbados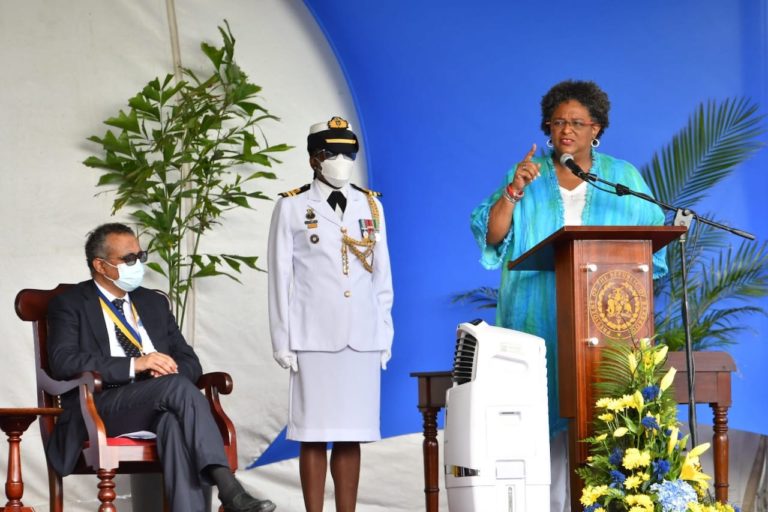 Prime Minister Mia Mottley has signalled government's intention to "move beyond" the naming of national heroes and recognise "builders of Barbados" across every parish.
She made the revelation at the inaugural Humanitarian Awards Ceremony at Kensington Oval where she announced that approximately 6,000 COVID-19 heroes would receive monetary tokens totalling approximately $3 million.
"Yes, there will always be a few at the top, but this nation must move beyond heroes and freedoms and start to also recognise builders of Barbados, parish, by parish, by parish, for their story must be written and told for future generations," said Mottley during the feature address.
"And, therefore, my office and the cabinet office has agreed that we will work with the office of the President such that she will have the responsibility for being able to mold and to establish a category of builders of Barbados so that we can truly say thank you because more often than not, even when we offer you financial reward, it is never enough to express how much we are grateful to you," she added.
A four hour postponement of the National Heroes Day ceremony to 2 p.m. made the world of a difference as heavy overnight showers gave way to clear skies.
The humanitarian awards covered frontline workers at all levels of the country's 27-month pandemic response and special guest, the Director-General of the World Health Organisation Dr Tedros Ghebreyesus.
Mottley said although the country is still in the midst of the pandemic "battle", thousands of Barbadians' lives and livelihoods were saved because of the contributions of frontline workers.
"At its peak, more than 40,000 Barbadians lost their jobs or were temporarily laid off. Today, we are back on our feet, not right back where we want to be, but our unemployment rate has dropped back down to 10 per cent from the extraordinarily high numbers that it was two years ago. We have not gotten here by accident," said Mottley.
"Were it not for the efforts of all of you present and those that are not present who lifted their hands and who didn't ask a second question, who faced the dislocation at their personal level as well, in their families, in their communities, in their churches, for the rest of the country who had to cooperate by complying with very difficult restrictions that had to be put in place, to restrict movement so that we could save lives, we say today, thank you.
Among the awards were the Freedom of Barbados Award, the Gold Award, a presentation of Plaques to nations and agencies and the citation of Humanitarian Medals and Humanitarian Lapel Pins.
During her address, the PM announced each awardee would receive $500 as an additional token of appreciation, though no amount of money could convey the nation's gratitude.
"We could do more, but I am confident that if we work together and that if we apply ourselves together, that a time will come when we can continue to build this country because you are the people who give us the inspiration to work for you each and every day," said the Prime Minister.
"That is why we have a programme of housing that will see nurses and orderlies and teachers and policemen and soldiers being able to access housing at affordable prices again. You saw evidence of it last week, you will see more evidence of it," Mottley promised.
She also singled out the WHO Director General for his unswerving commitment to assist Barbados throughout the pandemic.
"Every call, every single call that I made on behalf of the people of Barbados to Dr Tedros and the WHO was answered, whether it was day or night, whether it was weekend or weekday. That is the sign, not just of a leader, but of one whose compassion and caring allowed them to see all and not just the rich ones. And we recognise you, we know that even as you tried to lead the world, in fighting this pandemic, you were faced with the withdrawal of financial support and allegations of all types, but to your credit, you kept focused, you stayed focused and you led the world as best you could in the absence of a global political compact which is the greatest criticism that can be made of global leaders as we fought this pandemic. In spite of that lack of global cooperation, you held your ground at the WHO and you did right by the science and you did right by the large and small nations of the world and we say thank you, thank you, thank you," declared Mottley.