Peace and Equality: Gender-Based Violence Legislation Planning
A Virtual Panel Event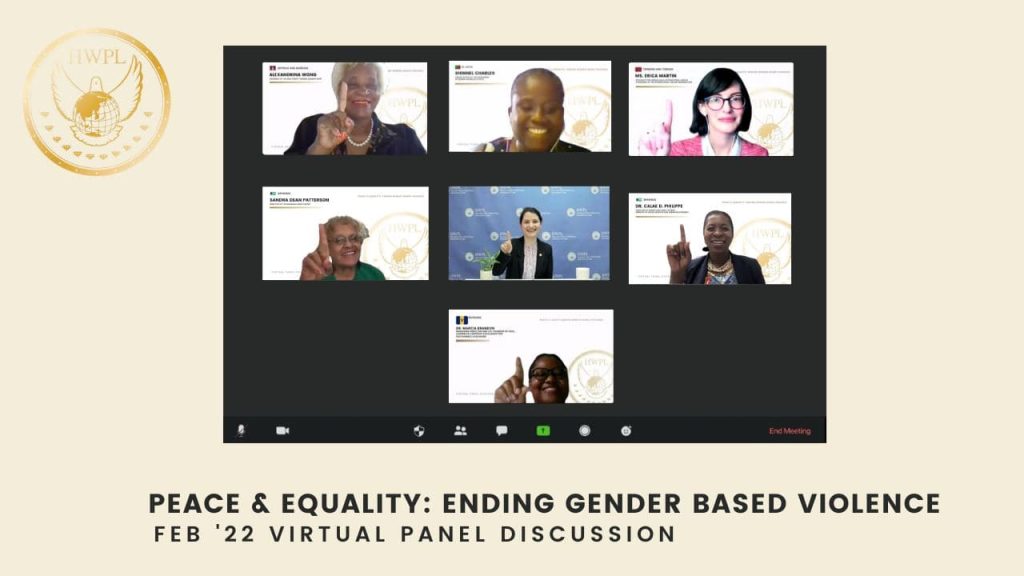 Heavenly Culture World Peace Restoration of Light (HWPL) hosted a live working session on Friday, February 25th at 12pm EST
for Caribbean legislators working to combat gender based violence. Entitled Peace and Equality: Gender-Based Violence
Legislation Planning, this panel event gave legislators and policy decision makers a platform to discuss cross-regional patterns
of gender based violence and examined actionable ways to fix existing policy issues.
Panelists at this event included:
● Dr. Calae D. Philippe, Director of Gender and Family Affairs of the Ministry of Social Services and Urban Development
in the Bahamas
● Sandra Dean-Patterson, Director of the Bahamas Crisis Centre
● Alexandrina Wong, President of Women Against Rape in Antigua and Barbuda
● Erica Martin, Specialist for Labour Law and International Labour Standards at the International Labour Organization in
Trinidad and Tobago
● Marcia Brandon, Managing Director and Co- Founder of COESL at the Caribbean Centre of Excellence for Sustainable
Livelihood
During the event, participants worked to be united with the efforts of the UNHRC, UN Spotlight Initiative, and other existing
programs. All HWPL representatives, government attendees, and participating VIPs were committed to this event not being just
another meeting where stakeholders simply discuss ways to move forward. Instead, each participant left the session with
specific policy language they could utilize in their individual countries to create substantive legislation for change.
Topics of note included: the need for the economic empowerment of women, the lacking capacity in the Caribbean to process
assault forensics, the importance of involving men in discussions about reform, labor protections against GBV, and the
importance of educating the public to help find solutions for GBV.
An HWPL representative shared, saying, "This is why we, as HWPL, are gathering here today: so that all of these different
implementing partners can come together and find where these gaps are and how we can even help fix them."
Erica Martin further explained, "It's about the power [for change] that comes from implementing partners, working with civil
society, organizations, trade unions, employees, organizations, and so forth. And I think that's really where the strength is, rather
it's not by design, top down."
All panelists agreed that it comes down to implementation mechanics: "We have quite a number of laws. We have quite a
number of policies. The challenge lies at the implementation level, why aren't they being implemented? And so we have to look
at due diligence, we have to look at areas like democracy. See, we also have to look at what the bottlenecks in our systems are
that are causing the implementation to be at the level where it is now – and how do we get past that?" -Alexandrina Wong
Heavenly Culture World Peace Restoration of Light (HWPL) has been hosting events and convening discussions like this with
Caribbean government and civil society leaders, educators and youth to collaborate on solutions that empower all sectors of
society to eliminate gender based violence. All of this work goes hand-in-hand with advancing sustainable peace – HPWL's
primary objective. Panelists always include many high level education, government, and civil society leaders who collaboratively
identify gaps in both society and policy, making actionable recommendations. As a result of these efforts, HWPL has drafted and
presented 8 policy proposals to the United Nations on the issue of gender-based violence.