Mottley's widow recalls ordeal that led to his death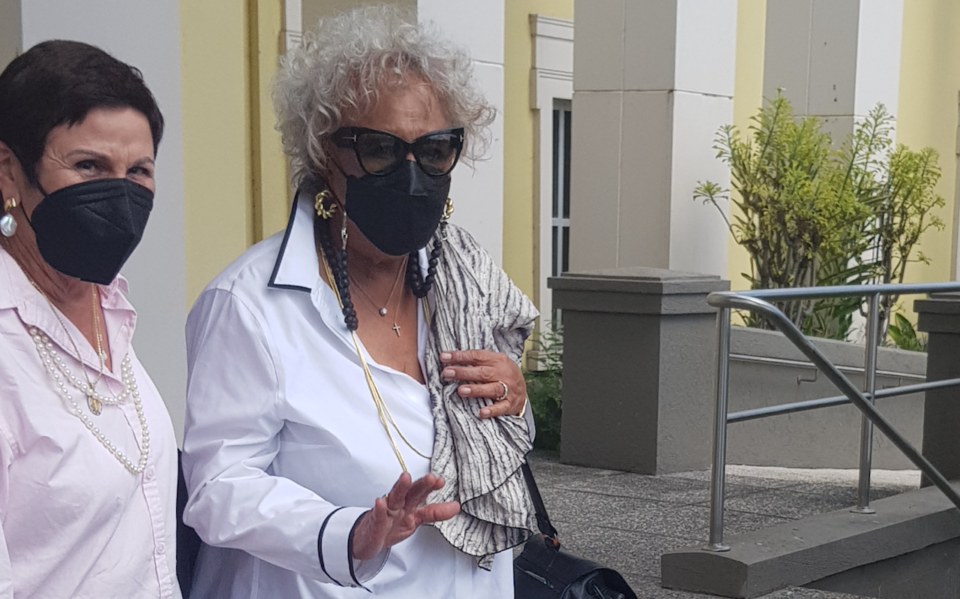 The widow of the late Warren Mottley on Wednesday disclosed that her husband had a routine colonoscopy just days before he died.
Shawn Mottley, who was married to Mottley for 22 years and had two daughters with him, gave evidence on day one of testimony at an inquest into his death.
Participating in the proceedings virtually from Jamaica, she disclosed that her husband had visited Surgical Solutions Incorporated in Dome Mall, Warrens for a routine colonoscopy on June 22, 2021. She said the procedure "did not take long" and she was informed that it "had gone well".
Mrs Mottley said her husband felt fine for the remainder of the day and did not complain of feeling anything abnormal.
However, she said, around 1 p.m. on June 26, he began to complain about stomach cramps and she was worried because "he looked in discomfort".
Mrs Mottley said she was concerned that the pain persisted. The following day, she said, her husband woke up in a "great deal of pain" and she contacted Surgical Solutions Incorporated before going there early that morning.
A doctor examined Mottley and said his stomach was bloated and he was advised to go to the QEH to get a CT scan of his abdomen, which was done.
After reviewing the scan, the doctor told them it was "best to go in laparoscopically to see what was happening and remove the blockage if there was one", Mrs Mottley testified.
"He strongly advised to do the procedure at his facility because it was . . . state-of-the-art.
"I said I had never done any surgery outside the hospital and that I was hesitant to go but [the doctor] said that while he understood my reservations he believed his facility . . . was superior to the QEH," she added.
The two subsequently went back to the facility and were met by the deceased's mother, Amor Lady Mottley.
Reading her statement, Mrs Mottley said that halfway through the surgery, a doctor came and informed them that there was a tumor blocking her husband's small bowel.
However, the doctors later concluded that it was not a tumor. She was told that Mottley would stay overnight but she could not stay with her husband.
"I remember being uncomfortable about leaving Warren because he still seemed to be in considerable pain," Mrs Mottley, who became emotional, stated. "But doctors assured me that it was fine."
She returned to Surgical Solutions between 9 a.m. and 10 a.m. the next day, June 28, and met with her husband's mother. They were called in and the doctors expressed concern about Mottley's condition, telling them that "his blood pressure and oxygen levels were below normal".
"He [the doctor] said he needed to get his [Warren's] levels back to normal . . . [and] advised that he needed to transfer Warren to the QEH by ambulance. I think Lady Mottley had asked [the doctor] when he had been notified that something was wrong with Warren. He said he was notified about 4 a.m. and that he arrived at the facility between 7 a.m. and 8 a.m.," the widow's testimony continued.
Mrs Mottley said they were taken to see her husband.
"Warren was in a lot of pain. There were several medical personnel in the area with Warren and everything appeared chaotic. Lady Mottley and I were very upset that an ambulance had not been immediately summoned and Lady Mottley decided to call an ambulance service herself. The ambulance . . . eventually arrived around 1 p.m. I was also very upset because had I been allowed to remain with Warren overnight I may have been able to better advocate for him," she stated. He was taken to the QEH by ambulance and admitted to the Surgical Intensive Care Unit.
Lady Mottley's evidence was similar to that of her daughter-in-law.
She also recalled that following the procedure, the doctor told Mrs Mottley, "'I have just saved your husband's life".
"He looked towards me and he said 'I saved your son's life'. . . ."
The mother, who became emotional while reading her statement, continued, that on June 28, she got a call from her daughter-in-law who informed her that her son was "not doing well".
She went back to the doctor's office where her son was and the doctors subsequently told them he had a clot.
"I said 'move him to the QEH'," she recalled.
Lady Mottley then went to the room and saw her son who told her he was in "terrible pain".
"I came out and told [the doctor] 'why don't you get the ambulance to take him to the hospital?'. He said he could not get an ambulance and said 'get Mia to get one'. . . . An ambulance came and took him to the QEH . . . . On June 29 . . . Warren took a turn for the worse. Warren died later that day."
Head of the Surgical ICU at the QEH, Dr Michael Fakoory, also testified.
In response to questions posed by Sir Elliott Mottley Q.C, – who is also the deceased's father – the doctor said the referral letter on the hospital's record from the doctor at Surgical Solutions Incorporated made no mention of sepsis or infection on the note, but of a pulmonary embolism.
Jamal Bennett, one of the ambulance Emergency Medical Technicians who responded to a call on June 28, 2021, in relation to a person with pulmonary embolism at the Dome Mall, Warrens, St Michael, said that on arrival around 1:04 p.m. he saw a male, who he found out was Warren Mottley. Bennett said he was told the patient was hypoxic and hypertensive and he was transported to the QEH.
The Coroner's Inquest continues on Friday.
The Mottley family is being represented by attorneys-at-law Sir Elliott, Stewart Mottley, Faye Finisterre, Leslie Haynes Q.C. and Senior Counsel from Trinidad Douglas Mendez.
Attorney-at-law Francis Depeiza from the law firm Carrington and Sealy and legal counsel Ezra Alleyne are representing private doctors involved in the inquest.