Leading academic raises concern that Barbadians are among the sickest people in the world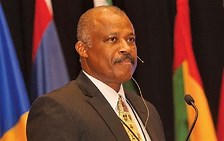 Describing Barbadians as a sick people, addicted to sugar, prominent historian Sir Hillary Beckles is calling for sugarcane plantations to be turned into agricultural lands to grow food for the nation.
The Vice Chancellor of the University of the West Indies (UWI), said the criminal culture called the sugar plantation system that enslaved, oppressed and made Barbadians sick as a result of a sugar addiction, should be turned into food plantations overnight.
"Turn all of those sugar plantations into food plantations so that the people who have been the victims of those plantations can now rise up and their children and grandchildren can eat healthy foods and become healthy and strong. If we Barbadians don't do this our future is very limited," he said.
Sir Hillary made the urgent call as he spoke during the CBC Presents discussion programme, A Conversation About Sugar in the Barbadian Society, sponsored by the Heart and Stroke Foundation of Barbados and the Barbados Childhood Obesity Prevention Coalition. He also expressed concern about staggering figures which reveal that half of the people in Barbados over age 60 are either diabetic, hypertensive, or have been diagnosed with both.
He said, if diabetes and hypertension are used as a marker, it would mean that Barbadians are probably "the sickest people in the world". The historian said he does not believe that there is another society with as many hypertensives and diabetics.
"If half of our seniors over the age of 60 are hypertensive, diabetic, that would mean that if you put us on a global scale and you put all the societies together, that would mean that the black people in Barbados are among the sickest people in the world. And if that is so, how did it get like that?
Throwing his full support behind the Government's introduction of increased taxes on sugar-sweetened drinks, Sir Hillary said "I am very proud that the Government has taken these steps. I wish that we would have had governments in the past that look out for our public health in this way. It is heartrending to me that I am a citizen in a society, an African citizen in my society, and to know that my cohort is among the sickest people in the world if I use these criteria as judgement," he said.
Host of the programme Dr Kenneth Connell said that Non-Communicable Diseases (NCDs) which are killing persons at an early age, are now responsible for eight out of 10 deaths in Barbados. He said by 2015, cancer was the second leading cause of death in the country.
Dr Connell said 547 heart attack victims were admitted to the hospital in 2019 with a death rate of about 25 per cent, along with 758 stroke patients and a mortality rate of 37 per cent.
Sir Hilary lamented that the journey to Barbados being plagued by sugar addicts and NCD sufferers did not start overnight, but rather began about 300 years ago on the plantation and accelerated about three decades ago.
He explained that Barbados was one of the major global centres for the explosion of the sugar industry where everything in society was built on the sugarcane byproduct. He said the majority of 600 000 Africans brought to Barbados to reap the cane was forced to consume sugar in large quantities.
He said by the end of slavery, the vast majority of black people in Barbados were "addicted" to sugar and today they are finding it difficult to stay away from the product and all of its manifestations. Sir Hilary said someone should be held accountable for black people's addiction to sugar.
"Here we are, free citizens in the newest republic in the world. We are so proud of our identity as free people in our society. But when the medics roll out the statistics and show us who we really are, we are a very sick people and something must be done drastically to turn this around.
"I don't think it is simply going to be enough to tamper with prices at the consumer point and try to reduce consumption by 10, 15, to 20 per cent by adjustment of price. What I do know is that we as citizens, for historical purposes, we are very sick people and we are passing that sickness on to our children and grandchildren. It's cascading. It's a public health catastrophe that we Barbadian people are faced with," he said.