Israeli PM secretly flies to Russia on the Sabbath to meet with Putin and then phones Zelensky in desperate bid for peace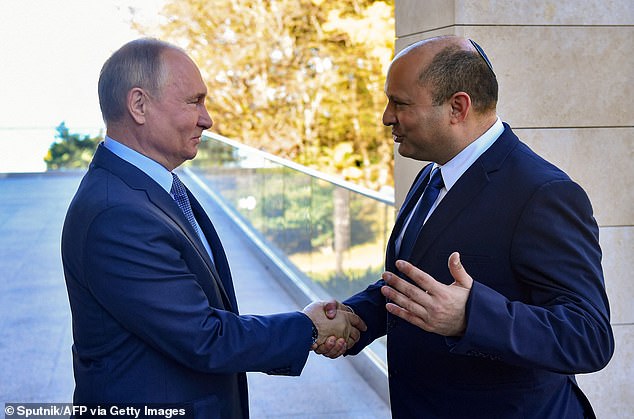 Israeli Prime Minister Naftali Bennett flew in for a secret meeting with Vladimir Putin and later phoned Volodymyr Zelensky to discuss the war in Ukraine as he coordinates crisis efforts with the US, France, and Germany.
Bennett's meeting took place 'with the blessing of the US administration,' his office said, to discuss the safety of Ukraine's Jewish population and Iran's nuclear program. Russia threatened to derailed the 2015 Iran nuclear deal on Saturday – a deal that Israel opposes, according to Fox News. 
The Israeli PM had offered last week to act as a mediator between the two countries, to which Putin had replied that he was 'ready for negotiation.'
Bennett, a religious Jew, flew to Moscow in violation of Sabbath law because Judaism permits this when the aim is to preserve human life, his spokesperson said.
He was accompanied by his Ukrainian-born housing minister, Zeev Elkin. Elkin had in the past accompanied former prime minister Benjamin Netanyahu as an interpreter in his talks with Putin.
In their three-hour meeting in the Kremlin, the Israeli official said, Bennett also raised with Putin the issue of the large Jewish community caught up in the war in Ukraine.
While Israel, a close ally of the United States, has condemned the Russian invasion, voiced solidarity with Kyiv and sent humanitarian aid to Ukraine. It also will send medical teams to Ukraine next week to set up a field hospital that will provide treatment for refugees, its Health Ministry said.