In T&T Divers exploited by companies for profit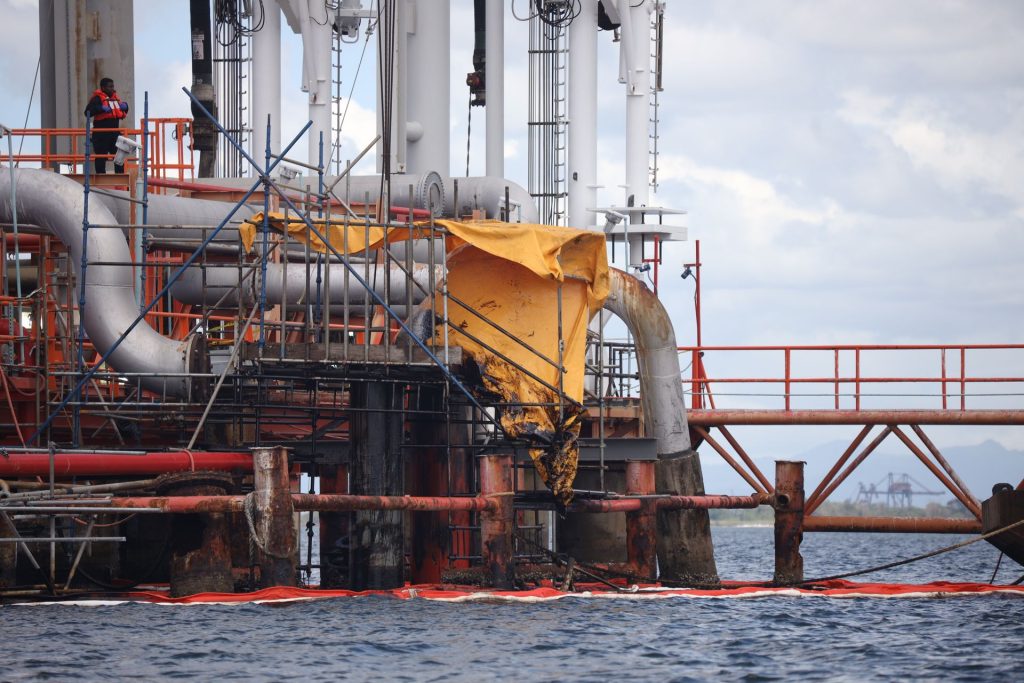 The lives of divers in Trinidad and Tobago are being jeopardized by diving companies and mega-rich corporate clients for the sake of increased profit.
Scuba divers are being paid considerably less money for dangerous diving jobs than their commercial diving counterparts. Some are being paid a measly $400 for the extremely risky job that would normally cost $1,500.
According to industry insiders, the absence of standardised rules and regulations, coupled with increased competition for commercial diving jobs has exacerbated an already dangerous culture in the industry.
This revelation was made to the Sunday Guardian over the last week after discussions with close to a dozen diving companies about the culture of the diving industry.
At least four owners of diving companies were willing to be interviewed, but three owners chose to do so anonymously out of concerns that they could be prejudiced in their attempts to get future jobs.
The issue has come squarely into focus following the Paria Fuel Trading Company Ltd diving tragedy on February 25 in Pointe-A-Pierre, where divers Fyzal Kurban, Kazim Ali Jr, Rishi Nagassar and Yusuf Henry who worked with LMCS Ltd lost their lives after being sucked into an underwater pipeline.
They said deaths in the industry are nothing new, claiming that many accidents, even fatal ones, go unreported to the Occupational Safety and Health Administration, OSHA.
However, they feared that the likelihood of more fatal accidents occurring is increasing and will continue to do so unless there is meaningful reform in the diving industry.
They said action needs to be taken to protect the lives of divers, many of whom are being exploited in an industry considered to be one of the most dangerous in the world.
During the investigation, we learned that most diving contractors are cutting costs to underbid their competition.
And when the contractors cut costs, it is the divers, and not the owners, who face increased risks out on the job.
"You don't know Trinidad? In everything, people cut costs. And the thing about cutting costs in this job, one foot of water, that's your life right there. One foot of water… This job is not supposed to have no shortcuts, and until companies realise that, they will be putting their divers at risk," a diving contractor, speaking anonymously, said.
"Because, as a contractor, work hard right now. If you tell people to work for $5 for a $10 job, they would come and do it. If the client is happy with a service like that, things could never get better in Trinidad."
He said because he owns other businesses outside of the industry he can afford to reject job proposals from clients at a reduced cost to what he believes a contract is worth to get the task done efficiently and safely.
Many other owners, he said, however, are not in such a fortunate position, leaving them vulnerable to compromise the safety of their operations, just to land a job.
"I give you a price of $20,000 and you go with an offer of $12,000, I tell them go right ahead with the offer. Safety is my first priority. The diving companies are at each other's throats, and for what?" he asked.
Companies cutting corners, willing to risk lives
The owner of Underwater Works Limited Dr Glenn Cheddie, a diving contractor, agreed.
He said the biggest problem facing the diving industry was greed.
The commercial diving instructor said there are companies willing to risk the lives of men not qualified or certified to dive commercially, just so they don't have to pay expert divers a higher salary.
"I mean a diver died around two years ago doing some work cleaning an anchor chain for a boat. And how did he die? He was uncertified–not even certified as a scuba diver. He went down to do a job to clean the chains and his friend was PADI certified. They were sharing air underwater at 60 feet," Dr Cheddie recalled.
"They were too cheap to have two persons, two air tanks, two sets of equipment, so they were sharing air, and the one who was uncertified ran out of air, rushed to the surface, and drowned on his way up…That story never made the news. The family never got anything from the company that hired them."
Cheddie said there are commercial divers who spend upwards of $90,000 to take international diving courses, so given that they are highly qualified, they will work for a certain salary–for example, $1,500 per day.
However, he said, there are also divers with scuba certificates who did three- or four-day courses, at a much lower cost, who will work for as little as $400 per day to do the same job.
"Cutting corners is where we kill divers or people in the industry…$400 a day versus you have to pay $1,500 a day to get the job done. The company is bidding for the same amount of money that he would have bid if he had commercial divers, so he (the contractor) is going home with more money," Dr Cheddie said.
"He did not have to buy the expensive equipment. The commercial diving hats are like $60,000 to $70,000 for one, while a scuba mask is $400 to $500. Then the contractor will tell the divers to walk with their own equipment…To have a full commercial diving spread will be $500,000. All these contractors do not want to do that."
Contractors revealed that clients, both in the shipping and oil and gas industries, more often than not, go with the lowest bidder to save money.
They said clients do not give consideration to which company staffs the most qualified men for the job or to which company owns the best equipment to perform the task safely.
"I have a fix for it. People need to understand that if a job is worth $10, it can't be $5," a contractor said.
Several of the contractors said that there are many divers in the industry who are without commercial certifications, while others work commercially without any form of certification.
The issue of certification has been a contentious one
The diving company owners said that several divers were using scuba diving certifications, like the National Association of Underwater Instructors (NAUI) or Professional Association of Diving (PADI) certifications to work as commercial oil and gas divers, despite international best practice advising against this.
The issue of certification has been a contentious one in the local diving industry. Some contractors see nothing wrong with commercial scuba diving, while others have dismissed it totally, stating there is no place for scuba commercially in this country.
Locally, there are commercial divers and instructors certified with internationally-recognised certifications, including certifications from the International Marine Contractors Association (IMCA), The Association of Diving Contractors International (ADCI), and the Diver Certification Board of Canada (DCBC).
According to the Association of Diving Contractors International, "NAUI, PADI, YMCA, POSSI, CMAS and other scuba certificates are for recreational diving only and not acceptable under OSHA regulations or ADCI standards for commercial diver training."
According to IMCA's international code of practice for offshore diving, "Personnel trained and certified by recreational agencies such as, but not limited to, NAUI, PADI, YMCA or other such organisations are not sufficiently well-trained to participate in or conduct commercial diving activities without additional formal training from an accredited source."
One diving contractor, who does shipping contracts locally and regionally, admitted that he uses divers who are certified in commercial scuba under the National Training Agency, as well as divers without formal certifications.
"I have been training divers here over the last 20 something years. Scuba diving is used a lot in shipping because it gets the job done effectively, cost-effectively, and safely. There are certain vessels that if you go and work alone on hot and hose, you can die.," the contractor, who spoke anonymously, said.
"I have divers, who are not certified, that would run rings around a lot of commercial divers because they come by me, they get training. Even though a man comes out of school with his certificates and he reaches me, he still has to learn…I have taken a lot of people who are diving for lobster over the place. Those are the people who make the best commercial divers."
According to another contractor, he only hires highly qualified divers, certified by the International Marine Contractors Association.
He said for every job his team does a risk assessment to establish possible hazards, establishes precautions, and puts procedures to mitigate possible hazards in place.
Diving standards have not been updated since 1997
However, both he and Dr Cheddie said, based on their experience, most contractors do not perform full-risk assessments before undertaking a job.
"That line job (Paria tragedy) where the divers died…It had no air supply 1,800 feet long, and that is why nobody could have rescued those divers…One of the mitigations right there for that whole job was to have a breathing air supply topside, hose, and hat, 1,800 feet in length, in case that should have happened," the contractor said.
"But to have a hose like that is US$20,000. So what people have to start to do is they have to start to mitigate. They have to know their risks and try to mitigate at whatever the cost is…The diving companies these days, everybody on everybody else's throat, and for what?"
Dr Cheddie believed that all diving companies should be audited to determine their capability of performing diving jobs efficiently and safely.
He said a body should be set up to audit the companies and once the companies are passed, they would be certified and free to apply for jobs.
According to Cheddie, the absence of standards and regulations is a major reason for the dangerous and exploitative culture present in local diving.
"We need the Trinidad and Tobago Bureau of Standards to restart immediately. We have the best practices. It's there. We have to enforce best practices," he said.
"The Bureau of Standards wanted to do a standard for diving about two years ago and all of us were invited…Everybody wanted to go their own way because they are thinking what they are doing is the best," another diving contractor lamented.
Despite the absence of standards and regulations, OSHA is the agency responsible for investigating issues affecting the health and safety of divers.
Once an accident occurs during a diving job, there is a document that is supposed to be filled out by contractors/clients and forwarded to OSHA. However, Sunday Guardian was informed that accidents are under-reported, even fatal accidents.
The diving contractors believed that the long-standing issues increase the chances of another fatal diving incident, like the Paria tragedy, occurring.
They are hoping that the death of the four LMCS divers in Point-a-Pierre will lead to changes that will save the lives of other divers.
"There is a substantial lack of rules and regulations in the diving industry. It's like driving on the road. If you have no police, then people do what they want on the roads. So, the rules and regulations and the standards are there to police the diving companies," Dr Cheddie lamented during an interview last Wednesday.
"No, we don't have a standard in Trinidad. No standard at all for diving. I have 27 years in diving. I have friends who were there 27 years before me and there were no standards. So until we have a standard, no one will have anything to follow," another diving contractor said.
Trinidad and Tobago's diving standards have not been updated since 1997.
In 2012, the Bureau of Standards, in conjunction with local industry experts, began meeting to update the country's diving standards.
After six years of work, a draft standard was completed. However, the process to formalise and implement the standards was stalled.
Recently, the Bureau of Standards told Guardian Media that the process of updating the diving standards was still ongoing.
However, diving contractors said consultations on the standards update have not taken place in close to four years.
Questions to Labour Minister on auditing companies
Sunday Guardian sent the following questions for Labour Minister Stephen Mc Clashie via the ministry's corporate communications department.
Does the labour ministry audit or plan to audit commercial diving companies to determine their competence and capability to perform commercial diving tasks safely and efficiently?
Is the labour ministry aware that uncertified divers, contrary to international best practice, are being employed as commercial divers in the local industry? Is this a source of concern?
Does the labour ministry see the need for the implementation of updated rules and regulations?
In speaking to multiple diving contractors, I was told that there is a dangerous culture of underbidding in the diving industry that sees contractors bid low for jobs and, in the process, put their employees at increased risk on the job. Is the ministry aware of this?
The ministry's corporate communications department acknowledged receipt of the questions.
A response was promised, at the shortest possible time, but it did not arrive in time for publication.
No word from Energy Minister
Attempts to contact the Minister of Energy and Energy Industries Stuart Young for comment were unsuccessful.