How much more can they take? Russians attack ANOTHER Ukrainian city as 47 civilians confirmed dead in 'cluster bomb' attack but Kyiv's men hit back by downing two jets and ambushing tanks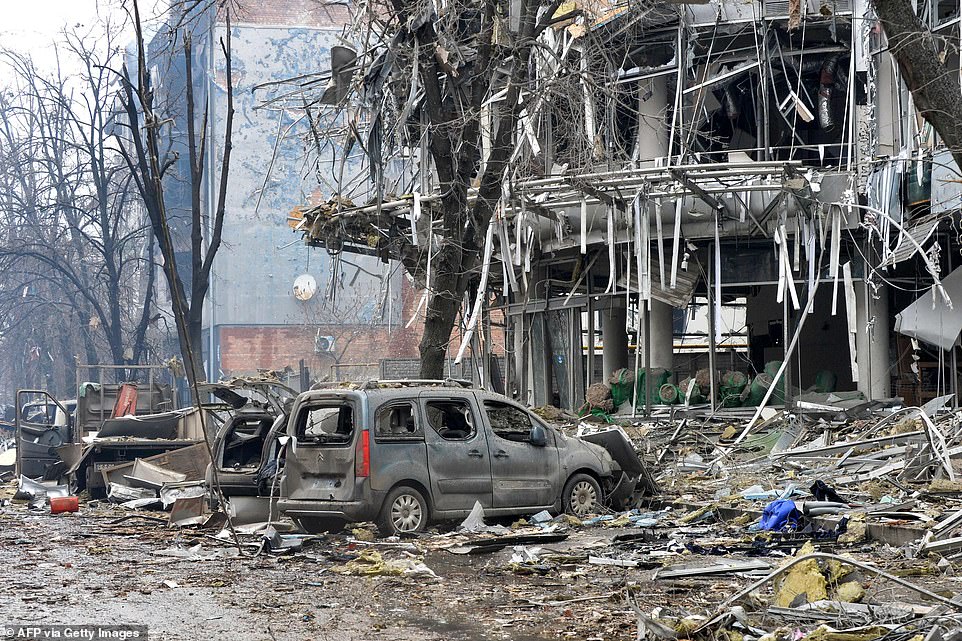 Russian troop today entered the outskirts of another Ukrainian city as Vladimir Putin steps up his assault on the country, having last night vowed to continue until 'total victory' is achieved.
Mykolaiv, in the south of Ukraine, came under attack in the early hours as Russian forces moved within striking distance of the city centre. It is located just a few miles from Kherson, which fell to Putin's men earlier in the week, and is a key point on the road to Odessa – Ukraine's third-largest city and main port – that is now under threat. 
Putin's men also continued their bombardment of Mariupol, hundreds of miles along the Black Sea coast to the east, which remains in Ukrainian hands but is surrounded and being shelled into submission. If Russia can take it, then large parts of Ukraine's army dug into trenches in the Donbass are in danger of getting cut off.
Russia has also renewed its bombardment of cities in the north, with Kyiv, Chernihiv and Kharkiv all coming under fresh attack early Friday – as authorities is Chernihiv said civilian areas of the city were hit with banned cluster munitions on Thursday, killing 47 people.
But Ukraine's military did managed to pull off some successes. Two Russian jets were downed near Volnovakha, in the east near Donetsk, while Ukrainian special forces also ambushed two of the Kremlin's tank columns at Hostomel and Brovary, leaving large numbers of troops dead and destroying vehicles.
It came after Russia launched an attack on the Zaporizhzhia nuclear power plant overnight, killing three guards and sparking a fire that raged in the facility for four hours before emergency crews were eventually allowed to extinguish it once Putin's men had taken control.
The attack sparked international condemnation, with Prime Minister Boris Johnson branding it 'reckless' and saying it had 'threatened the security of the whole of Europe'.
Kyiv says Russia has now lost around 9,200 men in the fighting, along with hundreds of tanks, almost a thousand armoured vehicles, and dozens of helicopters and jets.
The fighting raged on as NATO diplomats met in Brussels today, with Secretary of State Antony Blinken saying that NATO is prepared for war and will defend 'every inch' of member states' territory – though resisted calls for a no-fly zone over Ukraine, saying that would violate the defensive alliances' principles.
'NATO will defend all its allies and territory against a Russian attack,' U.S. Secretary of State Antony Blinken said on arriving in Brussels, which hosts the alliance's headquarters.
'Ours is a defensive alliance. We seek no conflict. But if conflict comes to us, we are ready for it and we will defend every inch of NATO territory.'
NATO's head echoed Blinken's condemnation of Russian attacks on civilians in Ukraine, a former Soviet republic and Moscow satellite that wants to join the European Union as well as the Western military alliance.
Ukrainian authorities said on Friday Russian forces seized the largest nuclear power plant in Europe after a building at the Zaporizhzhia complex was set ablaze during intense fighting.
'This just demonstrates the recklessness of this war and the importance of ending it and the importance of Russia withdrawing all its troops,' Secretary General Jens Stoltenberg said.
While some countries indicated a willingness to discuss a no-fly zone, they made clear they did not consider it a viable option.
Canadian Foreign Minister Melanie Joly said that NATO's red line was to avoid triggering a wider conflict. France's presidential office described a no-fly zone as 'a very legitimate request and very difficult to satisfy.'
Lithuanian Prime Minister Ingrida Simonyte said calls to get NATO involved into military conflict now were 'irresponsible.'
Putin launched his 'special military operation' to get rid of what he said was Ukraine's fascist government and demilitarize the country. Zelenskiy says Moscow is trying to prevent a liberal democracy flourishing on Russia's border.
'We are now witnessing a fully-fledged war at our borders, a war unleashed by president Putin against Ukraine,' the EU's top diplomat said ahead of the bloc's separate talks on Friday.
'We will consider everything. Everything remains on the table,' Josep Borrell said of more sanctions on Russia.