Fahie Breaks The Internet..While BVI Gov't Seeks to Avert Direct Rule From the UK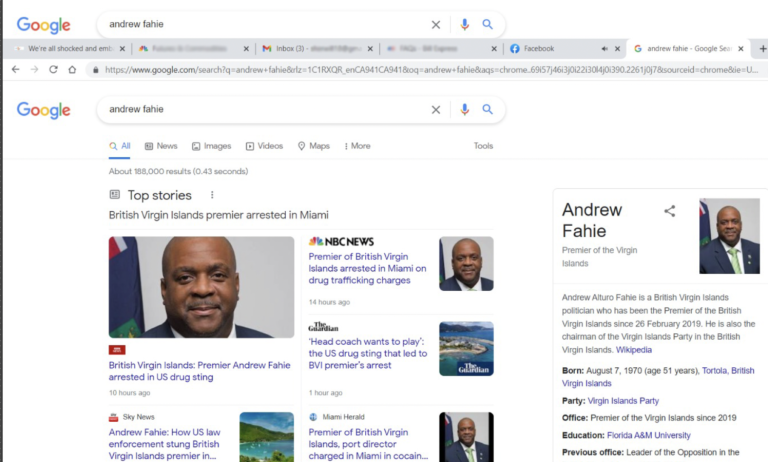 As the BVI government begins its fight to stave off a potential UK take-over, Premier Andrew Fahie, in a most dramatic fashion, has 'broken the internet' today, and has made the headlines of some of the biggest media outlets in the world.
Fahie's alleged fall has made the headlines of global outlets such as the BBC, The Guardian, The Independent, The New York Times, The Miami Herald, Bloomberg, CNN and several other regional and international media houses.
The Premier's new-found notoriety comes after his arrest in the United States on April 28, where he faces drug-related and money laundering charges.
According to US court documents seen by our news centre, Fahie was nabbed after he allegedly agreed to allow large amounts of cocaine to pass through BVI's ports as part of a multi-million dollar deal he made with an informant of the US Drug Enforcement Administration (DEA), who was posing as a drug trafficker.
During the sting operation, Fahie allegedly told the informant that he feared losing his career, which he had built over a 20-year span.
"It took me 20 years to get here and I don't want to leave in 20 minutes," Fahie is alleged to have said.
Today, his worst fear which was described in the court document, has been realised as he was dethroned by headlines in less than 20 minutes.
Now, detained in the US, the BVI Premier is pressed by a daunting potential court trial on one side and the scorn and fury of the BVI people on the other.
Acting Premier opposes recommendation of UK direct rule
But as the embattled politician contends with these upcoming criminal proceedings, the territory he left behind has been hit with another bombshell in the form of the Commission of Inquiry (COI) report which was released to the public this morning.
The COI has recommended that the BVI constitution be partially suspended and that the government cease to exist in its current format for at least two years.
Acting Premier Dr Natalio Wheatley has made it clear that he does not support this move.
"I know that will be of great concern to many persons and I too am very concerned about this recommendation. What this would mean in real terms is that there would be no more elected representatives who represents the people of the districts of the territory in the House of Assembly where laws are made for our society," Dr Wheatley said in a public address on Friday.
"There also would be no government ministers to advance the public's priorities or Cabinet to approve policy. All of this authority would be vested in the governor," he added.
Dr Wheatley said he has voiced some of his concerns to the governor and British officials and is scheduled to hold high-level discussions about the recommendations soon.