Even Putin's media stooges are forced to admit Russia's invasion has stalled due to 'shameful' lack of equipment and reinforcements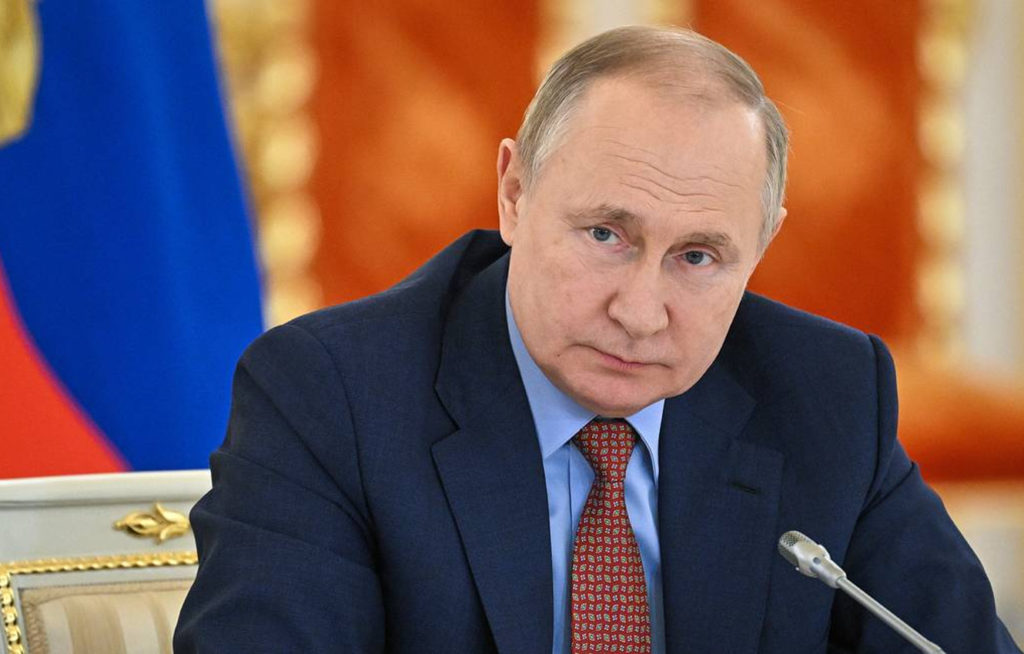 Putin's propagandists have begun openly criticising the state of Russia's military as even the Kremlin's most-hardened of supporters struggle to ignore the scope of its failings in Ukraine.
Vladimir Solovyov, one of Putin's most-prominent puppets, moaned last week about the 'shameful' length of time it takes for weapons to reach the front while guests on Russian state TV talk shows complained that men are being sent into battle 'with weapons of yesteryear' and the Russian economy cannot sustain the war.
Mikhail Khodaryonok, a retired Russia colonel, told viewers that even a much-feared general mobilisation of Russian forces would do little to turn the war in Moscow's favour because it lacks equipment and men to build new units. 'We don't have the reserves,' he told viewers.
Meanwhile Solovyov himself fumed that Russian troops are unable to get drones because so few are being produced, and even those that are made take too long to get into battle. 'Just try to bring something to the Donbas,' he said, 'it's easier to bring it in via Ukrainian customs in Lviv. They let any weapons through.
'But to bring something to our guys is near-impossible. We complained about it hundreds of times!'
Aleksandr Sladkov, a so-called 'war correspondent' who pumps out pro-Kremlin content on social media, spoke out against Russia's tactics – saying commanders have been 'shamefully indecisive' and their attacks 'can't push out Ukrainian forces' because they are fighting 'one-to-one' with no numerical advantage.
The shift in tone is dramatic for state media networks that are usually keen to trumpet the might of Russia's armed forces, praise Putin's leadership as strong and decisive, slam Ukraine as weak and dismiss any defeats they suffer as being part of a masterplan – the true goal of which will only become apparent later.
But, more than two months into what was supposed to be a days-long 'special military operation' to overthrow the Ukrainian government, even Putin's stooges appear to be running out of excuses for the lack of progress.
It came as Joe Biden admitted he is worried that Putin 'doesn't have a way out' of the war and that his administration is 'trying to figure out what we do about that'.
There are fears about how far a cornered Putin could escalate if it becomes obvious that there is no path to victory in Ukraine, including using chemical, biological or nuclear weapons.
Many of the same propagandists now bemoaning Russia's shortcomings have spent recent weeks threatening nuclear strikes on the West – singling out the UK, France, Germany and America as targets.
Russia's attack on Kyiv had to be abandoned after Russia's forces stalled, Mariupol remains unconquered despite a siege lasting weeks, there have been no major gains in the Donbas and no move out of Kherson towards Mykolaiv or Odesa despite Putin's generals saying that the capture of the Black Sea coast was one of their main objectives.
Captain Sviatoslav Palamar, the deputy commander of Ukrainian forces holed up inside the Azovstal steel plant in Mariupol, said on Monday night that his men continue to hold it despite repeated attempts by Russian forces to storm inside the sprawling industrial complex.
'We will continue to fight as long as we are alive to repel the Russian occupiers,' he said in a video message.
'Ukraine's Deputy Defence Minister Hanna Malyar said Russian forces continue to try and advance in the east of the country, describing the situation as 'difficult' even as the frontline largely holds intact.
In fact, the majority of territorial gains have been made by Ukrainian forces counter-attacking out of Kharkiv towards the Russian border – threatening supply lines into the Donbas. Strikes on Russian soil, believed to be from Ukraine, also hamper reinforcement efforts as do dozens of mysterious fires around the country.
On Monday, it was reported that Ukrainian forces had seized the towns of Rubizhne and Lyptsi to the north of Kharkiv, which would put them around 10 miles from the Russian border. Putin's troops were said to be counter-attacking out of Belgorod, but it remained unclear how soon the reinforcements would arrive.
If Kyiv's troops can reach the border, it will open up the prospect of cutting Russia's main supply route from Belgorod to its forces around Izyum – where some of the heaviest fighting is taking place – which could mean units stationed there running out of fuel and ammunition.
Advances out of Izyum have been progressing, but in a slow and peicemeal fashion. Putin's men captured the town of Velyka Komyshuvakha on Monday, some 14 miles from where they started, but were still struggling to take control of the city of Lyman, which sits close to a strategically important river.
Elsewhere, Ukraine repelled an attempted Russian crossing of the river at Bilohorivka by destroying a pontoon bridge and taking out several armoured vehicles in the process.
That is perhaps what prompted Sladkov to take to social media, where he decried the 'scumbags from the Ukrainian armed forces,' who he claimed were responsible for shelling the Leninskiy district in Donetsk – where he was recording the video.
The shelling killed a woman and a 16-year-old boy, he claimed. 'You know why [these attacks] are happening?' he asked rhetorically.
'We can't push out Ukrainian forces from the city. We can't push them out. Because… I don't know. We shouldn't criticise but… we are assaulting with one to one ratio, their villages and their strongpoints… one to one.'
He continued: We are making a feat out of something that should be routine. You see? Their forces keep coming, we can't close the sailient (a military term that can also be called a bulge into military territory).
'I understand it's difficult to talk about this, but at least some fool needs to announce it! Even if today. Even if it's me.'