Education minister gives top marks as face-to-face classes resume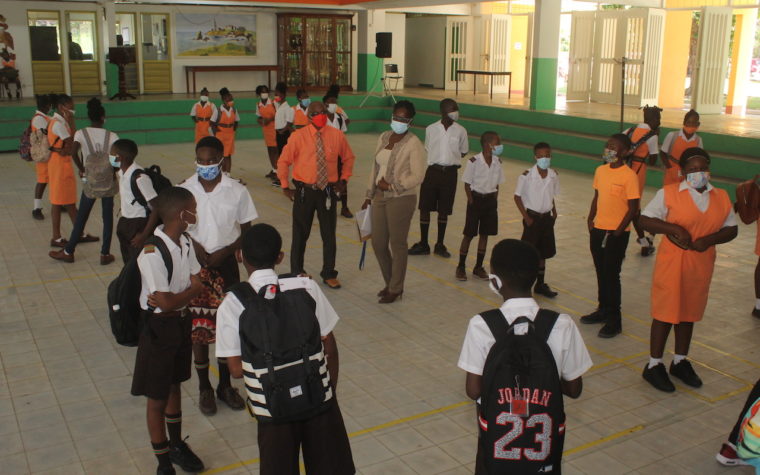 Thousands of primary and secondary school students returned to face-to-face classes on Monday without any major hiccups after close to two years of very limited physical contact because of restrictions imposed to counter the COVID-19 pandemic.
Minister of Education Kay McConney and Chief Education Officer Dr Ramona Archer-Bradshaw visited multiple school plants, where they interacted with excited students, teachers and parents, many of whom said that they were happy and relieved that the ministry made the decision to re-open schools.
After touring the Erdiston Special School, McConney told members of the media the ministry worked tremendously hard to get the physical plants ready and to provide the support needed for all stakeholders to make the transition.
The education minister said she was pleased with the cleanliness and overall readiness of the schools and the fact that the COVID-19 protocols were being enforced.
"We started this morning with the ones who are coming in for the very first time at St Giles and it was wonderful to see how those young children are actually making that adjustment. It was interesting that one of the comments made by the principal and one of the teachers actually was that the children having met each other online before, when they came in today, there was still a little familiarity and the point was they didn't notice the amount of crying and calling for mummy. They seemed to have had a bit of connection with each other even though it had been online before," McConney said.
She noted the schools' opening would be evaluated in order to make any changes needed and to help inform future decisions.
"We have made this step, let us keep pushing through. Let us see how the rest of the day goes, let us observe, let us take note of the things that are working well and reinforce those things. The things that are not working so well, let us take that as a gift and then determine how best we will be able to take that gift and then address it in the appropriate way for everyone.
"I am trusting that at the end of the day, we will continue to give God thanks for bringing us thus far and we will step into tomorrow bravely again ready to redouble our efforts to bring more students again and even more teachers," the minister added.
Meanwhile, Dr Archer-Bradshaw said based on the excitement coming from those at the schools they visited, she is satisfied that the ministry made the right move to have students back at the school.
Principal at Erdiston Donna Holder said she hugged every child when they came through the gates. She said the school had done everything possible to minimize the risk of anyone contracting COVID-19 at that location.
Holder also indicated that there were some students who did not cope well with the online teaching format, particularly if no parent was available to assist them with managing the equipment.
At the St Winifred's School, Principal Kim Lewis told the visiting team that last week was challenging with the focus on organizing lesson schedules in addition to plans to manage online classes. However, to assist with getting prepared for the school's doors to reopen, Lewis explained that a clinical psychologist who is also a past student, conducted a health and wellness seminar with staff.
"For my teachers who are teaching at school and online it is a bit of a stress this week, because they are going from class to get on their laptops to teach online. We have all our preparatory department, half our junior department and half our seniors here. So because we are in three distinct departments, the kids are automatically separated in terms of where they use for break, where they use for arrivals etc," Lewis said.
Several students expressed relief to be back at school. According to them, online classes were not only challenging, but were becoming difficult, preventing them from performing effectively and efficiently, particularly in the practical subjects.
"I am excited to be back at school in person with my peers and my teachers. I love the experience of being at school, especially being in fifth form and doing CXCs very soon, I think it is very important for me to be here and to be doing my practical subjects," St Winifred's Head Girl Alexis Gittens said.
Head Boy Ryan Brooks also added: "I am happy to be back at school, especially for my practical subjects and being able to meet with my peers again and teachers. I think that being at school is such an important aspect for students and I honestly think it is long overdue.
"My peers have been saying the same thing, they are so happy to be back at school. I have been hearing positive things. Online was tough I have to say, especially for the sciences because I do all three. It was hard especially for the labs and the experiments. But our teachers were able to get through it, they were just so good and supportive."
Principal at Frederick Smith Secondary School Stephen Jackman also reported a smooth transition back to face-to-face classes. He was pleased to have the first, fifth and upper fifth students at the physical plant as part of the phased approach.
"We had to make sure that all the form rooms were socially distanced and that meant that we have 20 students per classroom. Then we spill over into the rooms next door so that they don't break the physical distancing protocols but they can still benefit from instructions.
"The students came back, there wasn't any headache. They came in, they went through the procedures and all we had to do is to inform them where they had to go. The first formers got a tour of the school so they know where all the facilities are," Jackman said.
Parent of a student at St Giles Nursery, Felicia Brathwaite, said while she is nervous about her child beginning face-to-face classes for the first time, she knows that social interaction is needed for his total development.
"I feel a little bad but I know it's good for the interaction and stuff. It is more us than the kids who are nervous," Brathwaite said.
Malcom Utterson, another parent of a St Giles Nursery student, described the move to resume face-to-face classes as brilliant. He said being at home limits children's social growth.
"They missed the whole concept of going to school and running around with one another. Interacting with your neighbour, walking home, coming back. And a lot of students were also not learning online and they were also being frustrated. When they have the teacher in the classroom now, they tend to ask questions, or the teachers themselves may be able to pinpoint that was a little weak one who didn't want to ask a question and use that opportunity to enhance each child's learning ability," Utterson said.