Cummins suggests private-public sector partnership to create regional airline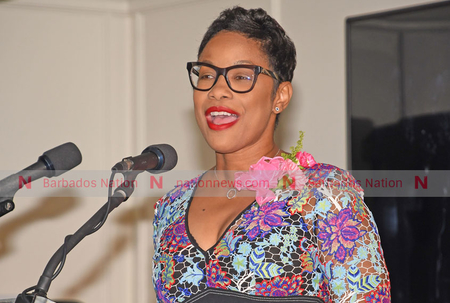 Minister of Tourism and International Transport Senator Lisa Cummins has suggested that the Singapore Airlines model be emulated to create a regional carrier and that a private-public sector partnership be used to fund it.
She said during Monday's Barbados Tourism Marketing Inc (BTMI) first Visit Barbados Industry Forum at the Hilton Hotel, that, in the absence of a national carrier, as the island works on building out an aviation centre of excellence, a regional airline is needed that is able to service all Caribbean destinations and then extend its services throughout the globe.
Cummins, who called for a "high-level" aviation industry, explained that Singapore Airlines began servicing two countries in Asia before eventually expanding its routes to international destinations.
"They were able to launch a dedicated regional service called SilkAir, which built on the international brand which dominated the regional market.
"The Caribbean needs new innovation and it needs new investment to be able to expand on its capability not just intra regionally, but I need us to think big," the Tourism Minister said.
She expressed concern about the blow to regional travel from the restructuring of LIAT two years ago, as she stressed the need for a public-private partnership solution to fill the void.
"Certainly in the last two years, with the loss of LIAT, we have seen significant challenges in the region. I philosophically have a difficulty, and I have always had a difficulty, with the idea of travelling outside of my region in order to be able to travel within," Cummins said.
"We have also seen that other airlines have come to the table, they are all private sector led, but do they have the capacity as yet to fill the void left by regional carrier LIAT? We have Caribbean Airlines. What do we require as a region to carve a space out for ourselves in the aviation space?"
LIAT was restructured in March 2020, resulting in employees being placed on the breadline and the airline's services significantly reduced.
"Is that time right now where the private sector and the public sector and academia can come together to create the aviation sector of the future?" Minister Cummins questioned, suggesting that such a solution would involve "private sector capitalisation, government injection of funds, regulatory management and transformation, and the development of an academic partnership with tertiary level institutions to create the skills and the job for the future".
As recently as Sunday, St Vincent and the Grenadines Prime Minister Dr Ralph Gonsalves announced that he had a plan in mind for regional travel.
Gonsalves, who served as chairman of LIAT's stakeholder governments, did not disclose details of his plans. However, he said he faced opposition from regional stakeholders who are now calling for the revival of the airline, owned by his government, Antigua and Barbuda, Barbados, and Dominica.
Recently, regional entertainers took to social media to vent their frustration about the challenges they have been experiencing travelling throughout the region due to LIAT's limited service.