Clarke, Chang assure police they will get more money after public sector compensation review ends in Jamaica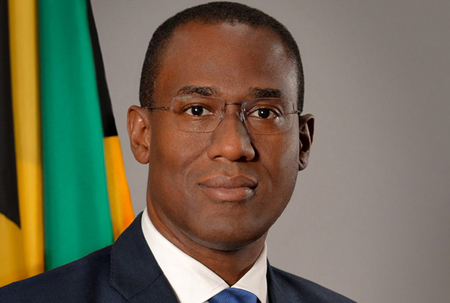 Minister of Finance Dr Nigel Clarke has promised that the salary scale for constables of the Jamaica Constabulary Force (JCF) will be hiked following the public sector compensation review.
He was speaking during his Nicodemus appearance on the second of the two-day 79th staging of the Jamaica Police Federation Conference at the Ocean Coral Spring Resort in Trelawny on Wednesday.
The finance minister told the delegates that he was responding to the earnest advocacies of police federation chairs over the years.
Police constables take home on average a basic pay of $800,000 yearly.
"Over the years we have heard of where the constable starts. I cannot wave magic wand, however, in the review we are seeking to address the movement in where constables start. I have heard, time and time again, very impassioned representation around the conference table about constables and where they start and we are aiming a change to that," Dr Clarke stated.
Meanwhile, addressing the conference virtually on Tuesday, Security Minister Dr Horace Chang pledged that as long as he has portfolio responsibility the police will never be hoodwinked by empty promises again.
"You have been given a six for a nine on many occasions. I will assure you that will not happen while I am minister," Dr Chang stated.
The security minister said in recognition of the danger associated with the work of the police, Government has decided that there will be a separate pay scale for them.
"One of the principles we are looking at [is] something the force has asked for many years. In fact, an attempt to do it in an ad hoc fashion created the problem we have today. This Government has indicated we will put police on a separate pay scale, recognising the risk of the job they do and the risks they take. It has been a source of contention for many years," Dr Chang argued.
"Now once you get on that new scale, there will be evaluation of what you get for it. And it is not a six for a nine because there is a lot of mistrust, I accept that. And I have to work to overcome that, but putting the police on a separate pay scale is a crucial part of correcting the errors and we have accepted and agreed with that as a government.
"Now once you get on that scale nobody should be worst off. I guarantee you that."
He said the "Government's policy is designed to correct and fix what has been a poor scheme of compensation to all public sector officers, but to pay respect to the special nature of the work police do to protect and serve the citizens of this country".
"You are at risk at on a regular basis. The Jamaica Defence Force is brought out periodically. Unfortunately, because of the level of violence they are out far more often and in longer time. But the Jamaica Constabulary Force is always. It is your job, it is your role, you are on the frontline 24/7 and therefore need to be treated in that manner," the security minister stated.
For his part, chairman of the Jamaica Police Federation, Corporal Rohan James, is insisting that only the police union, which he heads, will negotiate on behalf of the membership.
"Any negotiation will be conducted by the Jamaica Police Federation of which we will be impacted and we will not allow anyone to interfere with our bread and butter.
"We negotiate on behalf of our membership," Corporal James told reporters Tuesday night.
The security minister argued that in making the kind of massive re-evaluation of jobs across the public sector will certainly not only take some time but have errors. He, however, expressed confidence that the Ministry of Finance "will take steps to correct those".
"Once those principles are accepted I think you can now negotiate benefits that you like. In terms of providing a salary that is worthwhile that is of value to the police force is crucial," the security minister stated.
He argued that the time has come to end adding fringe benefits to enhance the money that the law enforcers take home, arguing that it is a recipe for poverty in retirement.
"The years of giving allowances to give you some additional money in your pocket and when the police officers retire they retire into poverty. That's the reality of the police force. It happens to other civil servants, (but) in particular police officers. When they retire at the age of retirement they have to do another work. Their pension benefits are horrible. That has to be overcome by providing a salary that when you retire the pension is more equitable," Dr Chang explained.
Facebook Notice for EU! You need to login to view and post FB Comments!