China has Taiwan surrounded: Beijing sends military around the island – including INSIDE Taiwan's territory – as part of six-day drills in response to Nancy Pelosi's visit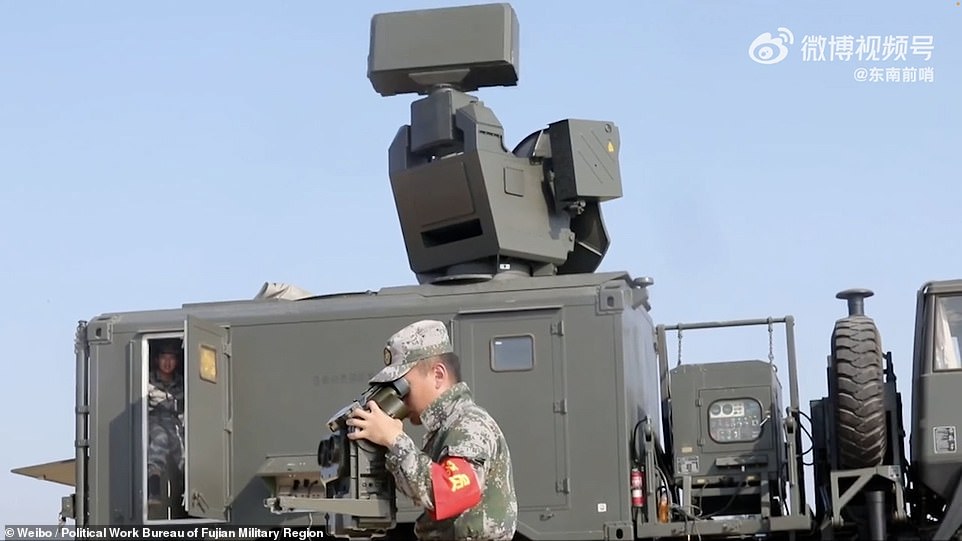 China will surround Taiwan and effectively blockade the island with massive military drills in the most-serious threat to its independence in decades as Beijing escalates tensions over Nancy Pelosi's visit.
Six days of military exercises kicked off Tuesday with live-fire drills in and around the Taiwan strait that will last through today, as authoritarian China attempts to intimidate its democratic neighbour and pressure the US into dropping its support for the self-governing island.
Four more days of drills will then commence on Thursday and last until Sunday, taking place in six locations around the country – three of which cross into its territorial waters in what Taipei has today called a serious breach of international norms.
Shipping and air traffic will also be closed in those areas in what amounts to a blockade, as experts say Beijing is rehearsing its ability to cut the island off from the outside world in the event of a war.
But Pelosi – who on Tuesday became the most-senior politician to visit Taiwan since 1997, when China was last sabre-rattling – refused to back down, defiantly telling Beijing that the US 'will not abandon its commitment' as she met with President President Tsai Ing-wen in Taipei. The 82-year-old Speaker is due to depart Taiwan today. 
Putin 'will help China if it goes to war over Taiwan', Russian senator says
A leading Russian senator has vowed that Vladimir Putin will come to China's aid if it goes to war over Taiwan.
But Vladimir Dzhabarov also pleaded for more support from Beijing for the Kremlin's war in Ukraine.
'I see no grounds to refuse to help China,' said the politician who is first deputy chairman of the international committee in Russia's Federation Council, the upper house of parliament.
'But I would like to see a two-way movement with China.
'It means that we should have some benefits from this cooperation.'
There is concern in Moscow that Putin's wooing of China has failed to produce better results in support for his war in Ukraine.
Close Putin ally Dzhabarov made clear that Russia will ready back China in any conflict over disputed island Taiwan, revelling in an anti-Western alliance.
'I am convinced that in this case China hopes for a certain assistance from Russia,' he said.
This was the case 'because it will be difficult for China to confront the United States without Russia's support.'
'Today the world faces a choice between democracy and autocracy' she said in a short speech during a meeting with Taiwan's President Tsai Ing-wen.
'America's determination to preserve democracy, here in Taiwan and around the world, remains ironclad.'
Ms Ing-wen added that the island of 23 million would not be cowed.
'Facing deliberately heightened military threats, Taiwan will not back down. We will… continue to hold the line of defence for democracy,' Tsai said at an event with Pelosi in Taipei.
She also thanked the 82-year-old US lawmaker for 'taking concrete actions to show your staunch support for Taiwan at this critical moment'.
China tries to keep Taiwan isolated on the world stage and opposes countries having official exchanges with Taipei.
Pelosi, second in line to the presidency, is the highest-profile elected US official to visit Taiwan in 25 years.
'Today, our delegation… came to Taiwan to make unequivocally clear we will not abandon our commitment to Taiwan,' she said at the event with Tsai.
Earlier, Pelosi said her group had come 'in friendship to Taiwan' and 'in peace to the region'.
Taiwan views itself as an independent nation separate from mainland China, but Beijing views it as a breakaway province that it has vowed to 'reunify'.
The island is home to the remnants of the Nationalist Party which fought against, and lost, a war to China's Communist Party after the Second World War.
America officially recognised the Communists as legitimate rulers of China in 1979 when they established diplomatic relations with Beijing, which also involved acknowledging that there is only 'one China' and Taiwan is part of it.
However, Congress passed a bill shortly afterwards that compels the US to supply arms to Taiwan to allow it to defend itself in the event it is attacked.
An uneasy truce has held around the island ever since, but tensions have been ramping up since President Xi Jinping said in 2019 that he reserves the right to 'reunify' Taiwan by force, if it is deemed necessary.
Pelosi's visit has prompted the Chinese to raise those tensions even further with military drills, going far beyond the last Taiwan Strait crisis in 1996.
On that occasion, China also held military drills around the strait – but much further from the island than its exercises planned for this week.