Blaxx loses fight with COVID-19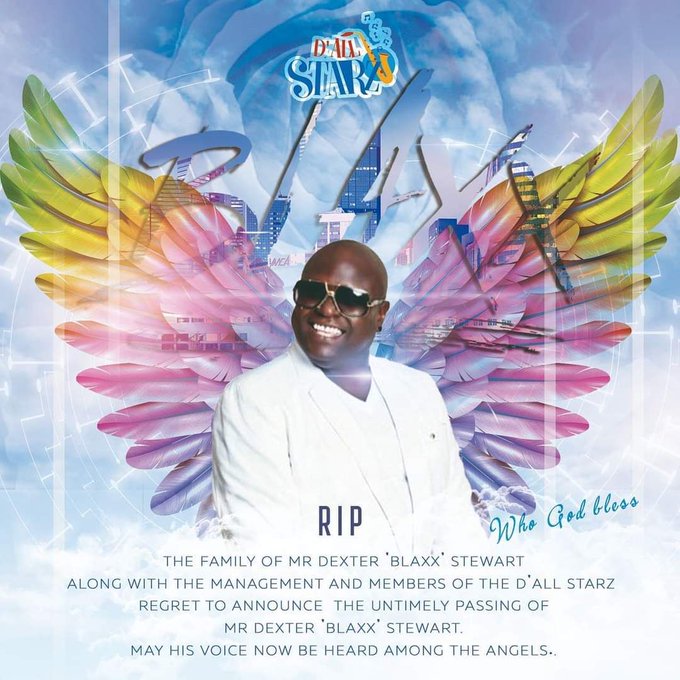 Dexter 'Blaxx' Stewart is being remembered as a legend and an icon in the soca music industry.
"He left us with some anthems, tons of classics," one person tweeted yesterday, while another wrote, "You know if is one thing u could bet for the Carnival, is that Blaxx was coming with a monster hit."
The 61-year-old died at the Arima Hospital yesterday after battling COVID-19 for several weeks.
Many had prayed for him to recover, as he did in 2020 after battling lung and kidney issues.
This second chance at life Stewart did not take for granted. After performing his 2022 hit song Mash-Up at Vibes with Voicey on Carnival Thursday (March 1), Blaxx told Guardian Media that he was grateful to be alive.
"I intend to use it wisely," he said.
It's why he was a strong advocate for COVID-19 vaccinations. In January, Blaxx, also known as "the man of the people," was part of a national campaign encouraging people to take the jab.
"I have a lot of comorbidities, I suffer with my heart, lungs, kidneys…please I'm begging you, I'm begging my fellow Trinbagonians, please take the vaccine," he said in an ad.
But even with his illnesses, the Dutty singer participated in this year's Taste of Carnival activities. He was hospitalised on March 4, days after the season ended, with the disease.
At a Trinidad & Tobago Promoters Association (TTPA) media conference earlier this year, the singer admitted that he had struggled to survive during the pandemic.
"This thing was devastating, man. It was really, really devastating. Right now I have a MacBook—anybody want a laptop, a computer to buy? I just sell out stuff you know, to make ends meet," he said then.
In a release yesterday, the TTPA sent condolences to both his home and music families.
"We are singularly grateful to Blaxx for sharing the TTPA platform in January of this year to speak up for the industry, as we advocated for the reopening of our sector, he was one of us," it wrote.
The TTPA said Blaxx was one of the 'BIG MEN in the business', who left an indelible mark on the soca genre. It said he mentored many young artists and industry professionals, who will now become his legacy.
Aaron 'Voice' St Louis agreed and in a post to Instagram, the singer wrote that he is forever indebted to Blaxx.
"You gave me a chance when nobody else did, you mentored me and gave me a platform to have my voice heard," St Louis said.
St Louis said the only way he can repay his debt to Blaxx was to pay it forward.
"You were a fighter, you are a warrior, you are a legend, you are an icon, you are Hulk, love you forever uncle," he said.
Other soca artistes also remembered the singer's legacy.
"We love you Blaxx Thank you for your music, spirit, and love," Kees Dieffenthaller wrote.
"I am honoured to have known you and work alongside you," Shal Marshall wrote.
"My heart is saddened to say RIP to a soca legend," Nailah Blackman said.
The Trinbago Unified Calypsonians Organisation (TUCO) said it was grateful for the singer's love for the artform and mentorship of the youth. It said Blaxx's sweet melodic vocals, charisma and camaraderie among his colleagues would be deeply missed.
In a 2013 interview with the Guardian, Blaxx said his mother wrote his first calypso. He said both his parents were musicians and after he placed high in a South Vocal competition, he called himself the Mighty Hot Chocolate.
Blaxx, who grew up in South Trinidad, admitted that he was not focused when he was younger and got his break when he joined Roy Cape All-Stars, which was led then by veteran musician Roy Cape.
But he performed with several bands such as Succession Brass, Upstream, Atlantik and Blue Ventures before joining All-Stars.
In his approximately 30-year career, Blaxx produced several hits such as Leh go, Breathless, Tusty, Dutty and Canboulay.
Unfortunately, he was never able to win a Soca Monarch title despite having popular hits. However, in 2013 he said it was not only about winning for him and explained how his tiredness would sometimes affect his performances. Still, he said would have it no other way.
"If I could be tired every day of the year thanks to soca music I would be grateful," Blaxx said then.
PM: Talented exponent of T&T's happy musical culture
Prime Minister Dr Keith Rowley was one of the many people who praised Blaxx for his contribution to the artform.
"He has been a regular talented exponent of the happy musical culture of Trinidad and Tobago," Rowley said.
"His contributions were eagerly awaited each year and appreciated by hordes of adoring fans. He will be sorely missed."
Culture and Tourism Minister Randall Mitchell also added his condolences on behalf of the ministry.
"The Ministry of Tourism, Culture and the Arts is offering deepest condolences to the family and friends of Mr Dexter 'Blaxx' Stewart," Mitchell said.
"We are saddened to lose one of Trinidad & Tobago's finest soca artistes and cultural icons."
Mitchell said that Blaxx' was "truly a lover of his culture and his country and was proud to fly the flag of Trinidad and Tobago wherever he performed."
"His dynamic stage presence, infectious music and his dedication to the soca artform will certainly not be forgotten," Mitchell said.