Barbados PM promises major rural development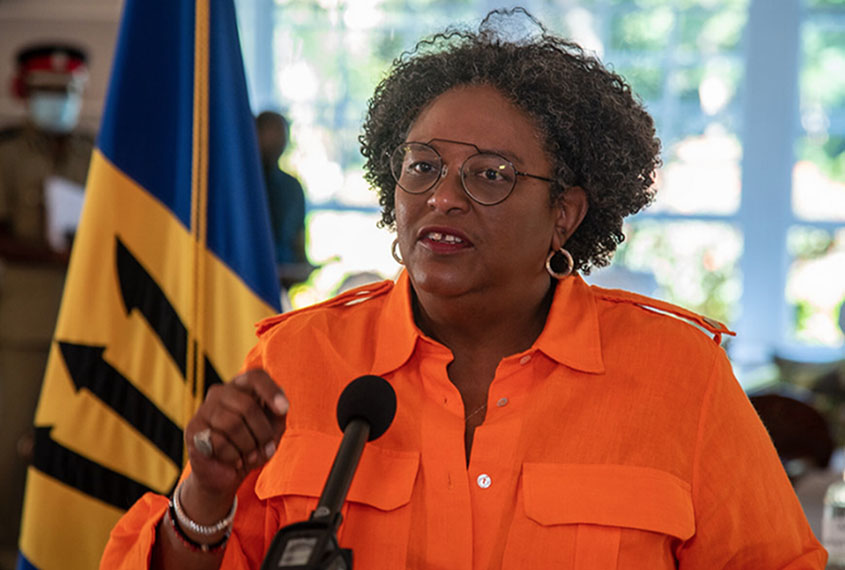 A new housing project, spanking new roads and a world-class skating rink are destined for the easterly parish of St Joseph in the very near future.
According to Prime Minister Mia Mottley, those projects are all aimed at providing persons who reside in rural parishes across the island with a high quality of life which rivals that provided along the urban corridors.
Speaking this evening during the official opening of the Beachmont Community Park and Hill Crest Community Centre in St Joseph, Mottley gave the assurance that Government had not forgotten about residents living in rural Barbados.
"We have come to bring back services to the people where the people live rather than to ask you to come to town to do your business and to enjoy yourselves. And I can say so with comfort and confidence because the facts speak for themselves.
"This is now the second facility that I have opened in St Joseph in the last year. The St Joseph Outpatients Clinic was as derelict as the community centre that is being replaced here today and it all told a story when combined with the declining population numbers of residents in St Joseph, St Andrew, St John, parts of eastern St Lucy and St Peter, that we have for too long forgotten that people live on this side of the island, people pay taxes and people were deserving of services that are of the highest calibre in this country," the Prime Minister said.
"I am proud to lead a Government of representatives and ministers who have understood that intrinsically and therefore whether it is in the form of healthcare, community development and sports, housing, roads, beautification, regardless of what it is, we have come to say that we must bring to the people where the people live the opportunities for community renewal and parish renewal within the Scotland District."
Mottley said during a recent meeting with residents of St Joseph at the Grantley Adams Memorial School, she had indicated that Government would look at the possibility of facilitating a skating rink.
She said a location near to the community centre had already been identified and funds had already been allocated to build the rink.
The Prime Minister also spoke about the acquisition of "acres of land" at Ginger Works in St Joseph and Pool, St John which would be used to facilitate housing projects.
She disclosed that houses would begin to be constructed from July and that roadworks had already commenced.
The Prime Minister said Government was focused on improving the lives of persons in rural parishes, even as the country battled the effects of the COVID-19 pandemic and Russia's invasion of Ukraine.
She contended that Government was committed to "big things and small things".
"We have come to this point to show you what is possible even when things are difficult and even when things are challenging," she noted.
Mottley said along with the major work to be done in the Scotland District, schools in rural parishes would also be developed to alleviate the pressure on schools in urban areas.
Attorney General and Member of Parliament for St Joseph Dale Marshall welcomed the initiative, saying it was further evidence of Government's commitment to persons from that parish.
Facebook Notice for EU! You need to login to view and post FB Comments!