Barbados Economy grows but threats loom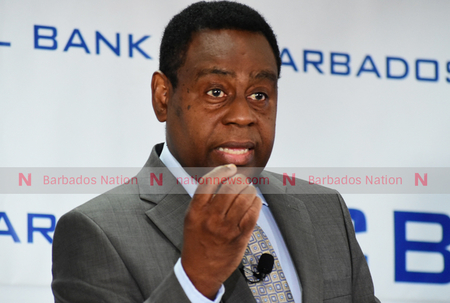 Despite a number of uncertainties that continue to threaten the economic prospects for Barbados this year, the island recorded economic growth of 11.8 per cent for the first three months and is on track to end the year with double digit-growth, according to the latest Central Bank report.
However, said Central Bank Governor Cleviston Haynes, this continued strong economic expansion will require several urgent measures to mitigate the risks.
"I think the 11.8 per cent growth is in line with our forecast. Our tourism arrivals were just about exactly as we had forecasted they would be. So we are comforted by that fact," said an optimistic Haynes.
"It is really the uncertainty that prevails at this point, that is our concern. We have done a lot to try to bring the economy back – we have more people back to work . . . Therefore there is a potential for increased economic activity but there is uncertainty about really what is going to happen given what is happening globally," he cautioned.
Delivering his first quarterly review of the economy for 2022, Haynes noted that a re-emerging tourism sector helped to propel the growth momentum and stabilise the labour market for the January to March 2022 period.
However, Haynes noted that in order for Barbados to reduce its economic vulnerability there must be improvement in food and energy security, strengthening of resilience to climatic events over the medium-term and enhancement in the island's competitiveness.
He also noted that there was a need for continued investment in renewable energy to help address the negative effects of volatile oil prices and to improve competitiveness.
"Accelerating implementation is now crucial taking advantage of the liquidity in the banking system. In addition, we must bolster our competitiveness by lowering the cost of doing business, increasing our output and improving our turnaround times," he added.
"The path towards sustained growth requires a strong partnership with all stakeholders, a commitment to innovate and improve performance by everyone. Both public and private sectors, including small and medium-sized enterprises, will need the support of money and capital markets to support this innovation. This path is quite attainable if we continue to pull together in the country's interest," he said.
But with uncertainties relating to the ongoing COVID-19 pandemic, supply chain disruptions and the war in Ukraine, Haynes said Barbados' bread and butter tourism industry could be significantly impacted, resulting in less than ideal economic performance.
"It could work either way. It could be that persons decide they are not going other places and they are going to look for warm destinations such as in the Caribbean and we could benefit in that context. But there is also the risk that persons decide to stay closer to home because of the uncertainty and therefore not travel," he explained.
Indicating that forward bookings were "relatively encouraging", the Governor added, "As you can appreciate, persons can also cancel if they see a change in the overall global outlook. So that really is our primary concern right now – what is happening internationally and how would that impact on what we do here. Therefore, while we are still optimistic that we will be able to achieve our double-digit increase for 2022, we are also mindful that there are significant downside risks associated with that forecast."
The 11.8 per cent growth in economic activity during the first three months was led by the tourism sector as pent-up travel demands translated into the highest level of long-stay arrivals since the onset of the pandemic.
This was led by arrivals from the UK, and especially an influx from that source market for the successful hosting of the England/West Indies cricket series and improved airlift from key source markets as countries contained incidence of severe COVID-19 infections and relaxed travel-related health protocols.
"In spite of the strong performance, long-stay arrivals were equivalent to just 55 per cent of 2019's record level (208,774 total arrivals) as demand from the United States, Canadian and Caribbean markets recovered more slowly," he said.
Cruise activities also registered moderate recovery, with just over 94,000 cruise passengers arrivals recorded during the first three months of 2022.
The agriculture sector continued to be challenged during the review period, due mainly to rising commodity prices for key inputs including feeds and fertilisers, but preliminary data suggested that overall agriculture production increased by almost three per cent.
Manufacturing output rose by 5.4 per cent in the first quarter, reflecting an increase in domestic demand and the partial recovery of exports, while non-traded sector activity increased by 3.5 per cent during the quarter due to more construction activity and gains in wholesale and retail and business and other services.
During the period under review, the moving rate of inflation is estimated to have risen 4.2 per cent, the international reserves declined slightly by $40 million to reach $3.02 billion, while Government's revenue and expenditure both increased.
"Revenues for the quarter recovered in line with the economic recovery and were almost at the same level as in 2020. However, non-interest expenditure, though lower than in 2021, remained elevated. As a result, preliminary data indicates that Government achieved a primary deficit of $92 million (0.9 per cent of GDP) for the fiscal year," said Haynes.
"This performance was on par with the previous fiscal year. At the same time, domestic interest payments rose by $68 million and contributed to an overall fiscal deficit equivalent to almost five per cent of GDP," he said.