Barbados CMO says no plan to follow lead of other countries taking drastic steps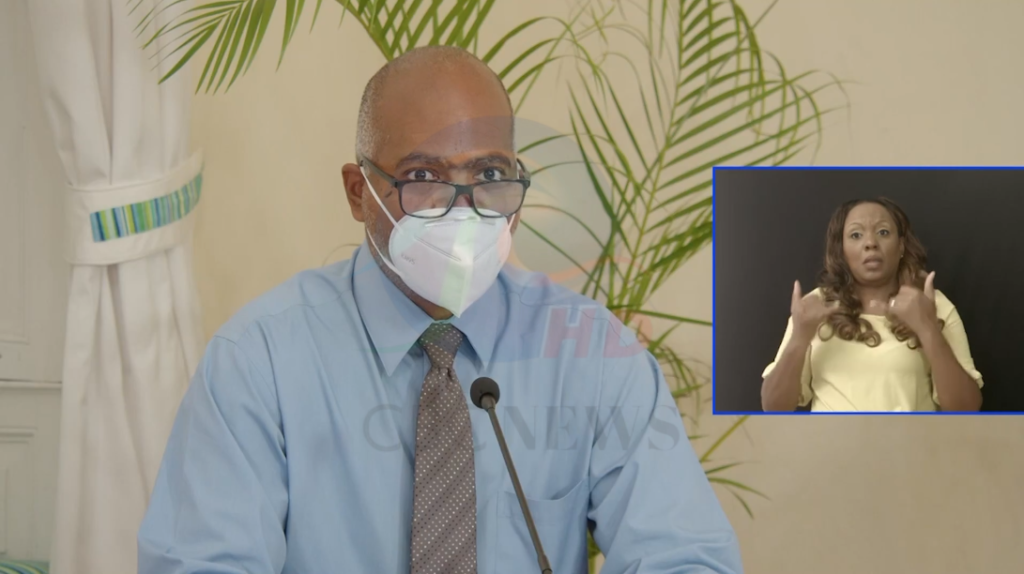 An uptick in COVID-19 cases has the full attention of the country's health authorities who have taken early action to find out whether the emerging new Omicron variant BA.2 could be a driving factor.
However, there will be no change in public health measures at this time, officials say.
The Best-dos Santos Public Health Laboratory recorded 218 new COVID-19 cases from 1,043 tests conducted on Tuesday – the highest number of new cases in recent weeks – taking the total number of active cases to 1,222, with 47 people in isolation facilities and 1,175 in home isolation.
However, providing an update on the COVID-19 situation at a news conference on Wednesday, Senior Medical Officer of Health Dr Arthur Phillips said while the numbers were not "high", the core metrics used to measure transmission of the virus are trending upward.
"So, for example, the new cases… ending March 27, are 40 per cent higher than for the previous week and the Rt, or the average number of cases generated by each person, is 1.35. So, if you have 100 cases, we would expect that you would get 136 more cases following," Dr Phillips said.
"The seven-day positivity average rate has increased from 12 per cent to 15 .9 per cent and the prevalence, the number of persons in the community proportion of the population who have active COVID infection, also appears to be increasing."
He suggested the rise in cases could reflect the fact that more people are coming into contact with each other with the recent ease in restrictions, and there could be changes in the infection that is present.
"We are aware that Omicron was confirmed as being in Barbados and certainly what we are seeing around the world now is the BA.2 Omicron sub-variant is dominant in our source markets. We have selected samples which will be tested by CARPHA [the Caribbean Public Health Agency] to facilitate sequencing and confirm the current variant situation in Barbados," the senior health official disclosed.
According to Dr Phillips, there has been no significant change in how the virus affects the country.
"What we can indicate at this time is that the demographic trends and the geographic trends have not changed. So we still have distribution across Barbados, concentrated particularly where there are higher densities of population. The other characteristics in terms of male, female, age, etc, there has not been any significant change at this time," he said.
The Senior Medical Officer made it clear that while BA.2 is more transmissible than the original Omicron variant (BA.1), current evidence suggests it does not make people sicker than BA.1 which was considered mild when compared to more severe variants like Delta.
The new variant has, however, been blamed for recent surges in China which this week began its most extensive COVID-19 lockdown in two years, as well as record infections in European countries like Germany, France, Italy, and the United Kingdom.
Dr Phillips made it clear that health officials are not signalling any change in measures at this time, but he urged Barbadians to comply with the protocols and be their brother's keeper.
"We are saying to individuals 'do your part, manage your risks, manage the risks of those you have responsibility over'. If things change then there would have to be consideration of adjustments in measures," he said.
Chief Medical Officer The Most Honourable Dr Kenneth George said, however, that Barbados would not return to a situation of lockdowns and curfews even as he noted the mixed response across the globe, including moves by the UK to remove public health measures and the curtailing of movement in Shanghai, China.
"The challenge of working in the COVID environment is that there are too many unknowns. But, as I have repeatedly said, the issues of curfews, lockdowns, the closing of our airport, etc. were early in the pandemic and [they were] probably good public health measures," he said.
"What we have tried to do, with some success in Barbados, is to tailor our response [to]the situation at hand. We need to be flexible, we need to be adaptable, and we will continue to do that."
Some countries have also opted to respond by offering citizens a second booster shot, but Dr George noted that Barbados was not yet ready to make such a move.
"Once it becomes a bit more mainstream we will certainly have options for the Barbados public," he said.